Belle the Farm Elf doesn't just sit on a shelf. Edelweiss Farms puts her to work.
Clad in muck boots and overalls, Belle spends each day of the Christmas countdown doing a different duty around the farm. Spreading manure, cleaning the barn and bedding calf pens are just a few of the scenes John and Bethany Borer post on their farm's Facebook page throughout the month of December.
This is the second year the Borers have made it their mission to engage consumers in their multi-site dairy in Freedom, New York, by combining entertaining images with important educational messages.
"We wanted something we could show consumers day-to-day what happens on the farm," Bethany says. "We figured it would catch consumers' attention and teach them."
John agrees, "We try to show them pictures and short videos of what we do – planting corn, tilling ground, spreading manure – and the education component behind those things. The elf gives us another avenue to do that."
The online response has been more than the Borers expected, with likes, shares and views validating their efforts. In fact, the most popular video, just posted on Dec. 13, has been viewed more than 31,000 times. What could catch so much attention? Belle the Elf riding the "flush water rapids" on an inflatable boat.
The creativity doesn't stop there. Belle has helped the vet ultrasound and even take the cow brush for a spin.
She's no stranger to pitching pens but she still finds time to relax and catch up on quality reading material.
Bethany relies on her cell phone, a doll stand and photoshop app to bring Belle's adventures to life. She sees each opportunity to share an image or video as a chance to communicate important messages around animal care and husbandry.
"I love being able to show how much we care for our animals," Bethany said. "There's so much negativity and false information on social media. I love showing that we love our cows."
Edelwiess Farms' social media following includes many parents of children who have been on their farm tours, as well as people living within a 5-mile radius of the farm. Each year, they reach 200 to 300 neighbors with a holiday gift of milk coupons accompanied by a sticker to "like" the farm on Facebook.
John believes their social media presence is an important effort to reach consumers with positive messages and to make them feel like they are a part of the story. "Inviting Belle into the barn gives [our followers] a sense of being there. It's a bird's-eye view into what's really going on."
After a busy 25 days, Bethany says Belle is "pretty smelly," but the Borers are already thinking about the shenanigans she will get herself into next year and how they can continue to reach consumers in an informative yet entertaining way.
Visit Edelweiss Farms' Facebook page to see all of Belle the Farm Elf's adventures in 2019.
Images courtesy of Edelweiss Farms.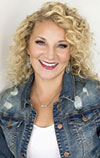 Peggy Coffeen

Editor
Progressive Dairy