In the city of Garnett, Kansas, sits the registered Jersey cattle herd of Ratliff Jerseys, started over 20 years ago by Ron and Christy Ratliff, with the help of Christy's brother Mike Kennedy. Together, the trio has bred, raised and sold numerous championship and nationally recognized Jersey cows.
"Genetics and show cows have been important to me since I was a tiny kid," Christy says. Today, her breeding philosophy is reliant on cow families over numbers. Christy says she likes cow families because, "the Jersey cow breeds so true."
In 2018, Christy was awarded the title of American Jersey Cattle Association Master Breeder, which she says she holds "dearly." In nominations sent on Christy's behalf, Christy's friends and industry colleagues praised her dedication to the breed and her leadership skills in continuing to grow the breed and help youth succeed. Prior to this, Christy had won the American Jersey Cattle Association award for Young Jersey Breeder in 2008.
Focusing on type, as well as milk production, Ratliff Jerseys has consistently developed a herd which averages between a very good score of 89 and an excellent score of 90 points. In 2000, Christy and Ron purchased Avonlea D Jude Karmel from Avonlea Genetics in Ontario, Canada. Karmel, as the cow is known, laid the groundwork for the Ratliff Jersey herd. Following the success of Karmel, Christy bred Ratliff Sambo Martina, the 2007 winner of the National Jersey Jug. After which, Ratliff Price Alicia, a well-known Jersey, was named three-time National Grand Champion of the All-American Jersey Show from 2008 to 2010.
Today, the Ratliffs milk about 50 cows, more than half of which trace back to the Alicia line or the Arethusa Primetime DeJa Vu family. Production at Ratliff Jerseys is high; in recent years, their herd has averaged nearly 21,000 pounds of milk. Additionally, they have bred over 23 cows, which have averaged over 23,000 pounds of milk. The cows are housed in a compost-bedded pack barn that features misters, fans and adjustable curtains.
As nine-time winners of the All-American Premier Breeder designation, the Ratliffs'goal is to continuously breed for the next national champion. Their breeding program uses intense flush and in vitro fertilization. Donor dams are flushed weekly in the spring, fall and winter. For sires, Ratliff Jerseys uses their own bulls as well as proven bulls.
Some of Ratliff's other key cow families include Ratliff Minister Porscha, Ratliff Indiana Cadence and their newest addition, River Valley Excitation Radiant, who placed second in the senior two-year-old class at the International Jersey Show.
Christy and Ron sell, market and consign cattle to buyers in the U.S. and Canada. They own Anderson County Sales Company Livestock Auction, a company which has been in Ron's family since 1939. The auction hosts a weekly feeder cattle and calf sale, as well as a hay sale. Once a month, they sell specialized cows, and beginning in 2017, the couple began video sales, allowing for online bidding. In addition to this, every few years, the Ratliffs host a large sale for their replacement heifers, such as the 2012 Ratliff Proof of Progress and the 2017, 2018 and 2019 Post Time at Ratliff's where they have sold around 90 to 100 lots per sale. The heifers have sold for an average of $3,500 to $4,300 per head, with some cows selling for much higher prices, such as Billings Impression of Boo Boo who was bought for $34,000. In the past, Christy has sold cows through the Midwest Spring Special in Minnesota as well.
Christy says changes in the milk market over the past few years have shifted the way she does business. In 2019, she sold more cows to people looking to milk them at home than in any other year, with many asking for cows with the A2A2 trait. Christy notes that many of the small dairies she used to sell to have shut down in recent years, and now much of those sales have shifted to farms looking to add a special type cow to their herd.
Beyond her work at Ratliff Jerseys, Christy is president of the Kansas Jersey Cattle Association and has served on various boards, including the Kansas Dairy Association, the Kansas Dairy Commission and the Anderson County Fair board.
Based on the numerous accolades boasted by Christy and her herd, it is clear that Christy's dedication towards the Jersey breed has fared well for her success. Christy has also made efforts to aid in the success of future generations of Jersey breeders. She has worked with 4-H groups and the FFA to help youth involved in these organizations with their sales and shows.
PHOTO 1: Ratliff Impression Donner, daughter of DeJa Vu, who placed second at World Dairy Expo in 2018. Christy Ratliff says she is an "amazing cow."
PHOTO 2: Christy Ratliff raised Ratliff Minister Porscha while in 4-H and says Porscha won many shows throughout the course of her life.
PHOTO 3: After purchasing Arethusa Tequila Vision in 2014, Christy Ratliff found great success with her through breeding and showing. Vision won the Production Cow Class at World Dairy Expo in 2018 and 2019.
PHOTO 4: River Valley Excitation Radiant – Christy Ratliff says River Valley Excitation Radiant is currently her best cow and placed second at World Dairy Expo in 2019. Photos provided by Christy Ratliff.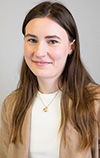 Emma Ohirko

Editor
Progressive Dairy