Giving up the warmer weather of Tulare, California, dairy farmer JJ Nunes and Minnesota Vikings wide receiver Stefon Diggs tackled a five-part challenge course to win the Land O'Lakes Farm Bowl trophy on Feb. 1, 2018. Before the final challenge, these two teammates felt they had a good shot at the title.
"We were confident we were going to win. We both have speed," Diggs said. "Thanks to my good man [JJ], he had a good strategy opening the bags, so I just gave it everything I got."
Past and present professional football players competed with current Land O'Lakes dairy farmer members on a whole different kind of playing field: The tough but rewarding field of modern farming. The competition took place at 3M Arena at Mariucci on the campus of University of Minnesota.
"It was an honor to be selected and to represent our agriculture community and bring awareness to farming," Nunes said. "I feel very fortunate, and it was a great experience for both myself and my family."
Six teams of two, one farmer and one player, competed in four challenges on a one-of-a-kind course themed loosely after normal everyday farm activities. The course also exemplified the core principles of football and modern farming: strength, endurance, intelligence and coordination.
The farmer-player teams
• Jerome Bettis, Hall of Fame running back and former member of the Pittsburgh Steelers, and Katie Dotterer-Pyle, Cow Comfort Inn, Union Bridge, Maryland
• Kyle Rudolph, Minnesota Vikings tight end, and Darin Johnson, Johnson Farms, Wells, Minnesota
• Luke Kuechly, Carolina Panthers linebacker, and Craig Roerick, Roerview Dairy, Swanville, Minnesota
• Stefon Diggs, Minnesota Vikings wide receiver, and JJ Nunes, Nunes and Sons Dairy, Tulare, California
• Greg Jennings, Green Bay Packers former wide receiver, and Amber Horn-Leiterman, Hornstead Dairy, Brillion, Wisconsin
• Jason Brown, former center for the then-St. Louis Rams, and Dave Ribeiro, Rib Arrow Dairy, Tulare, California
"I was surprised at how genuine of a person he [Stefon] is. When he is on the big screen and playing, he just looks larger than life," Nunes said. "He was a down-to-earth and a humble guy. It was really refreshing getting to talk to him and learn more about him."
Each farmer-player pair competed in four initial challenges:
Challenge 1: Tractor tire change
Here, teams utilized both strength and dexterity to change out heavy tractor tires by taking off one tire and securing the bolts on a second.
Challenge 2: Milk pipe puzzle
For this challenge, teams used their problem-solving skills to connect missing pieces to assemble a dairy barn pipe system.
Challenge 3: Drone drop
Using precision and skill, team members dropped colored pouches from a drone onto targets in a model cornfield.
Challenge 4: Hay bale backup
In the last challenge, teams raced to stack six hay bales onto a trailer and then successfully back the trailer into position without knocking over cones.
Once parked correctly, teams sprinted back to the timer to stop the clock.
After the first four challenges were completed, the top two teams competed head-to-head in a fifth challenge.
Challenge 5: Feed run
In a race to the finish, teams used endurance to move 500 pounds of feed in a wheelbarrow to be crowned Land O'Lakes Farm Bowl Champions.
ESPN personality Marty Smith and CBS Sports' Allie LaForce provided play-by-play commentary of the event, while multiplatinum recording artist and actress Jordin Sparks interacted with the competitors on the field.
Farm Bowl was sponsored and created by Land O'Lakes Inc. and was live-streamed on their Facebook page.
PHOTO 1: Dairy farmer JJ Nunes and Minnesota Vikings wide receiver Stefon Diggs hoist the trophy after winning the Land O'Lakes Farm Bowl.
PHOTO 2: Nunes and Diggs work together to change out a tractor tire during the first challenge. Photos courtesy of Land O'Lakes Inc.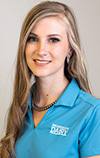 Audrey Schmitz

Editor
Progressive Dairyman
Before commenting on our articles, please note our Terms for Commenting.