"If you have happy cows, you have a happy life." This is the mantra Colten Carlson, a 23-year-old dairy farmer from Willmar, Minnesota, considers while helping raise his family's 1,800-milking-cow herd.
Carlson's family has owned their farm, Carlson Dairy, since 1891. Carlson's father is the herdsman and works alongside Carlson's uncle and grandfather. As assistant herdsman, he assists his father with the day-to-day duties involved with caring for their herd, like vaccinating cows, caring for sick cows and helping with breeding.
"My favorite part is definitely the reproduction side of work," Carlson says. Between his junior and senior years of college, Carlson interned with ABS Global as a reproduction technician, where he gained experience setting cows up in different breeding programs and checking for cow comfort.
Carlson attends South Dakota State University and is very involved with the school's dairy club and dairy cattle judging team. He has competed in dairy cattle judging competitions throughout the Midwest, as well as at the 2019 World Dairy Expo. Carlson has used his experience in dairy cattle judging to help provide youth with tips on showing their own cows. "I've helped out with the SDSU dairy camps, so we have campers come in and we show them how to clip their animals and the ins and outs of showing," Carlson says.
At SDSU, Carlson is majoring in dairy production and double minoring in Spanish and agricultural business. When discussing why he chose his program, Carlson says, "I've always had an interest in animals."
"I had the option to do animal science, but I felt that I would more than likely go back into the dairy industry, so I'd rather be more specific into the dairy industry," he adds. Carlson says he enjoys the practicality of his program. He states, "When you've grown up on a farm, you do things because that's how we've always done things, but going to school and being able to understand, 'OK, this is actually why we do these things.' Now I feel like I understand the whole concept and process of working at a dairy farm."
Carlson is also on the SDSU wrestling team. "When I'm not farming, I'm wrestling or doing things outdoors," Carlson says.
The lack of consumer awareness that surrounds agricultural practices is something Carlson finds challenging about being in the dairy industry. He says, "It's hard to explain to some people why we do what we do and why we enjoy it and why it needs to be done." To deal with this, Carlson has begun networking with contacts in the livestock industry to discuss how to bridge the gap between consumers and producers.
He says attending the university has helped boost his confidence when discussing issues in agriculture. "Now when people ask questions about the dairy industry, I feel more comfortable and knowledgeable talking to them about those things," Carlson says.
In the future, Carlson hopes to continue working at Carlson Dairy and perhaps earn his own ownership stake in the farm. He would like to apply the knowledge and experience he is gaining in dairy cattle genetics and reproduction to his work at his family's farm. Carlson Dairy raises all their own replacement calves, so Carlson says it would be great to participate more in that process in the future by performing ultrasounds or confirming pregnancies. Carlson is also interested in the growing intersection of beef and dairy genetics and how it can benefit the dairy industry. He notes, "Seeing what the next generation of animals can look like and being able to contribute to that is pretty sweet."
Carlson has considered pursuing graduate studies but says the main thing he looks forward to is sharing his passion for dairy farming with his family. He says, "Long-term, I would definitely like to come back home. There's just something special about working with family; you just can't get that experience anywhere else."
PHOTO: Colten Carlson (second from left) is studying dairy science at South Dakota State University. He participates on the collegiate dairy judging team. Courtesy photo.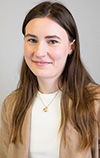 Emma Ohirko

Editor
Progressive Dairy