When Bob and Beth Kennett opened Liberty Hill Farm, a B&B and dairy farm in Rochester, Vermont, they did it out of necessity due to low milk prices.
Little did they know that opening their doors to strangers would allow them to travel the world without ever leaving the farm.
More than 30 years later, the Kennetts have hosted guests from all seven continents, including a researcher who was traveling to Dartmouth College after spending five years in the South Pole and Simon Mtuy from Tanzania who formerly held the world record for the fastest ascent and descent of Mount Kilimanjaro.
When the Kennetts first saw the farm during their honeymoon in the early '70s, they had no plans to start a B&B on the dairy. In fact, at that time the farm wasn't even for sale. They just knew that, someday, they wanted to have a farm like this one.
"We saw this farm, and we just immediately thought it was beautiful," Beth says. "Fell in love with it. We parked the truck right out there at the edge of the lawn, and we prayed and said, 'Lord, someday, we would like a farm just like that.' And then we kept on driving – we didn't find out the name of the people; we didn't find out if it was for sale. Nothing. We just sat there in the truck, prayed, said, 'God, someday we want a farm just like that,' and kept on driving."
A few years later, they decided it was time to stop leasing land from Beth's parents in Maine and buy their own farm. They hired a realtor to help them look for a farm in the Northeast. However, they struggled to find one they really liked until Jan. 6, 1979. That day, they were supposed to head back to Maine after spending a late Christmas with Bob's parents in New Hampshire.
Shortly before they left, their realtor called them and told them he needed them to visit a farm he'd just listed in Rochester, Vermont. At first they said 'No,' but it was on the way back, so they eventually decided to meet him on Rochester's town green and follow him to the farm.
"So we met him at the park in the center of town," Beth says. "He headed south – and he turned down this road, and I just started screaming my head off, 'This is our farm. We prayed for it, that it would be our farm.' Bob said, 'Shhh, don't tell; don't tell.' And I'm like, 'That's our farm. We prayed for it; we saw that farm on our honeymoon. That's our farm; it's our farm.' So we walked in the door and gave them a check for $500 because that's all the money we had."
Bob was 28, Beth was 23, and their sons Tom and David were 2 years old and 6 months old, and they were now the proud owners of a 34-cow tiestall dairy. No one thought they'd make it.
With the way milk prices were in the early 1980s, they might not have, but Bob and Beth don't give up easily, which is why in February 1984, Beth started the B&B.
"It was kind of like – utilize the assets in order to diversify the income in order to survive, and the asset was a big old farm house and I make good pancakes," Beth says.
At that time, the town of Rochester only had a population of about 800 people and, while they were close to the ski lifts and resorts, there was inadequate lodging in the area even though there was room for everyone on the slopes.
Skiers would often drive up and sleep in their cars, or the resorts would ask people via the radio to take in skiers for the night. Beth's neighbor took in skiers and gave her the impetus and the first guests for the B&B.
Beth said when she first started, the concept of a B&B was still developing, and she'd often have people calling it a "bed and basket" or "bread and board." Today, she has over 1,000 guests every year. Some people come year after year; others come once to give their kids a first hand experience on a farm.
Some guests who come now are people who brought their kids and are now bringing their grandkids, so Beth has "grand-guests", in addition to her grandchildren. Beth says for many families, visiting them on vacation has provided the opportunity of visiting grandma and grandpa's farm for those who no longer have a grandparent's farm to go back to.
Beth says when you invite people into your home to share your table, it's very intimate. You give up a lot of privacy, but on the flip side, their boys and now their granddaughters, Elle and Cecilia, get to grow up hearing stories from people from all over the U.S. and the world, which is something she and Bob are thankful for.
"What I was offering was not your standard bed and breakfast, but it was the whole 'farm stay, farm vacation,'" Beth says. "Come and be a part of our farm family. Our boys grew up sitting at the dinner table with whoever walked in the door.
It really added this whole other dynamic beyond the bed and breakfast for the guest, and then an incredible education for our sons growing up."
During their stay, guests can try milking a cow; help feed calves with David's wife, Asia; ride in the tractor with David or Bob; and learn about what it's like to be a dairy farmer. Beth says people often come with a long list of things to do and see in New England and end up spending most of their time just enjoying life instead of running around everywhere.
"They'll call and need to know the top 20 things to do, and then they get here and they're like, 'Oh, playing with kittens, number one,'" Beth says.
From an advocacy perspective, perhaps one of the best side effects of having a B&B on a dairy are the conversations they're able to have with their guests about food, dairy cows and a whole host of other agriculture-related topics and issues.
Beth says she frequently has guests ask her questions about these topics, and she is able to have open and honest discussions with them about the issues, and then, depending on the topic, they can walk out the door and see it in action on the Kennetts' 120-cow dairy.
"What I've seen over the 30 years is the incredible importance of farmers being open to the public and giving people that opportunity to have a glimpse into the work involved in producing their food and the care and the commitment," Beth says. "What people will say time after time is they're astounded at the commitment that Bob and David have and the hours that they put in."
One thing guests really like, however, is that Kennetts are part of the Cabot co-op because they can go home to Florida or Utah, or almost anywhere in the U.S., and buy Cabot products and be able to say, "I know the cow that made the milk for this cheese." They love that they have a relationship with the farmer and know who they're supporting when they buy dairy products.
That, Beth says, more than anything has been the most rewarding part of this business. It's been the relationships and connections they've made over the years as people come to experience farm life and be part of their family and experience life on a dairy in northern Vermont.
"It's been an incredible blessing," Beth says. "An incredible experience to have people care. We are very humbled and very, very blessed."
Take a photo tour of Liberty Hill Farm and B&B.
PHOTO 1: Bob and Beth Kennett moved to the farm in 1979 when the farm was only a 34-cow tiestall dairy. Today, their 120-cow Holstein herd is about 80 percent registered. Bob and their son David focus on genetics, and David likes to show, so he continues to keep the show cows in their tiestall barn while the rest of the herd is in a freestall barn.
PHOTO 2: "It was kind of like – utilize the assets in order to diversify the income in order to survive, and the asset was a big old farm house and I make good pancakes." –Beth Kennett
PHOTO 3: Beth tries to use local ingredients whenever possible. Before each meal, she'll name off where each local product came from and who owns the farm. Guests love it when she gets an egg or produce delivery from her neighbors because it's completely different than what many of them are used to, and they enjoy knowing who they're supporting. Photos by Jenna Hurty-Person.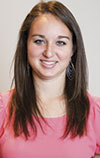 Jenna Hurty-Person

Field Editor
Progressive Dairyman