Low milk prices combined with high costs of production, feed and energy force family farms to look for additional sources of income. Rosenholm Dairy in Cochrane, Wisconsin, combats the low milk prices and alleviates financial pressure through their composting facility.
"The compost business is a separate entity called Cowsmo Inc., and it makes us money every year," John Rosenow says. "The dairy doesn't make us money every year, especially in the last seven or eight years."
However, low milk prices were not what initially led Rosenow to diversify his farm. Back in 1989, a huge fire destroyed his main dairy barn, causing Rosenow to rebuild and move in a new direction. One of the changes he built in the new barn was the addition of a composting facility to manage the manure generated on the dairy.
"We decided to build a flush barn with curtain sidewalls. The people who were helping advise us said composting would be a good part to add, so that is what we did," Rosenow says.
Later in 2006, with the encouragement and expertise of a Community Supported Agriculture grower, Heather Secrist, Rosenow began mixing compost-based potting soils to provide a local alternative for organic growers who had been importing their potting soils from the Northeast.
"She came to us with a couple formulas, so we made some potting soil by blending it with our compost and then tried it on a bunch of farms," Rosenow says. "We then tweaked it a little bit more and kind of grew from there."
Since then, his potting mix sales have grown as more Midwestern growers, such as Harmony Valley Farm, Featherstone Fruits and Vegetables and Heritage Prairie Market, chose to buy local.
Rosenow's compost business, Cowsmo Inc., sells four different products.
"One is compost, which is composted cow manure. And then we have three types of potting soil," Rosenow says. "We call them the red, blue and green. Those are the different varieties, and it is just a different variation on the types of ingredients added."
The added ingredients in his potting mixes include peat moss, fertilizer and sand. Online, a bag of Cowsmo potting soil can be bought for $5 to $9, and Rosenow says retailers generally sell his bags of potting soil for anywhere between $15 and $16.
The sawdust bedding used on his dairy farm comes from a local source where the wood has not been treated, allowing Rosenow to market his compost and potting soil as organic. Because his Cowsmo compost products meet the National Organic Practices standards, it can be used to grow food products certified organic.
Not only does the compost business assist the dairy financially but also through nutrient management.
"The process of handling the manure is significantly less," Rosenow says. "We are able to export over half the nutrients off of our farm so we don't need as many acres to get rid of the manure."
The manure produced on the dairy is removed from the pens using a flush system. Recycled water is flushed through the barn alleys, taking the manure and used sawdust bedding with it. It is then pumped over a screen, which separates the solids and liquids. The liquids are sent to the lagoon and are irrigated over the farm's crops while the solids are taken to the compost facility and are built into windrows for composting.
Back when Rosenow's focus on composting became more serious, a 2-acre hard-surface site was built, a compost turner was purchased, and he began monitoring windrow temperatures to create high-quality compost.
"As soon as the windrow gets up to a certain temperature, we turn it, and we keep turning it until it doesn't stink anymore," Rosenow says.
This process incorporates oxygen into the rows so the microorganisms can survive and transform the raw material into compost. The color changes from yellow to a dark brownish-black, and the smell changes from that of dairy manure to an earthy soil aroma. The pile reduces in volume by about 60 percent, and the texture changes from particles of digested feed and sawdust into tiny dark pebbles.
The finished compost is sold, loaded in bulk onto trucks and delivered to local garden centers or online buyers. As sales grew steadily, a third acre of hard surface was added to the compost site, and a larger compost turner was purchased. These changes increased his compost production capacity from 3,000 to 8,000 cubic yards per year.
Rosenow says he sells 5,500 tons of compost a year and around 15,000 bags of potting soil. Much of his marketing is done online and by attending 10 to 15 trade shows a year.
PHOTO 1: Turning the windrows incorporates oxygen into the rows so the microorganisms can survive and transform the raw material into compost.
PHOTO 2: The manure solids are taken to the compost facility where they are built into windrows for composting. The internal temperatures of the windrows are recorded from start to finish. Photos provided by John Rosenow.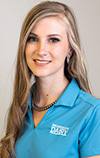 Audrey Schmitz

Editor
Progressive Dairyman