When local specialty hardwood lumber store owner Lou Irion called, I thought it was about an upcoming orchard pruning demonstration I had organized for our Woodland Owners Association.
But Lou instead suggested I write a story on one of Joe and Brenda Cochran's daughters, who signed with the Elmira Enforcers hockey team to be their goalie in a March 2 game against the Danville Dashers. The Cochrans dairy in north-central Pennsylvania.
I know the Cochrans and have met some of their 14 children in 2016 while helping Joe update his nutrient management plans and help transition their farmground into no-till.
"You know me," he is often heard to say, "I'm just a farmer. I've got no time or memory for all this paperwork." Joe is 69. He still farms despite the physical wear-and-tear on knees and heart from a lifetime of milking, the more recent stressors of dairy economics and anti-farming DEP regulations.
Brenda Cochran is a self-described "city girl" who embraced the rural Pennsylvania life style 36 years ago with a passion and veracity well known in the Pennsylvania's northern dairy tier. She also home-schooled all of her children. Brenda is well-known for her passionate knowledge of dairy economics and for championing the right to farm as a constitutional right. As president of Farm Women United, Brenda lobbies Congress and Pennsylvania legislatures to institute a $20 emergency floor milk price on every hundredweight of milk produced.
So I knew, if Hannah was one of their 14 children, her story was built on the foundation that has supported so many dairy farming families who tenaciously teach their children to pursue their passions.
"This is a great story about a person who just started fooling around with the family and found a real passion and ability, and that turned into being part of a professional organization. Good things still happen," Irion said.
Irion met Hannah and a number of her siblings at the drop-in hockey sessions at First Arena in Elmira. "The family also rents ice time at the rink in Corning, and that brings even more Cochrans out of the woodwork, including 'Pops,' their father, who skates with us and a few of her older brothers," he said.
"Dad skated years ago as a kid on ponds," explained Hannah when asked how she got started in hockey. "To be honest, all I remember was my brother Cale decided to get us all hockey skates one Christmas."
That would be 16 pairs of skates, if anyone is counting.
"The Cochran team in 2009 was Dad, Josh, Cale, Eli, Mac, Jake, Ike, Emma, Molly, Agnes and me. We'd all head up after chores to 'Cow Pattie's Pond' as my sister Jessie likes to call it nowadays," Hannah said. Once they got their "skate legs" under them, the family started driving the 40 miles to Corning, New York, for rink time – in between morning and evening milking. Her brothers started picking up games first, and by 2013 Hannah was doing the same. "I started playing drop-in hockey in Elmira in 2016, and that is when I met the Irions," she said.
"I've spent some time with the family and visited them at their farm," Irion said. "The work ethic they display seems to carry over to their approach to life: work hard and play hard. Hannah is fully committed in everything she pursues, and she is fearless in the net, which says a lot about her character. She is also a mean skid steer driver."
"My first job on the farm was calf feeder," Hannah said. "I was 6 years old and, by age 8, I was in charge of the springing heifers." She laughs when asked when she learned to drive a tractor. "I refused to learn how to drive a tractor," she said. "I caught on real quick that I was kid number 10. I already had enough jobs to do. I started parlor milking when I was 14 with my sister Molly. We'd milk in the morning and get our chores done. And by 10 a.m. we'd be off to the rink until 1:30 p.m., then back home to do evening chores. We did that every week every year during the hockey season."
That work ethic – long days with little sleep – and a family devoted to being all they can be has benefited all the Cochran siblings. Hannah, Emma, Molly and brothers Jake and Eli are single. The rest of the family seen in sister Agnes' September 2018 wedding picture have all started families of their own. Hannah, who turns 30 next month, graduated from Penn College in Williamsport, Pennsylvania, in 2016. She now works at the Sayre Health Care Center, a skilled nursing facility, as an occupational therapist assistant.
But a career off the farm has not impacted her hockey playing. If anything, she is thriving on the success of her career and favorite pastime.
"A few years ago, I started picking up Tuesday night club skates at the arena," she said. "The past three years, I've essentially been at the rink playing on the men's teams. That is how I got to know the Elmira Enforcers. The coach had this idea he'd have me skate with them one night to promote women's hockey."
Central New York is home to more than 10 ice arenas, and the national women's hockey league – formed in 2014 – is located in New York City. (They held their first all-star game in Buffalo, New York, in 2016.) But First Arena rarely sees female hockey players, according to Cochran. The arena was home to the Elmira Jackals, an East Coast Hockey League for 17 years, a league above the Enforcers' Federated Hockey League. Cochran explained she prefers the faster pace of men's hockey.
"I have eight brothers, and we played hard," she said. "It got pretty heated at times, and they didn't hold back. They showed me no mercy. My brother Ike's already looking ahead to the next time he blows one by me so he can say he scored one against a professional hockey player."
Her love for the sport, family and dairy farming is evident.
"Once you get your legs under you, you have to really enjoy it to keep playing," she said. "If you don't love it, you won't make the effort. That is kinda why our family does dairy. It's a hard way of life. You have to be [a] pretty tough person to do it."
Cochran is thrilled to have played in a professional game in March.
"They had me come out next to last with the other goalie. Owner Robbi Nichols put me in the game the last two minutes and 40 seconds," she said.
That may not seem a long time, but two minutes in hockey means time for two saves and a "Hail Mary," and that is just what Hannah did. And, I am sure, what her mom and dad said from the stands.
PHOTO 1: Hannah Cochran said she got to know the Elmira Enforcers, a professional men's hockey team, and the coach had an idea to have Hannah play in a game to promote women's hockey.
PHOTO 2: Joe and Brenda Cochran's 14 children pose for a family photo at sister Aggie's September 2018 wedding.
PHOTO 3: Hannah Cochran served as goalie for the Elmira Enforcers men's hockey team for nearly three minutes during the March 2 game against the Danville Dashers. Photos provided by Hannah Cochran.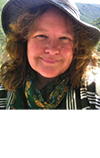 Melissa A. Bravo

Certified Crop Adviser – Herd Health Specialist
Meadow Lake Farm Consulting