A Pacific Northwest dairy farm known for its national award-winning sustainability efforts, especially with vermiculture, launched a skincare line called Nurst which is made from excess colostrum from their dairy cows.
"I first started thinking about the idea when my niece was experiencing severe eczema," says Austin Allred, owner of Royal Dairy in Royal City, Washington, and one of the founders of Nurst. "Colostrum is often on my mind since I am around cows all day long and have seen the miracle that colostrum provides for calves' health. I believed colostrum would have qualities that would also heal my niece's issues."
In 2019, Allred and his wife, Camille, started doing some research and connected with a lab to learn more about creating a skin cream from bovine colostrum. With the help of the lab and Camille's sister, they experimented and came up with a cream using clean ingredients combined with colostrum. The name "Nurst" is both to "honor the mama cows and to focus on the nourishment colostrum provides for the skin," he says.
"We had a great team at the lab that helped us come up with an amazing cream – and from there, we added more experts to help analyze the product and market it so everyone can enjoy the benefits," Allred says. "We started with a moisturizer, since colostrum works best when left on the skin to heal and regenerate."
Led by the Allreds, the Nurst team includes Austin's sister, Ashlee, who helps with marketing and serves as dairy liaison to keep everyone connected to the source of the products; Austin's sister, Erin, who works in sales, fulfills orders and creates influencer boxes; a family friend, Seila, who helps with social media; and Nurst CEO Jen Davis, who works with chemists along with marketing and packaging specialists to develop the product and bring ideas and plans to fruition.
Since the launch of the moisturizer in December 2020, the Nurst team partnered with Davis, who is a skincare professional with more than 15 years of experience in the beauty industry, to help them select ingredients and formulate future products.
"Before Jen starts creating ideas for new products, she studies the farm to see what we have access to and an excess of, then works with a group of chemists that ultimately makes the decision as to what will pair best with each ingredient we choose," Allred says.
Davis reports that initial product reviews have been positive.
"We have seen reviews about incredible relief from eczema, dry skin, aging and more," Davis says. "Return customer rate is high, and we have never had a product return, so I think that is a good sign."
Nurst is currently marketed solely through Instagram, Facebook and TikTok with additional plans in the works for a full launch featuring new products later this year.
"We are working on creating an affiliate program through our social media," Davis says. "It has been a fun process connecting with genuine influencers in the farming and skincare realms who want to know about and share good products. The greatest satisfaction comes when people genuinely love the product and see results."
The Nurst team is currently focusing their marketing on women in their 30s through 50s who are newly concerned with taking care of their skin and their family members' skin, including their babies. Women interested in sustainability is another focus.
Royal Dairy is known for its nationally award-winning sustainability efforts, and Nurst is maintaining the focus on sustainability by using eco-friendly packaging, sustainable ingredients and more.
"Using excess from the farm helps to keep our regenerative practices moving," Allred says.
The skincare line is not the first non-dairy diversification for Royal Dairy. Worm castings are another income stream resulting from their Biofiltro system, which is the largest in the world and utilizes worms' digestive systems to turn lagoon water into irrigation-grade fertilizer for use on crops. They also sell carbon credits because of their sustainability efforts and have diversified into the beef market with their Royal Ranch brand.
"I have lots of ideas, so when I have an idea that I feel passionate about and can get a team around me to make happen, I will," Allred says. "We are in the process of expanding our skincare line now and plan to utilize a few different ingredients from the farm in each new product. We aim to have a simple skincare routine for all skin types, and new products will be released as they are ready later this year."
PHOTO: Four Nurst team members display their first colostrum-based skincare product. Those pictured include Erin Pike, Austin Allred, Camille Allred and Ashlee Frank. Photo courtesy of Royal Dairy.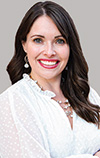 Kimmi Devaney

Editor
Progressive Dairy