Any dairy farm girl will tell you that there isn't much she can't fix with a piece of baler twine, but Kristi Jarek took that mantra to a new level when she fashioned a gown from baler twine, feed sacks and old 4-H ribbons.
The dress was created for the Aveda Institute of Beauty and Wellness's Earth Month "Trashion" Show, held in Milwaukee, Wisconsin, in April. Stylists and students were challenged to create runway-ready looks using 100 percent post-consumer recycled materials. In other words, they were tasked with turning trash into wearable treasures.
It's no surprise that Jarek, who owns Kalypso Salon in Green Bay, Wisconsin, found her inspiration on the farm. She is an active part of her family's dairy, East Branch Holsteins, and enjoys showing dairy cattle just as much as she loves styling hair. In fact, nearly everyone on her salon team grew up on or around farming, including student and future stylist Mikhayla Luttrop, who modeled and helped create the dress.
Jarek and Luttrop, along with Jarek's mother, Debbie, came up with a vision for recycling white feed sacks into a puffy skirt. They used old hula hoops to provide shape and structure underneath the billowed bags. For the top, they jazzed up an old, plain, white tank top by creating a collage of ribbons from decades of showing cattle. The rosettes were used as accents around the skirt and at the shoulder.
Baler twine took on a new form. Several braided pieces made a beautiful waistband. By fraying, brushing and combing the plastic twine, they created a colorful ribbon used as a bow for the dress's back, along with a corsage and necklace to match.
According to Jarek, the only item that was purchased to make the dress was a bottle of no-sew glue. All other materials were recycled or repurposed.
When the dress hit the runway for the fashion competition, it certainly caught the eye, making a proud statement for Jarek and her team that "farm girls aren't just boots and jeans."
This was Jarek's second time competing in the Trashion Show. Last year, she made a dress from tractor tire inner tubes, adorned with old bolts and rivets. And she is already thinking about next year's entry, possibly using biodegradable baler twine. PD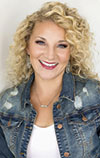 Peggy Coffeen

Editor
Progressive Dairyman
PHOTO: Mikhayla Luttrop models a dress made from feed sacks, baler twine and old show ribbons for the Aveda Earth Month "Trashion" Show. Photo provided by Kristi Jarek.