Kati Kindschuh of Brownsville, Wisconsin, may be the 2016 Wisconsin State Holstein Princess, but there is more on her resume than smiling and waving. Along with her duties as Holstein Princess, Kindschuh works on her family's 60-cow dairy farm, attends college full time and participates in competitive cross fitting.
Education is a high priority for Kindschuh, who will be the first person in her family to receive a college degree. She was extremely active in high school in both clubs and academics. Kindschuh was extremely active in FFA throughout high school, even serving as a state officer following her senior year. She credits the connections and experiences she gained during her work in FFA for helping her get where she is today.
Kindschuh says her habit of constantly being involved with several different activities at once stems from her dad. "My father is very much in the mind-set of 'If you're sitting down and you feel bored, you're probably forgetting to do something,'" Kindschuh says. "That mentality of staying busy and staying active and always striving to learn and to grow in some way, shape or form has definitely transferred from the farm to other aspects of my life for sure."
After graduating from high school, Kindschuh began taking classes at a nearby junior college. "That's where I fell in love with professors and fell in love with school work," Kindschuh says. "It's a really important turning point in my life." Kindschuh will receive her associate's degree at the end of the current semester and continue on to University of Wisconsin – River Falls to earn her bachelor's degree. "It's the Harvard of agriculture when it comes to agriculture education and things like that," she says. Kindschuh will be working toward a degree in marketing communications with the intent of someday becoming an agricultural communications professor. "It's a long education track, but that's the plan; we're just going to hold on for dear life and go with it." Kindschuh has already started her career in the ag communications world as a freelance writer for the Wisconsin State Farmer.
Aside from her academic pursuits and work on the family farm, Kindschuh is a competitive cross fitter. She was introduced to cross fit through her sister, Jessica, and has since not only become a competitor herself, but also a coach at the same gym where she got her start.
"I loved the people that work out there and the community that surrounds cross fit, but I also realized that I could be pretty good at it," Kindschuh says. "When I put my mind to something, I tend to hit it with full force. It's kind of an all-or-nothing thing with me." She says she also enjoys cross fit because of the added value it brings to her life and lifestyle. "I really enjoy the competitive side of cross fit, but I also just enjoy being healthy and being active. That was something that was really important to me and kept me coming back."
Cross fit also helps Kindschuh find some balance among the many other activities she is involved in, especially the pressure from her college workload. "At school you're so focused on homework and studying that you just need a mental break from it all, and that's what cross fit does for me," Kindschuh says. "Cross fit is so physically and mentally demanding that I don't have to think about school when I'm at the gym, but once I come to school, I don't think about cross fit. It's a great mental break for me."
Kindschuh says cross fit has also helped her with her work on the farm. "It's been great, and it's very real-world experience applicable because on the farm, clearly there's lots of manual and physical labor, and being strong and having the mental capacity to know 'OK, I can just keep pushing and get this done,' whether it's unloading hay bales when it's 110 degrees or any other number of farm chores that could be not so glamorous, is invaluable," Kindschuh says. "Having the background of cross fit definitely helps, both physically and mentally, to get the job done."
According to Kindschuh, growing up on a farm has helped her to cultivate a discipline and work ethic that comes in handy not only with her cross fit competitions, but also with life in the real world. "Young people get a bad rap for being lazy, but there are a lot of hard workers out there, and being on the farm definitely gave me an 'OK, you've got to get this done because you can't count on anyone else to get it done for you. If you want it done right, you'd better do it yourself' kind of mentality."
Kindschuh plans to continue her cross fit career as a hobby as long as her schedule and her body allow, but will focus her main efforts on her career in ag communications. What she would like best would be to return to the farm after she gets her degree. "I would love to go back and return to the area to help and do whatever I can on the farm. I would never be able to completely leave the farm for life; it is something that I'll always need," says Kindschuh. "I'll always miss home, even if I'm happy doing whatever I'm doing, just because there's no place like home."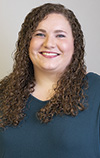 Carrie Veselka

Staff Writer
Progressive Dairyman
PHOTO 1: Kati Kindschuh, as a Holstein Princess, devotes herself to far more than smiles and waves.
PHOTO 2: Kati Kindschuh began her Holstein Princess duties in January 2016. These duties include speaking at schools and events as a representative of the ag industry.
PHOTO 3: Kati Kindschuh began cross fit training at a gym close to her house. Today she is an active competitor and coaches a class at that same gym. Photos provided by Kati Kindschuh.
Before commenting on our articles, please note our Terms for Commenting.