How did you get started in videography?
Hagenow: My passion for videography all started in grade school, when I created my first video project for a computers class.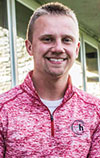 Dan Hagenow
Featured videographer
Reedsville, Wisconsin
I created a basketball highlight tape for this project and enjoyed it so much it continued into high school and college, where I was able to take it to the next level.
I found myself creating videos for class projects, sports teams and any opportunity I could find to get out of a test or presentation. While attending the University of Wisconsin – Whitewater, I was a video production intern, where I created videos for the campus. This is where my love for videography was taken to the next level.
What is your favorite type of video to shoot?
Hagenow: Without a doubt, my favorite type of video shoot to be involved in is any agriculture-related video project. I was born and raised on a small dairy farm, so any time I get the chance to meet a farmer and see their farm, it is extra special for me.
Having a farming background has lent itself beautifully to these type of shoots because I can relate to farmers and businesses within the industry. Even though my camera equipment may get a little dirty or smell for a few days – I'm OK with it.
Why do you enjoy farm-related videography?
Hagenow: I enjoy farm-related video projects because that is where I came from. Growing up and working on a farm for over 18 years of my life, you learn to appreciate the passion, hard work and emotion behind farming. Being able to capture that same passion, hard work and emotion for other farmers and businesses is something I enjoy.
Describe your most memorable video shoot.
Hagenow: To date, the highlight of my career was when I got to meet and work with Green Bay Packer Jordy Nelson. For two hours of my life, I was directing Jordy Nelson around and telling him what to do. This video shoot took place in May of 2017 and was for an agriculture equipment dealer called Service Motor Company.
I had produced multiple videos for the company. It was a creative branding video that compared a NFL game-day experience to Jordy driving a Kubota lawnmower as he raced against other employees. Directing a famous person, such as Jordy, in my first year of business is something I will never forget.
What are one or two tips you would give to an amateur photographer or videographer who wants to take a great picture or video of people and/or animals?
Hagenow: Tackling a video project can sometimes be overwhelming and scary. One tip I would give to anyone looking to do this type of work would be to identify three to four goals you are looking to accomplish with the video you are producing.
Then, all the filming you do for that video should be working to accomplish those goals you have identified. Throughout the entire video production process, I will always remind myself what the goals for the video are and what we are trying to accomplish.
Dan's favorite video project picks are:
5. Dan had the opportunity to create a promotional video for World Dairy Expo to help recap their 50th anniversary.
4. The Golden E Dairy promotional video is the most viral video Dan has produced so far. The Breakfast on the Farm preview has been viewed over 205,000 times and shared over 1,700 times around the world and tells the family story behind the farm.
3. Dan was heavily involved with the 2017 Kewaunee County Farm Technology Days. He created three different videos to help promote the event. Here is the most powerful video of the three, as the Ebert family talks about their family farm and hosting such a large event.
2. Dan filming Green Bay Packers wide receiver Jordy Nelson in a video shoot for Service Motor Company. Jordy takes his lawnmower racing pretty seriously.
1. The Driftline Holsteins dispersal video is one that represents what Dan Hagenow Video Creation LLC is all about. The video tells the story of Roger Broege as he talks about his love for cows and the dairy industry. Dan worked for Broege throughout high school and created this video to spread the word about Broege's sale.
PHOTOS: Images by Dan Hagenow.
Website – Dan Hagenow video Creation
Facebook page – Dan Hagenow Video Creation
Vimeo page – Dan Hagenow Video Creation
Before commenting on our articles, please note our Terms for Commenting.