When T.J. McClure joined a start-up dairy heifer operation in the heart of beef cattle country during the devastating dairy down cycle of 2009, people thought he had lost his mind.
"We started with the bottom of the dairy market, when grain prices were at record highs and dairy markets at record lows," McClure, general manager of Circle Heifer Development LLC in Garden City, Kansas, says. "But it turned out to be a good venture for us."
At that time, the Great Plains was not yet a sought-after destination for sending dairy heifers. The four men who formed the corporation – McClure, his step-father, Wes Whitaker, and another father-son duo, Dean and Marc Gigot – were really pioneers in proving that the dry, moderate climate of Kansas could indeed be a place where dairy animals could thrive.
Today, seven dairies from Ohio and Michigan send their replacements to be reared at Circle Heifer Development. With a few other custom growers in the neighborhood now too, this southwestern corner of Kansas has turned into a heifer-raising hot spot.
Growing up in the Texas Panhandle, McClure was more familiar with feedyards than freestall barns, but his lifelong love for livestock gave him the drive to extend his passion from beef cattle to dairy heifers.
With an animal science degree and master's degree in business administration from Oklahoma State University, McClure stepped into the management role of the heifer development facility with a solid foundation of knowledge and experience; however, he quickly realized that working with dairy would be a whole different "animal" for himself and his employees, who were also accustomed to a different species of cattle.
As McClure learned the ropes of the dairy heifer business, he longed for a group of peers to which he could relate the challenges of not only working with dairy cattle but also running a business. He discovered that and much more with the Dairy Calf and Heifer Association (DCHA).
McClure came to his first DCHA conference in 2013 and immediately found what he was seeking. "Once I got involved and began networking and troubleshooting and being with people in the same mindset, it was very beneficial," he recalls.
In just a matter of days, McClure went from not knowing who to call when he had a question to having a network of industry experts and fellow growers ready and willing to respond to his inquiries.
He tapped into these resources a few years back when he was dealing with pneumonia and pinkeye infections among his heifers.
"I was able to contact other growers around the U.S. to see what challenges they were facing," he recounts. "Come to find out, the issue was coming out of the Upper Midwest and settling down here. I actually had four or five people I could call to see what they were doing and what their vets were saying."
These positive experiences encouraged McClure to take on a leadership role with the organization. For the past two years, he has served as the DCHA Southwest regional director, a position that has further connected him with like-minded growers.
"I've been able to plug into a network of people whose passion is the exact same passion that I have," he says. "Being able to sit around the table and learn from them – it's a great return on my investment."
With the 2016 DCHA annual conference just around the corner, McClure is certainly looking forward to the speakers and topics, but he is most excited to see the fellow calf and heifer raisers whom he now calls his friends.
McClure adds, "It was a blessing for me to find this association." PD
PHOTO 1: T.J. McClure is the general manager of Circle Heifer Development LLC and the Southwest regional director for the Dairy Calf and Heifer Association (DCHA). He is pictured here with his wife, Aly.
PHOTO 2: Circle Heifer Development LLC was one of the first operations in Kansas to grow heifers from the upper Midwest. Today, it is home to 11,000 heifers. Photos provided by T.J. McClure.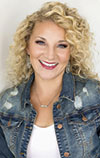 Peggy Coffeen

Editor
Progressive Dairyman