A dozen tall cement grain silos signal you've arrived in Hartley, Texas.
Go past the town's only gas station, and you will miss the whole of it.
Yet even if you were paying attention as you drove past at 70 mph on U.S. Highway 385, you probably wouldn't recognize the 14,000-cow organic dairy operated from the center of this west Texas town.
In an L-shaped building across the street from those white-washed silos is a discreet yet rapidly growing dairy business, AgriVision Farm Management, created by Donald and Cheri De Jong.
The second-generation dairy owners originally from California started with just 800 cows in another Texas dairy town nearly three decades ago. In 2002, they built the first dairy north of Amarillo and haven't stopped building since.
To some dairy producers, Donald and Cheri might seem "lazy" because they now have desk jobs or "soft" because they don't get their hands dirty or manure on their clothes much. But the couple, who will celebrate their 27th wedding anniversary this year, sees a bigger picture.
They are building toward a multi-million-dollar dairy business. One that will last well past the dairy's third generation.
"My life turned out completely different than when I started my first dairy. Completely different," Donald says. "I can honestly say I don't touch a cow anymore. I'd like to, but there is not enough time."
From California to Texas
Donald grew up as the third son of a Dutch immigrant in southern California. He recalls his father working as a milker and then a cash-and-carry store owner. In eighth grade, his dad sold the store, moved the family to Sun City, California, and started his own 400-cow dairy.
Donald would be the first of his siblings to go to college and attend California Polytechnic State University – San Luis Obispo. There he met Cheri, the daughter of a grocer from northern California, while working on school-related projects. They were both agribusiness management majors.
"I didn't want to be a dairyman when I left for college," Donald says.
After college and a wedding, Donald went into commercial and industrial real estate. He represented many farmers selling their land to higher-value-per-acre industries. And while he did very well financially, Donald didn't like what he was doing or those he worked with in real estate.
In 1989, just a year after graduating from college, Donald took his earnings from the real estate business and started shopping for a dairy of his own. He knew the cost of quota and land in California prohibited starting a brand-new dairy there.
Donald and Cheri were looking in the Roswell, New Mexico, area when they discovered an 800-cow dairy near Stephenville, Texas, for sale. It was a turnkey operation, as the dairy's previous Dutch owner had suddenly passed away before ever milking in his new barn.
"Texas was probably the cheapest and the hardest place to dairy," Donald says with a laugh and a smile when describing why he chose to dairy in the Lone Star state.
For 15 years, Donald and Cheri operated Rising Sun Dairy in Dublin, Texas. They had just 20 employees.
'We didn't have a life'
Soon after purchasing the dairy, they slipped away for a belated honeymoon cruise. During the cruise, they happened on a dairy couple from Wisconsin who were taking their first vacation in 15 years. Donald remembers leaning over to Cheri sometime during the cruise and saying, "I don't want to be like them." He wanted more freedom from his dairy. He knew something would need to change.
In 2002, Rising Sun Dairy began raising its own heifers near Hartley in the high plains of Texas. Raising replacements in this part of the state "made a lot of sense," Donald says, because of the area's low humidity and relatively temperate climate compared to other areas in Texas.
Excellent gains are one of the reasons beef cattle had been fed in the area for some time.
Donald and two of his brothers, Willy and David, who had also purchased dairies in Texas, pooled their heifers together and built a facility to house them all.
"We realized being separate was great, but with certain things we needed to come back together for financial leverage," Donald recalls.
That was the beginning of several collaborative enterprises between Donald and his siblings that would become the business known today as AgriVision. Donald is its chief executive officer and Cheri its chief financial officer.
The first dairy near Dalhart
Donald jokes that as soon as the first heifer calved at the ranch in Hartley he, of course, had to build a dairy there. But it wasn't long after the heifer ranch was up and running that Donald looked into the opportunity for a satellite dairy in Hartley. By 2005, he had set up a 2,500-cow dairy there.
"We thought we could stay in central Texas and run a dairy. We thought we had the management all figured out. But we realized we had to get up there [to Hartley] and we had to stay there," Donald says.
Over the next year-and-a-half, Donald and Cheri would sell Rising Sun Dairy and relocate to Hartley, increasing the conventional herd from 2,500 to 5,500 head milking. In the meantime, the De Jongs' cooperative, Select Milk Producers, had grocery stores asking for organic milk suppliers.
Donald and Cheri both raised their hands among co-op members and volunteered to start an organic dairy to fill the requests. The plan for the organic dairy began as a 500-head facility, but by the time cows were milking it was a 3,000-cow dairy.
"We were in the right place at the right time and we knew the right people," Cheri says.
The De Jongs acquired several thousand acres of adjacent land from three Hartley ranching families for the organic dairy. As the ground was former rangeland, they were able to quickly convert it to USDA-certified organic ground for pasturing their cows.
And Natural Prairie Dairy was born. By the end of this year, that dairy will be milking 14,000 cows.
In total, organic and conventional herds included, the De Jongs own dairies in Hartley County that will be milking more than 22,000 cows by the end of the year.
AgriVision is born
The challenge of running a satellite dairy operation for a short season, the collaboration with Donald's brothers and the rapid start-up of an organic dairy in a virgin dairy area were the genesis for the creation of AgriVision and the services its related business units now provide. At the time, the closest dairy services would have to come from Clovis, New Mexico, more than two hours away.
Accounting, human resources, ingredient purchasing, logistics, refrigeration and milking system maintenance are just a few of the services AgriVision provides to Donald and Cheri and his brothers' dairies. However, to make it feasible to provide those services, many of the dairies' facilities and operations have been standardized.
For example, any new barn the De Jongs build will be built the same whether in Hartley or central Texas. This "plug-and-play" approach, Donald says, improves the efficiency of stocking parts and servicing equipment.
"I can tell you exactly what each barn is going to spend on maintenance at the beginning of the year. We replace it on our time. There are no late milkings. We don't wait for stuff to blow up," he says.
The milking parlors on these dairies would seem boring to many. They are not carousel parlors but rather parallel barns. And they don't have the most cutting-edge technology in them.
"We like to say we build a brand-new, 5-year-old dairy," Donald says.
But the similarity of the buildings' design and maintenance as well as the consistency of the employees operating them is what De Jong attributes to producing some of the highest-quality milk in Texas and New Mexico.
'People are key to predictable results'
As Donald continued applying the principles he learned in his agribusiness management classes to grow the business, he realized he would have to seek out and hire "the best and the brightest" and be willing to pay a bit more for their services.
Donald says his biggest challenge today is finding the right individuals for his company and developing them into team players. Over the years, he's honed his skills at creating SOPs, developing core competencies and teaching situational leadership.
"Other dairymen ask, 'How can you run a dairy so structured?" Donald says. "But if you're training right, you should have lower turnover. If you have that piece right, you'll have predictable results."
As Donald's business was growing, and even today, he enlisted the help of businesses larger than his own to learn how to best manage employees. He also consulted with Zoetis' PeopleFirst and found their help always gave him and his employees a shot in the arm. Eventually, however, it would wear off. He most certainly learned from their program that he was the one whose management style might need to be more flexible.
"At one point, we said, 'If we are going to be successful and be in this business in the next 50 years, we have to change and change now.' I decided I was either going to figure out how or not," Donald says.
So he approached HEB, one of the largest independent food retailers in the nation that is based in Texas, to learn more about their systems for training and deploying employees. He says it's cliche, but employee management is a "continuous learning process."
For example, seeing shop employees standing around a table talking used to really bother Donald. He didn't think that was getting any work done. "Mechanics should be fixing something," he previously thought. But given how he's trained his employees, he now knows when he passes by that same situation the employees are having a "huddle," an informal planning meeting at the beginning or end of a shift to discuss the work that needs to be done that day or plan their work for the next day.
Becoming a multi-generation company
The De Jongs have set up a company website, actively recruit on several university campuses and use social media to talk about the career opportunities available at AgriVision.
"When I started in the dairy industry, I could only be a dairy manager," Donald says. "We're trying to become a multi-discipline company."
The De Jongs have three daughters who are all still in college. They don't yet know if any of them will be interested in returning home to the family dairy, but Donald is confident there are more disciplines within the company now that could absorb any from the family's third generation who are interested in working for the dairy. In fact, three of his nephews have already joined the business.
"When I started, my mindset for the dairy was looking for good cows and good feed. Now what I do is recruit good people," Donald says. "It's not so easy to recruit to Dalhart, Texas, but once recruits are here and see what is going on and see this is more than just Dalhart, then you can get them – slowly but surely."
Donald tells recruits that his dairy offers them a career, not just a job.
"The dairy industry is changing," he tells them. "You may not own a dairy, but this is a way to have a career in the ag industry and to live in areas that you want to."
Donald recognizes that dairy businesses the size of his own will be difficult to pass to a single heir in the next generation.
"I think it's going to be very hard for a stand-alone operation to survive in the long run," Donald says.
Collaboration like what he's done with his brothers is the direction where he sees the industry headed. That could mean dairies family-owned but run by a board of directors rather than a single operator. That future may arrive as soon as 50 years from now, he predicts.
In the meantime, Donald and Cheri continue to prepare for that advancing horizon.
"We've realized we can make a multi-generation company, not a multi-generation dairy, a multi-generation company." PD
PHOTO 1: Donald and Cheri De Jong own and operate Natural Prairie Dairy, a 14,000-cow organic dairy in Hartley, Texas; Northside Farms, a 5,500-cow conventional Holstein dairy in Hartley, Texas; and Jersey Gold Dairy, a 2,800-cow Jersey dairy in Dalhart, Texas, with their families and employees. Photo provided by Donald De Jong.
PHOTO 2: Natural Prairie Dairy, a 14,000-cow organic dairy in Hartley, Texas. Photo by Walt Cooley.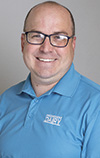 Walt Cooley

Editor-in-chief
Progressive Dairyman