Animal health is not left to chance at Dutch Dairy in Thorp, Wisconsin. With the help of technology, accurate and actionable information aids Sander and Amy Penterman in efficient management.
"Cow comfort is our number one goal," Sander says. "If a cow is comfortable, she is likely to be healthier."
"And efficiency is our number two goal," Amy adds. "We try to accomplish this with as little manpower as we can."
The Pentermans own the 850-cow dairy, where data has become the driving force in optimizing health for calves, heifers and cows, as well as streamlining processes.
From sensor monitoring to automated calf feeding, the Pentermans have learned to trust what technology tells them, and they've been pleased with the results: reduced need for antibiotics and reproductive hormones, growthy youngstock, minimal metabolic issues, labor efficiency and, overall, healthier cows producing high-quality milk.
A little over five years ago, they became a U.S. pilot farm for a Dutch company, CowManager. Even in its early stages, the ear sensor technology quickly opened up a world of information, with ear temperature, eating, activity, rumination and resting time.
Early identification
"Right off the bat, it saved us time," Amy says of the monitoring system. The dairy's protocol at the time was to manually check temperatures on all fresh cows, but that step was no longer necessary with real-time temperature readings available through the system.
Though Sander has a keen eye for cows, he's learned the monitoring data picks up on cow behavior changes faster than he can see them out in the barn. "Milk production may be the same, but now we can see early symptoms like not eating or lying down," he says.
When that happens, he immediately checks the cow for mastitis and pneumonia, along with fresh cow challenges like displaced abomasum and ketosis. He finds treating cows promptly reduces the need for veterinary intervention and additional expense. Conversely, he looks at the individual cow's health history to decide whether to treat or cull the animal.
"I can look at mastitis cows and make the decision on if the cow has a good chance of recovery to a healthy cow again," he says. "If not, we get rid of her."
The Pentermans have also learned to look to cow behavior to anticipate calving difficulty. "If the calf is coming backward, you can see the cow getting up and down. Her period of calving gets longer. The same for cows starting to calve with twins," Sander says. Being proactive and prepared to assist in these situations helps prevents further complications. Amy adds, "Emergency calls are down tremendously."
Fewer shots equals greater cow comfort
Sander strives to create a "comfort zone in the barn" by fostering an environment of positive experiences. Regarding the reproduction program, this has meant relying on sensor technology to indicate heats. Prior to this, the dairy used a synchronization protocol that included administering shots three days each week.
Today, cows are given a 60-day voluntary waiting period and then bred off of natural heat as indicated by the monitors. Those that don't show heat are given an additional 20 days and then enrolled in a single OvSynch program.
"It's fun to do preg check now," Sander says, as pregnancy rates range between 25 to 28 percent, roughly 10 percentage points higher than with the former protocol.
In fact, he's noticed fewer shots lead to friendlier cows. Now that their heifer grower also uses the same monitors and breeding program, first-calf heifers are less skittish too.
Calf monitoring
Not only do the Pentermans monitor cows and heifers, but their calves wear an ear sensor too. Though not originally designed for young animals, the devices provided valuable information during a crisis situation when calves were first moved into automated feeding and group housing in 2016.
"When we built the calf barn, we were losing calves every day, so I started putting the same sensors from the cows on the calves," Sander recalls. What he discovered came as a surprise: After calf activity slowly ticked up for the first five days on the auto-feeders, the calf would crash. "Then, all of a sudden, activity was gone," he says.
The culprit was identified not as a disease or feeder malfunction but rather improperly poured concrete, which prevented washwater from draining out of the feeders after each cleaning cycle. They chose to keep the tags on the calves to help in managing the challenges of group housing, and that has worked out quite well.
"Now we are hitting almost 2 pounds of growth per day," Sander says. Newborn calves spend the first five to 10 days in individual pens, then move to one of four group pens where intakes are as much as 7 gallons of pasteurized milk each day.
A hands-off approach
When it comes to pen moves, the Pentermans' prerogative is for cows to stay put.
"We don't move cows anymore. Every time we moved a cow, you could see them stop eating because they were not comfortable in the pen and had to fight for their spot," Sander explains. "Dry matter intake would go down for a couple of days, and you lose pounds there."
Now, instead of regrouping cows three to four times per lactation, they remain in their respective age groups until dry-off: two 2-year-old groups, two middle groups, an older group and a "tail-end" group.
"On the employee side, it's nice because you can show them [on the report] what the cow has to go through if you put her in the wrong pen for a day," he adds. "We use it for employee meetings to show that this is where we lose money."
The same goes for lockups. Sander limits the time the fresh group can spend in headlocks to no more than one hour to minimize stress.
Managing metabolics
Sander recognizes transition cows are an at-risk group, which is why he balances the ration specific to their needs. One impactful change was purchasing a tub grinder to reduce the length of hay and straw in the diet. "You could see on the graphs that, once we started using it, dry matter intake went up tremendously," he notes.
Sander says displaced abomasums are "hardly existent anymore," down from about 5 to 6 percent. Likewise, they only see about 2 percent of cows with ketosis and less than 1 percent with retained placenta.
Improving efficiency
As Dutch Dairy has multiplied from 320 cows in 2002 to its present size, the Pentermans have focused on efficiency, and technology like cow monitoring has been a big factor. The dairy is designed for easy, low-stress animal handling. "Everything is set up for one person, so only one person is needed to give a shot or move a calf, not two," Sander says.
That allows employees to dedicate their time to more specialized tasks. Amy adds, "Though we still have the same number of employees, we've eliminated some outsourcing and do more in-house." In the past, they used an outside breeding service, but today, that job is handled by a trained farm employee.
"If we do have employee turnover, we can still run our day-to-day and function with less people if we need to," she adds. "It allows more flexibility on the dairy."
The Pentermans are optimistic about a recent advancement in their monitoring technology that could take efficiency to an even higher level. They are currently piloting a cow locator, a hand-held device that looks similar to a cell phone and operates off WiFi.
It works by entering the number of the cow to be found and, as the user walks through the barn, an alert indicates how close the cow is and when she is found.
Sander believes this will help him and employees spend less time looking for cows that need to be bred, treated or given special attention. "I'll be able to walk by and find cows just standing in front of the feedline," he says.
With cow comfort and health as their guiding principles, and efficiency part of their motto, Sander and Amy Penterman look forward to continuing to use technology as a means of reducing reliance on hormones and antibiotics, providing a high level of care for their cows and calves and, ultimately, producing quality milk for their own family and others.
PHOTO 1: Amy and Sander Penterman use technology as a tool to run their 850-cow dairy efficiently while keeping cow comfort and health their priority. Sander emigrated from Holland to dairy farm in the U.S. Amy also works as crop insurance agent. The couple has five children.
PHOTO 2 & 3: Sander Penterman tries out "Find Your Cow" technology, which allows him to locate cows within the pen for breeding, treatments or special attention.
PHOTO 4: At Dutch Dairy, calves are gaining nearly 2 pounds per day. The young calves wear ear sensors to monitor their health, which is especially important in a group housing environment. Photos by Peggy Coffeen.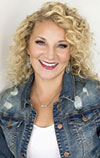 Peggy Coffeen

Editor
Progressive Dairyman