Is tomorrow's dairyman a woman? While the number of females receiving degrees in dairy science has increased to the point of surpassing the number of male students in some programs, several key factors make successful careers in the industry possible for women after graduation.
Recognizing talent from non-traditional backgrounds, accessing mentors, eliminating unconscious bias and networking are all examples of strategies to empower female dairy professionals.
Many of today's students are from non-ag backgrounds. Katie M. Schoenberg, senior research scientist for dairy product development with Elanco Animal Health, is a perfect example. Not from a farm, she explored a wide range of careers at Cornell University before discovering the science of dairy cattle metabolism.
"I got research experience in conservation biology and poultry nutrition before doing a masters in lactation biology," Schoenberg says. "Once I realized I could do team-based science serving dairy producers, I was sold." Today, the Greenfield, Indiana, scientist develops tools that enable dairy producers to do their jobs well.
"Working in dairy science was a happy accident for me," Sophia Erb says. The associate research specialist at the University of Wisconsin – Madison has a background in molecular biology from the University of South Florida, a school without an agriculture curriculum.
"Dr. Heather White was searching for a specialist who knew how to run western blots and carry out cell culture. Lucky for me, no experience with large animals was required."
Empowering women to pursue a career in dairy science means searching out talented individuals beyond vocational ag high school programs or animal science undergraduate degrees.
Identifying mentors and role models is also important. Many women in today's dairy industry are the first in their family to attend college and attain a four-year degree. Mentors are vitally important to guiding young women through the academic process.
"Dr. Nancy Nekvasil at St. Mary's College in Notre Dame, Indiana, encouraged me to pursue research, strengthened my passion for discovery and fostered my development as a woman and scientist," White says.
Today, White's advising role at the University of Wisconsin-Madison demonstrates how women who have been helped to discover opportunities in science are extending a helping hand to the next generation.
"Mentoring students is simultaneously the most challenging and fulfilling part of my career," says White, who chose graduate school over medical school. "I love helping students find their niche in the classroom, lab or at the farm." Half of White's graduate student team is female, in addition to a female lab associate.
White, an assistant professor of nutritional physiology strives to answer some big-picture challenges facing the dairy industry, primarily those focused on transition cow productivity and health. She teaches both graduate and undergraduate level nutrition courses, and conducts an extensive research program.
For Claira Seely, another member of White's lab, a fellow graduate student served as a key mentor. "Brittany Leno first told me what a transition cow was, how to blood sample a cow and walked me through my first lab assay. As I began thinking about graduate school, Brittany helped coach me through the process and gave me valuable advice along the way."
The U.S. Bureau of Labor Statistics forecasts 7 percent job growth for animal scientists by 2024, and many of these careers will require graduate study with a master's degree as a minimum qualification. Both male and female faculty in the animal sciences must serve as mentors to empower women seeking dairy science careers.
These role models are also key to identifying and eliminating unconscious bias toward women in the workplace.
Every single woman interviewed for this story voiced balancing work and life as one of the key professional challenges they face. And they are still being asked interview questions such as, "How will being a woman influence your role as a salesperson on the farm?"
Men rarely voice the work/life challenge as a key stressor, nor does their gender potentially cause a liability for career success.
Although it may be unintentional, bias remains in the industry and must be confronted to empower women to achieve both stability and success in their careers long-term.
Women in dairy science often find micro-challenges build up over time. Mentors and role models ask, "How am I creating a safe environment for women?" They make solutions to problems uniquely faced by women part of their ongoing conversation. They actively search out and remove barriers.
Schoenberg spoke about the importance of mentoring and the challenges of unconscious bias for the education symposium at this summer's American Dairy Science Association (ADSA) annual meeting. She also serves on Elanco's Diversity and Inclusion Council.
Finally, at conferences such as ADSA, women in dairy science must work with one another to develop personal networks. Male and female colleagues are vital to success.
Kristina Weld, a graduate research assistant and master's student in White's lab, offers one word of advice for women considering careers in dairy science. "Network. Many positions, mine included, were found based on who you knew and could vouch for you," she says. After completing her doctoral program, Weld plans to pursue a dairy technical support role in the Wisconsin area.
Mentors and role models must also use their influence to ensure enough women are working in a given area to prevent those individuals from feeling alienated and perhaps leaving the industry.
"If everyone is given the opportunity to be their best and do their best, everyone wins," Schoenberg says. "Better ideas will be on the table, teams will be more effective, and we will ultimately serve dairy producers more effectively."
PHOTO 1: Heather White and her current lab team at the University of Wisconsin-Madison, which demonstrates a
female-dominant lab. Photo provided by Heather White.
PHOTO 2: Dr. Katie Schoenberg of Elanco Animal Health, right, makes mentoring a priority. Carriel Schmitt, left, recently joined the company as cattle territory manager. Photo by Jennifer Lynn L. Stout, Elanco.
PHOTO 3: Heather White with two of her female grad students. Photo provided by Heather White.
PHOTO 4: Tawny Chandler, one of Heather White's graduate students, is finalizing her doctorate in dairy science. Photo by Wolfgang Hoffman.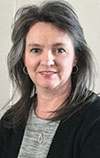 Karena Elliott

International Freelance Writer
Amarillo, Texas