Outstanding Dairy Farm Sustainability
Bar 20 Dairy, Kerman, California
Operating a Producers Dairy milk processing facility in the 1950s, Larry Shehadey started a dairy farm with just a few hundred cows. Through seven decades of growth and a relocation, Shehadey family members have built a sustainability ethic that has spanned generations.
Today, Larry's son John and grandson Steve manage the 7,000-cow Bar 20 Dairy, located near Kerman, California. The fourth generation is represented by Bonney, Steve and Amy's daughter, who is studying dairy science at Cal Poly State University – San Luis Obispo. The Producers Dairy milk processing and distribution facility is run by John's brother, Richard; and his sons, Scott, Richie and Kevin, in nearby Fresno.
"When I was young, my grandfather told me that we make milk for people's children," Steve Shehadey says. "That has always stuck with us on the farm. We can't offer anything but our best for children and the families who buy our milk. Today, that also means doing what we can to help clean the San Joaquin Valley air and be part of a climate solution."
Since initially signing an agreement to build a digester on the family dairy in 2007, the Shehadeys' latest and most expansive sustainability project has been 15 years in the making, on a path marked by advances and setbacks, and affected by changing policies, technologies and markets.
That first attempt to build a manure digester and capture biogas was delayed when the financial crisis of 2009 plunged the digester developer into bankruptcy. Starting from scratch, the Shehadeys then partnered with California Bioenergy LLC (CalBio) in 2013 on a digester project, with a long-range goal of installing methane-powered fuel cells on the dairy.
In 2016, California legislation (Senate Bill 1383) challenged dairy farms to voluntarily reduce manure-based methane emissions 40% below 2013 levels by 2030. At the time, only about a dozen dairy digesters operated in the state.
"We wanted to build a digester long before there were incentives put in place by the state of California to reduce greenhouse gas emissions from dairies," Shehadey says. "Our commitment has always been to the environment and to the land and air we all share."
In 2017, Shehadey decided to move forward with the fuel cell concept, even though costs were considerably higher than using an on-site generator to produce electricity. Tying into the utility's natural gas pipeline, located 20 miles away, wasn't an option.
Construction started in 2020. The total cost to construct and install the project was between $13 million and $14 million, partially covered through a $3 million grant through the California Department of Food and Agriculture's (CDFA) Dairy Digester Research and Development Program (DDRDP).
"It's a considerable investment for our dairy, and we had to go to the bank to fund it," Shehadey says.
The climate-smart dairy solution – fuel cells that convert methane, captured via a dairy digester, into renewable electricity, began delivering electricity to the grid in October 2021.
The process by the numbers
Thanks to the partnership with CalBio, Bloom Energy and BMW North America, this project is a measurable win for the environment, consumers and the economic health of Bar 20 Dairy.
The CDFA's DDRDP funding process required scientific quantification of greenhouse gas (GHG) emission reductions. Using a formula from the California Air Resources Board (CARB), factors included the number and type of dairy animals, animal housing, manure management, percentage of time manure effluent is stored in anaerobic conditions and energy-corrected milk production. CalBio and Bloom Energy remotely monitor and record biogas flows, methane content, methane destruction and fuel cell performance and efficiency.
In the first step, Bar 20 Dairy's 25-million-gallon methane digester captures more than 25,000 tons of carbon dioxide equivalent emissions annually, equal to the carbon sequestered by more than 30,629 acres of U.S. forests in one year, or 6.1 million tree seedlings grown over a 10-year period.
After capture, the biogas – equal to 50 million British thermal units (MMBTUs) harnessed annually – is routed to two banks of Bloom Energy servers, comprised of solid oxide fuel cells. These cells produce renewable energy without combustion, with the same amount of biogas yielding twice the electricity as would be produced in a typical engine-powered generator.
The electric generation is recorded continuously and presented via a web portal to Bar 20 Dairy, so Shehadey can use an app to see how much electricity is being produced at any time. In its first full month, the system delivered an average of 23,000 kilowatt hours of electricity each day.
The Shehadeys expect the fuel cell to produce more than 8 million kilowatt-hours of power annually. Combined with two solar arrays each producing 2 million kilowatts of electricity per year, the dairy will produce more energy than it uses.
As a net exporter of energy, the electricity is sent to the power grid, where BMW North America matches it with specific vehicle identification numbers and at-home charging data. The climate benefits of Bar 20 Dairy's project are estimated to be equivalent to providing clean power to more than 17,000 BMW electric vehicles per year.
Additional benefits
In addition to generating carbon-negative electricity, the Bar 20 Dairy system also contributes to cleaner air and a better quality of life. The fuel cells virtually eliminate emissions of oxides of nitrogen (NOx) – a contributor to the formation of ozone and particulate matter (smog). The project also protects groundwater resources by using a double-lined synthetic material in manure retention ponds, reducing potential nitrate contamination.
"We've lived in this valley our whole life. We care about this valley, and we enjoy giving back to our community," Shehadey says. "That's why we want to be sustainable, looking toward the future to make this place even better to live."
The development of a diversified and consistent new revenue stream is also critical. By participating in CARB's Low Carbon Fuel Standard Program, Bar 20 Dairy will receive payments for the electricity it generates. The carbon-negative electricity supplied to BMW is expected to earn a carbon intensity score of negative-550 – seven times more effective at reducing carbon emissions than the average electric car. One carbon credit represents 1 metric ton of carbon dioxide reduced.
The project also significantly lowers the carbon footprint of the milk Bar 20 Dairy delivers to its family-owned and -operated Producers Dairy milk bottling plant.
The fuel cell project is one of several ongoing investments in planet-smart dairy farming practices at Bar 20 Dairy. In 2020, the dairy began implementing an electric feed mixing system, significantly reducing the use of diesel fuel. Barns are lighted with 100% LED bulbs.
Bar 20 Dairy's projects and goals align with and contribute to a national Innovation Center for U.S. Dairy goal to become carbon neutral or better by 2050. They also continue to adopt new strategies to ensure the best possible animal health and comfort, including participation in the National Dairy FARM Animal Care Program.
Shehadey says he believes the digester-to-fuel cell project could be a model for scalability and further adoption, and regularly hosts facility tours for producers and students, encouraging the next generation of waste-to-energy farmers and scientists.
The expansion of digesters on California dairies has already been rapid over the past seven years. CalBio alone has more than 100 dairy digester projects in development. Two other dairy farmers are already working to bring fuel cell projects online. Of California's 69 climate programs, digesters rank number one in cost-effectiveness, providing 1 ton of greenhouse gas reduction for every $9 invested by the state.
Patience, perseverance, diligent research and finding the right trusted partners were all key to making the Bar 20 Dairy fuel cell project a success. As with any new initiative, a one-size-fits-all approach rarely works. Shehadey recommends that dairy farmers do their homework and assemble a team that shares the same sustainability values that they do.
PHOTO 1: In November 2021, the Shehadey family joined representatives of California Bioenergy LLC, Bloom Energy, BMW North America and the California Department of Food and Agriculture to unveil the new fuel cell project on Bar 20 Dairy Farm in Kerman, California. Photo courtesy of Dairy Cares.
PHOTO 2: The climate benefits of the Bar 20 Dairy digester-fuel cell project are equivalent to providing clean power to more than 17,000 BMW electric vehicles per year. Photo courtesy of Dairy Cares.
PHOTO 3: Dairy farmers Steve and Amy Shehadey with Bar 20 Dairy's combustion-free, electricity-generating fuel cells. Photo courtesy of Milk Producers Council.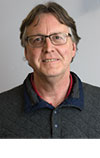 Dave Natzke

Editor
Progressive Dairy
RECIPIENTS OF 2022 U.S. DAIRY SUSTAINABILITY AWARDS
Outstanding Dairy Farm Sustainability
Grayhouse Farms,
Stony Point, North Carolina
Schlangen Dairy,
Albany, Minnesota
Deer Run Dairy LLC,
Kewaunee County, Wisconsin
Bar 20 Dairy,
Kerman, California
Outstanding Supply Chain Collaboration
Bel Brands USA, Land O'Lakes, Inc. and Boadwine Dairy
Outstanding Dairy Processing and Manufacturing Sustainability
Milk Specialties Global,
Monroe, Wisconsin
Outstanding Community Impact