Al Deming attended his first World Dairy Expo in 1972, and he has only missed one show since.
The recently retired general manager of East Central/Select Sires is currently serving his second two-year term as president of the expo's board of directors, where he works closely with the show's staff as well as the hundreds of volunteers who do everything from drive trams to check cattle in at ringside.
"I have very much enjoyed all of my time with WDE, and it's a combination of all people working together – commercial and cattle exhibitors, people who put on education and youth activities," Deming says. "We appreciate our dedicated staff, and it's the 400 volunteers that really make the expo possible."
Deming tells Progressive Dairyman about his passion for World Dairy Expo.
How long have you servedon the board?
DEMING: 26 years (1991 to present). I was chairman of the finance committee for two years, then treasurer for four years; I was elected president in 2015 and re-elected in 2017.
What have your roles and duties included?
DEMING: As president, I work with the full board and executive committee, and I serve as a liaison among staff, volunteers and board committees. The expo is unique, with only 11 staff members but 400 to 500 volunteers. It is trying to keep everyone enthused for their roles and make their experience enjoyable.
We've made a lot of progress in the last few years in getting everyone working together. I try to make sure everyone has the opportunity to voice desires and input and get them working together as a cohesive group. This requires a lot of cooperation among staff, board members and committee people. We are fortunate to have a dedicated expo staff and volunteers who put in many hours behind the scenes.
Why did you decide to pursue this level of involvement with WDE?
DEMING: After attending so many expos, you get it in your blood and heart because it is such a special event. The enthusiasm has always been there. Being involved in finance as treasurer got me more engaged; then I was encouraged by other board members to run for presidency.
If I have any ability, it is to get people to work together, and that is very important with WDE. To make all people feel like they have input and are a part of the expo – that's been my goal as president.
WDE has grown to be so much more than a cattle show … with commercial exhibitors to educational activities, the forage contest to cheese contest, youth activities from showmanship to fitting and judging … all those things combined makes the atmosphere of WDE. It has an image and legend, it's the fall recreation and vacation destination for many dairy producers and enthusiasts to celebrate, and it's an opportunity to conduct commerce.
During your time on the board, what are a few of the accomplishments you are most proud to see WDE achieve?
DEMING: From a physical standpoint, one of the biggest accomplishments was being involved with construction of the new cattle barns and the improvements made once they were built. It was a major accomplishment of county, state and WDE all working together to have a state-of-the-art facility for our event and others as well.
I'm also proud of the growth we've had in all aspects of WDE. There are just so many things, from educational seminars to commerce for commercial exhibitors, cattle show, youth activities – continual growth for all those activities is a big accomplishment.
As times and the industry change, we need to remember not to lose the tradition of the expo but to give opportunity for the changes in the industry. We've got a place for people whether they milk 40 or 4,000 cows – whether they are commercial dairymen or those with show animals – there are activities for all at WDE.
We are finding ways to get large, commercial dairy people involved, whether that be through them or through their middle managers. I have also been involved in helping to move along projects on the campus like better camping facilities, with lighting and water, and better lighting by the trailer parking.
With the long-range planning for WDE, we are trying to adapt to a changing agriculture environment and make sure WDE still has the same meaning to people, that it's a place to come to conduct commerce but still an affordable experience for the average farm family.
What makes you most excited for the future of WDE?
DEMING: The thing that makes me most excited: Our youth programs continue to grow. The more we can do to help our youth get the same fever for the expo helps to keep the show going on into the future. I'm excited we are trying to adopt more trade show technology, to better pass on information to our commercial exhibitors, while still keeping traditional things like colored shavings, the atmosphere and the "wow" factor.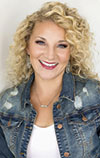 Peggy Coffeen

Editor
Progressive Dairyman