"Grow through what you go through." Those aren't just words Jamie Pagel Witcpalek wears on a bracelet; it is a mantra that's now embedded in her heart.
After suffering a loss beyond comprehension, Witcpalek has stepped out from the darkness of tragedy to greet the promise of a new tomorrow, with a crystal-clear vision and unshakable mission to serve her family, their multiple businesses and team of more than 100 employees as chairwoman of Pagel Family Businesses.
The moment that changed everything
Fifteen years ago, Witcpalek began working alongside her father, John T. Pagel. She brought her human resources education back to the farm, as the operation grew and expanded to more than 5,000 cows at the main site, Pagel's Ponderosa Dairy in Casco, Wisconsin. An innovator, astute businessman and tireless advocate for all things dairy, Pagel's pioneering spirit propelled him to the forefront of dairy farm technology, efficiency and environmental stewardship.
As the dairy expanded to multiple sites in and outside of Wisconsin, the operation diversified to fulfill Pagel's ultimate ambition of creating a business his children – Jamie, JJ, Bryan and Dustin – would want to be part of. His desire to connect directly to the consumer expanded into processing farmstead meat and cheese and opening a "farm-to-fork" restaurant in nearby Green Bay.
Through these projects, Witcpalek was her dad's right-hand woman. From the farmhouse living-room-turned-office, she was by his side as he sketched out ideas and transformed them into realities. Her role of working with the farm's employees and payroll was a perfect balance as she grew her family with her husband, Steve, who also worked closely with John in the family businesses as well.
But on Feb. 22, 2018, Witcpalek's world was forever changed. That was the day she learned the small plane her father and husband were flying in had crashed, and there were no survivors. In an instant, she had lost her dad and become a widow with three young children.
"My world was turned upside-down in one minute," Witcpalek recalls. "It was like my world had been this beautiful stained glass window, and that window was shattered. And now I had to figure out how to pick up those pieces and glue them back together."
Putting the pieces back together
The dual loss left Witcpalek with a complex puzzle to piece back together.
"I had to figure out how to move forward at home without Steve, and in the business without Dad and Steve," Witcpalek recalls.
Not only did she suddenly become a single mother to a 9-, 11- and 13-year-old, but add to that the loss of the patriarch of both her family and their farm, leaving employees and businesses that needed leadership and direction.
"When something like this happens, you're picking out headstones and Bible verses … and then there's the business. With all the grief and emotion, we did what we could at that time. We got through it because of our amazing employees," Witcpalek reflects with gratitude.
Though grieving in their own right, team members stepped up to take on additional responsibilities as the siblings grasped to not only cope with the loss but to define and adjust to new roles. In the meantime, Witcpalek and her brothers started walking through the transition and estate planning their father had put in place.
"Dad's plan was in his head, and I knew it from working alongside him every day, but it wasn't all written down and communicated," she explains. While her father's forward thinking had checked off many of the estate planning boxes, they were still left with many unanswered questions.
"Estate planning and having a trust is critical but, from a personal standpoint, the transition planning piece is critical so you know who is going to be responsible for what," Witcpalek says. "People don't realize how much emotion is involved in those moments. If you make important decisions when emotions are high, that's when it's more challenging."
"Family businesses have family dynamics," she adds. "In order to remain family on and off the farm, that is one of the hardest things."
New vision, new mission
Now, two-and-a-half years later, the farm ownership team come together with a unified vision and mission. With the guidance of a business management firm and a few key consultants, Witcpalek and her two brothers who are involved in the business sat down and had the tough, but necessary, conversations to move forward as a business and a family.
"We have had to take the emotion out of living for Dad's dreams, what Dad would have wanted us to do," she says. "We had to come up with our own values."
Those values are clearly called out in the new mission statement that unites the multiple enterprises as Pagel Family Businesses: Live FIRST. As an acronym, FIRST stands for the values of family, integrity, respect, simplicity and teamwork.
Their mission guides this vision: Growing together for a better tomorrow. That vision statement encompasses unity within the business enterprises, staying at the forefront of technology, prioritizing environmental stewardship and, ultimately, providing a future for the next generation, which includes 12 grandchildren between Witcpalek and her three brothers.
"We're lucky we are siblings who are able to work together. We've had tough, honest conversations, and we've been able to move forward from it," she says.
Another key component in moving forward has been participating in value driver assessments and pinpointing strengths and attributes for each of the leadership and ownership team members. Today, JJ oversees all farm operations, Bryan is in charge of maintenance for the cheese business, and Dustin works for Dvorachek Farms. Witcpalek, as the business's chairwoman, is leading from her own strengths: employees and culture.
"Our main focus right now is to provide a culture where people want to work within Pagel Family Businesses, and not only that, but know why they want to work here," she says.
With the objective to bring the recently rebranded enterprises together as "one team with one dream," Witcpalek has been hard at work, leading with her skill set for encouraging and managing people. Adding message boards at each farm site to recognize daily wins and achievements across each aspect of the operation, she is dedicated to cohesive communication, instilling worth and building loyalty among employees.
"We want every employee to understand that we are all in this together," she affirms. Her efforts are paying off.
"We've been breaking records we haven't broken before, employees are working together as they haven't before and, as a family, the three of us have come together," Witcpalek says.
Grit and grace
The gravity of the grieving process over the past two-and-a-half years has been a heavy weight on Witcpalek's shoulders, but she has dug deep to uncover her strength from within.
"I was devastated, so sad all the time … but my kids have kept me going," she says. The woman who had always been a motivator and cheerleader for others was struggling to encourage herself.
It's taken time, help and an intrinsic commitment to believing she can find happiness again to start to see some sunshine through the rain, but Witcpalek is learning how to accept the journey and the bumps in the road that come along with it.
"My heart is still heavy, but I'm finding my confidence and getting back to feeling good about where things are going," she says.
With a bracelet as a reminder, Witcpalek lives by the words, "Grow through what you go through."
And that is a motto she walks out each day. From the depths of grief to reclaiming her spirit of optimism and gratitude, she knows further growth is in store.
"No matter how hard the last two-and-a-half years have been, we've done wonderful things. We've accomplished so much as a family." She concludes, "We have gone through a tragic event and have grown into who we are and what we are through that."
PHOTO: As chairwoman of Pagel Family Businesses, Jamie Pagel Witcpalek is learning to grow personally and professionally through the tragic loss of her father and husband two-and-a-half years ago. A photo of her late father, John T. Pagel, reminds her he is looking over her shoulder, cheering on each step. "I know Dad is proud of me, and I know he's here … even if I can't see him," she says. Photo courtesy of Mary Breuer Photos, Priscilla Brock.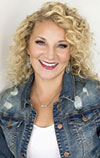 Peggy Coffeen

Editor
Progressive Dairy