At Siemers Holsteins, genetics and management culminate with a 37,500-pound rolling herd average, touting 1,500 pounds of fat and 1,100 pounds of protein.
From humble beginnings with a handful of cows in 1890 to an enterprise now consisting of 3,300 cows and nearly 6,000 acres, Siemers Holsteins in Newton, Wisconsin, is the result of strategic, incremental growth with an unwavering focus on being "good cow people." Fittingly, the slogan at Siemers Holsteins is "Genetics for cow people."
The fifth generation is currently at the helm. Dan Siemers serves as general manager, his brother Paul as operations manager and Dan's wife, Janina, as the business manager. Together, these family members built upon the solid Holstein herd developed by their parents and grandparents, constructing a new facility in 1994 that is the main site of Siemers Holsteins today.
Cutting-edge genetics
An early adapter to genomic breeding, the Siemers invested in key cow families that proved to be prolific. Among them, Cherry Crest Manoman Roz-ET leads the list. Purchased as a calf from the 2010 World Classic Sale, Roz went on to produce a plethora of high-scoring daughters and sought-after sons. Dan recalls, "She's probably the greatest purchase our farm ever made, and that is still our predominant family." Several descendants of Roz are over 2900 GTPI, proving their will to milk while also transmitting type.
"The daughters out of Roz are just good. Even though this family has made several 93- and 94-point daughters, the one thing you can always count on is big performance. It's very common for this family to make 50,000 pounds of milk with good components," Dan says.
Influential in her own right, another cow, Cookiecutter Mog Hanker-ET, a Mogul out of Man O Man Halo, holds the corner on combining conformation, TPI and performance. Today, 15 sons from Hanker and her offspring rank among the top bulls for type, udder and TPI. Currently, roughly one-third of the breeding program consists of sons from these matriarchs, along with many of the cows in the milking string.
Not intimidated by an inbreeding coefficient, Dan estimates 30 to 40 percent of the breeding program right now includes sons out of these key families. "You hate to like your own home-cooking too much, but I know my home-cooking on a few of these families is as good as it gets," he adds.
The fruits of these cow families not only fill the barns at Siemers Holsteins, but they are also making a lasting impact worldwide. The Siemers family takes great pride in sharing the heart of their herd with other dairymen and instills confidence in their cattle with a backing of pedigrees, production records and classification scores. The farm annually markets hundreds of cows to other herds while putting 50 bulls a year into various studs. In addition, they regularly sell embryos and a few elite animals.
The home farm, located a few miles down the road from the main dairy, serves as the center for the genetic program. Here, the former 200-cow slatted-floor freestall barn has been remodeled with deep bedded-pack pens. It houses 30 to 40 cows identified as having the greatest potential for enhanced value. The majority of these are high-number females on flush programs, with a select few there for show ring promise.
The ability to perform embryo transfer (ET) and in vitro fertilization on-site has opened doors for Siemers Holsteins to be a satellite site for Trans Ova Genetics as well as a partner herd for Select Sires and Semex. Also at this location, breeding-age heifers are implanted with eggs harvested from the herd's top females, and bulls await pickup to studs.
As the dairy has grown over the years, Dan continues to be hands-on with the genetics program. He adds, "I buy all the semen, mate every animal and think about what she needs." His son Jordan, a sire analyst for Select Sires, handles ET and IVF matings.
The needs he often identifies in Holsteins today are to balance dairyness with strength and to breed for longevity.
"I think today's cows are getting a little too tight-ribbed, round-shouldered and too straight in the leg. Udders are getting better but, as breeders, we try to always strive to make better cows," Dan says.
"I think we need to be cognizant of how to still have some dairyness, not just for how we want her to look, but so she's got some go in her yet can mature and develop in a way that she's not going to get too gangly or run out of strength – those are the sort of things that some of these modern cows run out of," he adds.
Dan describes Siemers Holsteins as "more of a GTPI than a Net Merit herd," yet he places a high value on cow families. "I believe bulls out of performing families for production and conformation are still going to have a leg up on ones that aren't," he says. "I want to see bulls from dams that have scores, and I want my own bull dams to have good scores and performance."
Maximizing genetics with management
While genetics sets the foundation for production and performance at Siemers Holsteins, it's meticulous management that makes that potential come to life. From little on up, each animal is given the best opportunity to thrive. Calves are fed pasteurized milk with a balancer four times a day. At 4 months old, the top ones are sorted out using genomic test results. The very best go on to be flushed, and the next top 5 percent are bred to sexed semen. All other heifers serve as recipients and are collared with activity monitors to optimize implantation. The majority of heifers are raised on-site, allowing an opportunity to utilize feed refusals from the lactating herd.
All heifers freshen at the main dairy. A few elite 2-year-olds may be moved back to the home farm after calving, but the majority join a first-lactation group in the freestall barn where they stay among other 2-year-olds until dryoff. Separating cows by age and stage of lactation allows the Siemerses to dial in specific nutrition for each group's needs and accommodate stall sizes best fit for their large-framed Holsteins. The bunks are constantly full in the six-row, naturally ventilated barns with long-day lighting, and cows find comfort on a deep, dry bed of reclaimed sand.
According to Dan, sand bedding has been a game-changer on their dairy since converting from mattress beds more than 15 years ago. "Sand is the most expensive, biggest project we ever did, but it was also the fastest payback and best project we ever did," he says. "Everything about managing your cows gets better when they are on enough high-quality sand."
The reclaiming system includes sand lanes for drying, which helps in keeping sand from filling the pit and saves the expense of new sand purchases. Stalls are filled generously twice a week, with enough sand toward the front that they do not use brisket boards.
Cow comfort is taken to the next level by focusing on facilities that accommodate large-framed cows. "We don't have a problem managing big cows; they are the ones that perform the best for us," Dan says. "We continually focus on making stalls that fit the cows, whether that's pouring new curbs, moving loops or moving cows around based on which stalls look best for cows and heifers."
The Siemerses have found advantages in grouping first-lactation animals separate from older cows. "I think 2-year-olds do better when they don't have bigger cows around," Dan says, noting they feed several different diets based on lactation number and stage of lactation.
'... lifetime milk is where it's at'
This environment promotes high-producing, long-lasting cows. It's the Siemerses' philosophy that older cows maximize profit per stall – thus, high value is placed on lifetime milk production as a measure of both genetic and management achievement.
"To me, lifetime milk is where it's at. That tells me your breeding program is solid, your management is solid, and it really shows your overall team is doing a great job," Dan says. "Longevity is what matters. We have the herd average we do because we have a lot of older cows in the herd that really know how to drop the hammer."
In fact, last year, a dozen cows on the dairy completed lifetime milk records with over 300,000 pounds. While proud of the pounds of milk they produce, the Siemerses really hang their hat on components, striving for an average herd goal of 7 pounds combined fat and protein per cow, per day (4 pounds fat, 3 pounds protein). "We need to really change our narrative from how many pounds of milk we sell per day," Dan adds. "We should be talking about how many pounds of combined fat and protein we sell per day."
A sustainable future
Though the Siemerses invest great time and energy into developing cow families, they are perhaps most excited for the next generation of their own family. Between Dan and Paul's families, there are five up-and-coming Siemers cousins, ranging in age from teenagers to young adults, who have been involved with showing cattle and other Holstein Association activities. It's the farm's policy for any family member interested in returning to the dairy to have work experience somewhere else before returning home and also the goal to provide an opportunity for those who want it.
The Siemerses recognize creating a sustainable dairy business for the future includes astute environmental care and community involvement. Their efforts earned them the Outstanding Dairy Sustainability Award from the Innovation Center for U.S. Dairy in 2016. Several family members also serve as leaders locally and beyond. Paul coaches dairy judging, and Janina coaches dairy quiz bowl and serves on the local school board. She is also the recipient of the 2019 Dairy Woman of the Year recognition award from World Dairy Expo. Dan was elected to the Land O'Lakes board of directors this year. As a form of outreach, the farm hosts tours regularly to educate the public on modern dairying.
With a deep history and bright promise for the future, Siemers Holsteins is positioned to continue building on nearly 130 years of legacy for their family and their farm. Dan adds, "Everything around here is about finding the best way that will work the best for us in the long run."
PHOTO 1: The Siemers Holsteins management team includes (from left to right) Paul Siemers, operations manager; Dan Siemers, general manager; and Janina Siemers, business manager.
PHOTO 2: The fifth generation is currently at the helm of Siemers Holsteins, with a sixth generation poised to be involved if they so choose. Pictured here are (back row, from left to right) Dan and Janina Siemers and their sons Jordan and Connor; Jenny and Paul Siemers and their children (front row, from left to right) Josh, Lauren and Jacob. Photos courtesy of Siemers Holsteins.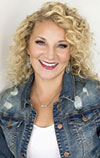 Peggy Coffeen

Editor
Progressive Dairy