Glenview Dairy in Odessa, New York, is finding success in a new facility constructed with the cow in mind.
As Daryl Martin, the dairy's general manager, simply states, "We do it for the cows."
Martin is a partner with brothers Skip, Jim and Mike Bergen in the newly built dairy that currently milks 1,600 cows and is on pace to reach 2,000 by the end of the year. Prior to joining the operation as general manager, Martin spent 10 years working for equipment dealer Seneca Dairy Systems, planning and designing dairy facilities.
The invitation from the Bergens gave him the opportunity to lay out the dairy of his dreams on a greenfield site, where he could also oversee management and hold ownership.
"I always wanted to do this," Martin says of the chance of a lifetime to own and manage a dairy of this size and caliber, with a 60-cow rotary milking parlor and potential to reach 2,800 cows.
As he sketched out the plans for Glenview Dairy, Martin put to practical use his experience from designing hundreds of barns for other dairy farmers across the eastern U.S. "The one thing I came in thinking of was cow comfort," he recalls.
Carrying out that cow-centric mindset, the resulting dairy features top-notch ventilation, spacious accommodations and facilities set up for ease of management and minimal interruptions to the cows' daily routine.
Herd manager Ben Rawleigh says he enjoys spending his days at Glenview Dairy because "cows get to be cows." With the comfortable environment and ample space, he sees the herd reaching its full potential.
Top priority: Ventilation
Leaning on a list of do's and don'ts from his dairy design days, Martin knew ventilation could be the limiting factor in creating an environment for cows to succeed. "I've seen so many dairies skimp on fans to save money," he states.
"But if you are looking at the return on investment, ventilation is the fastest return – whether it's summertime with heat stress or winter with stale air – it's the number one cost you don't consider."
Situated on a hilltop, the two six-row and one four-row barns catch the advantage of natural air movement. Additionally, there are 30 51-inch fans in each pen to aid the natural ventilation process. Insulated ceilings prevent moisture accumulation during brisk Northeastern winters while also relieving radiant heat effects on summer's hot and muggy days.
To deter birds from nesting, the insulation material is protected by a white canvas on the bottom side of the trusses. Automated sidewall curtains adjust in response to temperature changes to keep the barn environment consistent.
"The air quality is second to none in these barns," Rawleigh claims. "I love the automation in the curtains. It gives cows what they need before a person decides they need it."
When it came to cooling cows, Martin forwent soakers or sprinklers, citing problems he had observed with water usage, facility corrosion and humidity level in the barns. "It works well on some farms," he says, "but I opted out here and instead went with wind speeds of 13 to 14 mph in the barns."
Managing with ease
Another priority with the design was to provide cows with plenty of space throughout the barn. Travel lanes are 18 feet wide, and alleys and crossovers leave room for cows to pass by their herdmates without interference. Outside stall rows are 10 feet wide, and head-to-head rows measure 16 feet from curb to curb.
Both Martin and Rawleigh are committed to keeping pens stocked at a comfortable level, which is 10 percent overstocked for mature groups and 5 percent for other groups. "Not crowding cows makes things easier," Rawleigh notes. "There is enough square feet for the cows."
Rawleigh particularly appreciates the ample room to move for fresh cows, which are housed in the four-row barn. "Cow management in the four-row barn is much easier," he says. Here, postfresh cows are closely monitored during the first 60 days after calving and bred before moving into one of the six-row barns.
He adds, "There are more headlocks, which works better for managing this group. Breeding in a four-row barn is a piece of cake." He credits the facilities for their role in attaining a 31 percent pregnancy rate.
To light the way for both people and cows to operate at their best, there are LED fixtures on an automated system throughout the barns. Every third fixture has "night lights," so during the evening, they provide enough light to scrape pens, yet they are not bright enough to read eartags.
Martin found 18 hours of light to be the magic number. He experimented with keeping lights on most of the day but actually observed a significant production gain when light hours were cut back to that threshold. On a group of 1,000 to 1,200 cows, he says, they gained 3,000 pounds of milk overnight.
As for manure handling, barns are scraped three times daily with a tractor and blade. The mattress stalls are top-bedded with a mixture of recycled cardboard and paper with a lime additive. Martin chose this system over other options like sand because of bedding availability and ease of management, particularly in the winter.
Beyond the barns, it was important for cows to be comfortable in the parlor as well. That is why Martin saw promise in a rotary system. Both men agree the 60-cow platform was the right choice. "The consistency on the rotary is almost unmatched," Martin claims. Rawleigh praises it too, saying, "Cow flow is superior."
'The cows tell you the story'
As Martin and Rawleigh walk through the barns at Glenview Dairy, they feel rewarded by what they see. "The cows tell you the story," Martin says.
Rawleigh agrees. "I see the cows really thriving," he says. "I like to look through the barn after milking and see the cows lying down and relaxing. The cows have the option to choose to eat or lie down."
Both men have confidence in the setup and look forward to where it will take them in the future. Martin affirms, "Seeing where we are today, I know the goals we have for tomorrow are achievable with the facilities and barns we have."
PHOTO 1: Herd manager Ben Rawleigh (left) and general manager Daryl Martin (right) are both dedicated to providing cows with plenty of space and a comfortable environment so they can reach their full potential.
PHOTO 2: The dairy features a 60-stall rotary parlor. Herd manager Ben Rawleigh says, "Cow flow is superior."
PHOTO 3: The barns at Glenview Dairy have insulated ceilings, protected by a white canvas to prevent bird damage.
PHOTO 4: From its hilltop home near the town of Odessa, Glenview Dairy offers a scenic view of New York's countryside. Photos provided by Peggy Coffeen.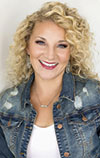 Peggy Coffeen

Editor
Progressive Dairyman