For a dairy kid, there's not much that compares to the emotional high you get from participating in dairy quiz bowl or dairy jeopardy.
Sitting in uncomfortable clothes in a room full of people you feel are way smarter than you is intimidating. Your hands are sweaty, you keep tapping your toes, and your eyes are tracing the paisley designs on the hotel ballroom carpet. Your coach offers you a few words of encouragement and you look to your team members to find some strength, only to find that their faces echo your own – blank stares, full of fear. Your coach is feeling all those same emotions right along with you. She might hide it a little better, but she understands your nerves, anxiety and adrenaline.
"I remember the first year I coached," said Heather Jauquet, full-time dairy farmer, wife, mom and dedicated Junior Holstein and 4-H leader. "We were at Holstein Convention, and I just sat back and was in awe of the talent and quality level of the other teams. I remember thinking, 'We'll never be this good.' It made the first year our junior team won the state contest so sweet; I couldn't believe it."
Jauquet, her husband, Jay, and their three sons own and operate Synergy Dairy alongside her parents in Pulaski, Wisconsin. Synergy breeds "cows we love to milk" and has success in the genomic realm as well as the show ring with their homebred animals. Serving as the primary herdswoman, Jauquet takes care of 600 head of registered Holstein cows.
"If they're breathing, they're my responsibility," Jauquet said. "I love taking care of the calves, ushering them into the world. I don't love culling decisions because I've raised them all; deciding to sell is hard."
After moving to Pulaski in 2004 to start Synergy, one of the Jauquet boys became involved in 4-H quiz bowl. Heather began coaching and found that practicing for months and only attending one contest wasn't exactly worth the investment, so she decided to take on the role of a Junior Holstein leader.
"I didn't really have any Holstein background," Jauquet said. "But, there wasn't a local leader, so I took it on. My eyes were totally opened to everything the Holstein does in the state."
From October to January, Jauquet spends two to four hours each week preparing materials for dairy bowl practices. "It's pretty challenging finding different materials that 8-year-olds and 20-year-olds can learn from," she said. "Asking a lot of questions and using the buzzers is probably the best practice, but I want the kids to learn concepts and ideas. We do farm field trips, and when we go, we have treasure hunts with tasks like, 'Go find the plate cooler. What does it do?'. We also work on feed identification and a few things like that. I focus on things that aren't necessarily going to be a quick answer but on rounding out concepts that will help down the road."
Jauquet has served on the Wisconsin Holstein board of directors for the past six years and on the Shawano County Dairy Promotions committee for the past 10. With the dairy promotions committee, Jauquet directed "Refuel with Chocolate Milk" nights at local soccer and baseball fields for over five years. Funded by the dairy promotions committee, Jauquet helped distribute chocolate milk to more than 1,200 kids at different sporting events throughout the summers.
"That was probably one of my favorite things that we've ever taken on and tried," Jauquet recalled. "The kids were so appreciative. We brought calves a few times for them to play with and some farm coloring pages for younger siblings of the athletes to color with – we really had a lot of fun with it."
This year, Jauquet and her family participated in Adopt a Cow, a program designed by the Center for Dairy Excellence Foundation of Pennsylvania (CDE) to connect elementary kids to the farm by "adopting" a calf. Participating dairies enroll a calf in the program by providing photos and videos of the calves as they grow.
"I think we were expecting maybe 75 classrooms to sign up within the state of Wisconsin," Jauquet said. "There were 2,600 classrooms who ended up participating."
Synergy Dairy enrolled three calves in the program, all born in October. Throughout the school year, Jauquet took photos and videos of the calves and shared records with the CDE, who then passed the information to classrooms. In April, Jauquet hosted a one-hour live tour of Synergy Dairy.
"I learned that day that our calves were adopted by 550 classrooms," she said. "I had no idea. I was totally amazed. We did that tour, and then we spent two hours after it was over answering questions that the kids had. It was so much fun, and after I just kept thinking how wonderful it was and really wishing we could let these kids meet these calves in person – it would really be the icing on the cake."
Jauquet did just that.
Dairy Farmers of Wisconsin and Farm Wisconsin Discovery Center partnered with Synergy Dairy and hosted an event allowing children whose classrooms had adopted Synergy's calves to come meet them in person.
"The reactions of the kids meeting the calves was absolutely incredible," Jauquet said. "One little girl ran up to one of the calves, this one was named Dorito, threw her arms around the calf and said, 'I love you, Dorito!'. Another little girl had a stuffed brown cow named after one of our Jersey calves; you can tell these kids really loved these calves and this opportunity. It was very touching."
Jauquet is thrilled that the program took off like it did and hopes to see the same enthusiasm next year. "Stuff like this is why I advocate for our industry," Jauquet said of the event. "It is absolutely fulfilling and rewarding to see people making connections, helping people understand a question, being able to alleviate concerns and assuring consumers that their food is okay and that it's safe.
Jauquet was named the 2021 Farm Woman of the Year by Results Broadcasting, a local Wisconsin media group. After being nominated by a friend, Jauquet was recognized during a broadcast for her work in the farming community.
"As a coach, it's very rewarding getting to see kids who didn't grow up in agriculture become involved in the industry. I've had a few kids ask to borrow and show a calf, which then led into dairy judging and dairy bowl. It's very rewarding to see those kids pursue degrees in agriculture when they don't come from that kind of background. I think that's really beneficial to have them in our industry and working with us. Where they are kind of removed, they can often come at a problem from a different angle and offer a lot of valuable input. I actually had some kids I coached graduate from UW-Madison recently; that was really cool to see.
"I'm totally inspired by other advocates, especially those on social media. I try to do my own small part, and it might not be plastered on social media because that's not me; that's not my personality. But, I love to share our story – our little piece of the world."
PHOTO 1: Heather and her family promote dairy in their community, including through a futurity show at their county fair.
PHOTO 2: The Jauquet family: Heather, Jay, Mason, Evan and Carter.
PHOTO 3: Heather and Evan feed calves on Synergy Dairy. Photos courtesy of Synergy Dairy.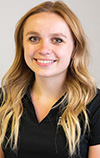 Madison Leak

Editorial Intern
Progressive Dairy