From little on, Anna Hinchley-Skadahl has loved dairy farming as a way of life. So much, in fact, that at just age 22, she is already investing in her future at Hinchley's Dairy Farm in Cambridge, Wisconsin.
The recent University of Wisconsin – Madison college graduate started her full-time farming career earlier this year, joining her parents, Duane and Tina Hinchley. However, she didn't come home to the 73-cow tiestall barn she milked in as a child. Hinchley-Skadahl spends her days managing the herd with the help of technology. Four robots handle the milking, while automated feed pushers and scrapers take care of the tedious tasks.
"I've got a lot more time to focus on the cows," Hinchley-Skadahl says. The family started up robots in a new barn in late 2018, at which time they expanded to 240 cows.
Only 20 years old at the time, Hinchley had a heavy hand in the building decisions. After visiting and studying many robot barn designs, she settled on a hybrid design that combines tunnel and cross ventilation. Cyclone fans throughout the barn are equipped with mister fogging systems to keep cows cool during warmer weather.
Hinchley-Skadahl wanted to set up the barn for one person to easily handle the daily work. She opted for slatted floors in the barn, which are cleaned by a manure-pushing robot. The manure falls through the rubber-topped slats into a collection pit directly below the barn. This manure-handling method was not conducive for sand, so Hinchley-Skadahl chose waterbeds for the stalls to provide comfort and cushion.
"I like that the bed moves with cows and allows milk and urine to trickle away from the udder," Hinchley-Skadahl said. She tops the beds with an inch of finely chopped recycled pallets every other day.
There are two pens, with one pen for first-lactation animals and the second pen for older cows. There are two robots located side by side in each pen.
"I know it is speculated there are benefits in having the cows milked perpendicular to the pen so that other cows may see the robot being used, and other cows may be more comfortable coming up to the robot," Hinchley-Skadahl explains. "While I wanted to have as many comfort features for the cow as possible, pen layout and cost of adding more space to allow for that perpendicular view was just not very economical for us."
Each pen also has its own area to sort out cows that need special attention or treatment. These separation pens have proven handy for synching cows and bringing in fresh animals. She included five stalls in each separation pen but says more would have been a good choice.
"You should almost build around your sort pen," Hinchley-Skadahl says, advising others to plan additional room in this area of the barn.
Footbath placement was another area where Hinchley-Skadahl did her homework. While she saw many barns that placed baths at the exit of the robot box, she wanted to avoid any association the cows may develop to the sting of the footbath and entering the box to be milked. "I took the less lazy route and set it up at the far end of the pen. I have to push cows through the footbath 3x/ week."
"It makes us pay more attention to foot health," she adds.
Young, energetic and hard-working, Hinchley-Skadahl easily could have found employment in the dairy industry, working a job with shorter hours and benefits. But she knows she has everything she could ever want right where she is.
"I love working with my family," she adds. "Corporate perks have nothing on working with family."
She is dedicated to making incremental investments in the farm. The first of which is a used automated calf feeder. "That's my first contribution to this farm," she notes.
What will the future hold for Hinchley's Dairy Farm? Hinchley says that due to the volatility of the milk markets, she plans to stay right at their current herd size. "I'm quite content with milking 240 cows for the rest of my life," she says.
Also, part of that plan is continuing the family's successful agritourism business. On an average year, more than 5,000 visitors tour the farm. Tina Hinchley leads those efforts and has been for more than 20 years.
Despite the challenges she knows she will face as a farmer, Hinchley-Skadahl is in the dairy business for the long haul, and she sees a bright future ahead.
PHOTO: The 22-year-old has started her career as a dairy farmer with the help of technology. Photo provided by Amber Jane Photography.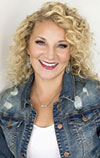 Peggy Coffeen

Editor
Progressive Dairy