If you are visiting Union Bridge, Maryland, be sure to check out the five-star accommodations at the Cow Comfort Inn, where "cows enjoy their stay" and people do too.
The Cow Comfort Inn is not an actual bed and breakfast, but it is the permanent home for 450 residents of the little brown bovine kind. The dairy's name is a direct reflection of the top priority for dairy couple Katie Dotterer-Pyle and her husband, David. "Our goal is cow comfort," Dotterer-Pyle states.
But their hospitality goes beyond the barn. The front office of the dairy is designed to make visitors feel welcomed. Whether they be farm salespeople or city folks stopping by to learn more about dairying, "I will never turn down a tour," she adds.
Choosing a hotel theme for their farm's "lobby," Dotterer-Pyle let her love for color and creativity transform plain white walls into a bright and cheery space to greet guests.


With inspiration from Pinterest and the handiwork of her husband, she turned wooden pallets into a "front desk," complete with a little bell to ring for service.


A friend even hand-painted a decorative gourd with the dairy's logo, depicting David "checking in" a cow.
She customized wall decals with the farm's name and motto, "Where cows enjoy their stay," and added a few anecdotes for the purpose of both education and entertainment.


Statements like "Check in: as a 2-year-old" and "Check out: at change of career or retirement" get a few chuckles while also opening up conversations with non-farm visitors.




"When we give farm tours and explain how cows are treated, we need to find common ground with consumers to compare what you do with what they know," Dotterer-Pyle explains.
That is why she also includes a list of "amenities" on the adjacent wall that connect routine dairy practices with human experiences: pedicures (hoof trims); free continental breakfast, lunch and dinner (fresh TMR offered throughout the day); child care (calves are separated from their mothers and cared for individually); local transportation service (trucking to and from the dairy's dry cow site) and fresh water daily (waterers are cleaned rigorously).


The lobby of the Cow Comfort Inn is where the dairy's many visitors begin and end their tours. They first listen to Dotterer-Pyle cover key points and then get to see it on the farm for themselves.
Once a teacher and now the producer relations coordinator for the Mid-Atlantic Dairy Association (in addition to working on the farm), she recognizes that educating others is a dual process.
"Some people are audible learners, but most people are visual learners," she says. "To see things that coincide to what they hear really drives home the point."
Dotterer-Pyle's passion for informing consumers about the high level of care cows on her farm receive has prompted her to engage on social media and extend personal invitations to people who have questions on dairy production.
She finds it both fun and rewarding. "The best part of the tour is when you see their 'light bulb' go off, that what you told them now makes sense," she notes.
With Dotterer-Pyle's above-and-beyond efforts to provide ultimate hospitality, one thing is certain. Both cows and people "enjoy their stay" at the Cow Comfort Inn. PD
PHOTO 1: Katie Dotterer-Pyle and her husband, David, want both people and cows to "enjoy their stay" at their dairy, named the Cow Comfort Inn. That's why they focus on a comfortable environment for their cows while also going the extra mile to make their farm welcoming for visitors.
PHOTO 2: Front office with Katie on the phone
PHOTO 3: Pallet desk
PHOTO 4: Ring the bell for service
PHOTO 5: Hand-painted gourd with the dairy's logo
PHOTO 6: Welcome To Cow comfort Inn Dairy sign.
PHOTO 7: Check-in and Check-out sign.
PHOTO 8: Our Amenities Include sign. Photos provided by Katie Dotterer-Pyle.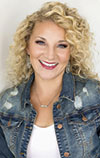 Peggy Coffeen

Editor
Progressive Dairyman