I never thought being a loan officer would offer this much variety in my life. I should also claim that I have a hard time sitting still and I am very happy I do have variety in my job so I don't have to be trapped by four brown walls daily.
Let me describe my job and territory, because it is a little different than most. Our office is located 45 minutes north of Pittsburgh, so a lot of farms have been, sadly, developed into houses. In our area, we don't have several farmers farming more than 5,000 acres. It is normally around 200 to 1,000 acres and milking around 150 cows for dairy farmers.
In addition to full-time farmers, I help those wanting to live in the country obtain financing on their lifestyle farms as well as those who just want to have a home on a half-acre lot. Each day is different for me, and I get to meet some of the neatest people in my job. I work with dairy, crop, poultry, fruit, vegetable and beef farmers.
In addition, I've written loans to undertakers, attorneys, doctors, anesthesiologists, steel mill workers, postal service employees and school bus drivers. So I have a fun and interesting mix of customers, and I always enjoy hearing what people do for a living. It really is fascinating.
Here is a sneak peek into a day of a loan officer this past winter. I just woke up and looked outside to see one of the biggest snowfalls we had all winter. My husband, Eric, leaves for work an hour earlier than I do. He called to tell me the roads are really bad and to be careful driving to work today.
School was also cancelled this day. Well, little did he know I was not driving my short 10-minute commute today. I had an appointment with an Amish customer looking to borrow money to buy a farm, and I had scheduled the appointment last week. My customer obviously doesn't have a phone, and I couldn't cancel now.
So after I trudged through the snow to feed my own two horses and watched our dog run through the snow like a madman, I tucked my dress pants in my snow boots and headed west for the day of farm visits. Upon my arrival to my Amish customer, thankfully the feed truck was there already and had tire tracks for me to follow in the long, unplowed road.
I was also very thankful I put some aggressive snow tires on my Ford Escape. I hopped out of my car and was greeted by my customer. He was surprised I was able to make it out, and he was thankful because he really wanted to get his loan application finished. Seeing his appreciation made the trip worthwhile.
All eight of his children were inside, and about four of them sat very quietly and watched me. I would ask them questions and they would very shyly answer.
After this loan appointment, I went off to the next several stops, collecting tax returns and balance sheets to ensure I had completed loan applications to submit. I also had a loan closing and hurried to the courthouse to record the mortgage from the closing before the courthouse closed.
After all was done in the field, I went back to the office to start crafting loans and get caught up on voicemails and emails. I returned phone calls first and saw what emails I'd missed in my travels. We do have our emails on our phones, so I usually try to respond to the ones I can in the field.
For the ones I can't respond to, I rely on our financial specialists. Mine is Rhonda Ashbaugh, so she is the lucky winner to get all my hard questions. She has more than 15 years under her belt at AgChoice Farm Credit, so she can usually follow up with customers to keep all our transactions moving along smoothly and not keeping customers waiting too long.
This particular day I didn't have an evening meeting, but it isn't uncommon. Once a month I attend at least one 4-H meeting, realtor event or Penn State Extension event. The 4-H events are typically in the evening, and when they are, I just stay at work and get a couple extra hours in and then go to the meeting.
Those nights I don't get home until after 9:30 or 10 p.m. Thankfully I have a very supportive husband who takes care of the animals when I work late. I have to say that loan officers could never get done what they do without a supportive team at the office and family at home.
While this particular busy day happened in the winter, I could share similar stories in all seasons. In the spring, it's not uncommon to see loan officers working additional hours just like the farmers are. Loan officers are not on typical "banker's hours."
We really understand going the extra mile for customers so they can keep moving on with their business while they are chasing the good weather to get crops in the ground or dry hay harvested. We meet farmers wherever and whenever to close a loan.
I've signed papers with customers on bulk tanks, car hoods, truck beds, machinery benches, kitchen tables, corn fields and even met one off the Pennsylvania Turnpike.
Because my schedule offers a lot of variety and is nearly always hectic, here are the top three tips I've learned to get more done in a day and a week:
I do the most important item first thing. If I have a loan package to work on that is really complex, I work on it first and limit disruptions. My brain is fresh first thing in the morning, and I don't want to fog it up with reading 50-plus emails before doing anything else.


I read all my emails in my inbox before clocking out at the end of the work day.


Like the true western Pennsylvania (Pittsburgh area) girl I am, my Friday is Heinz 57 day (ketchup/catch-up day, get it?) This was one of my valuable lessons in high school, believe it or not.

If I haven't been able to get back to a customer or find an answer, Friday is the day I must do it and not let it overlap to the next week. Even if it means staying really late on a Friday evening. PD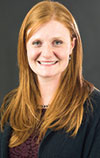 Elaina Eppinger

Loan Officer
AgChoice Farm Credit