Are my heifers growing well enough? Are automatic calf feeders best for my calves? How do I get heifers to calve in on time? How can I make sure they are productive when they start milking?
These are questions I hear every day, and it's my job to answer them.
As a calf and heifer specialist, I aim to keep calves healthy, growing and on track to reach their full potential. My job is to help dairy farmers uncover opportunities with their calves and heifers. Every farm is different. I work closely with each herd to evaluate factors such as nutrition, management and the environment specific to their herd.
I spend a few days each month in my home office, but mostly I'm on the road visiting with dairy farmers. Just like them, I like to start my days early.
I do my best not to wake my 2-year-old daughter while I prepare for my day. I print off and gather any product information, research or farm data I'll need for the farms I plan to visit. Then, after a quick breakfast with my family, I drop my daughter off at day care and make my way to the first stop.
I work with farmers in Michigan and northern Indiana, and usually make four to six stops a day. In just a few miles, I can go from a 150-cow farm to a 10,000-cow farm.
Once I arrive on a farm, I look for the person I'm meeting. Depending on the farm, it can vary from the owner to a herdsman or calf barn manager. We review where we left off and discuss any thoughts or observations since our last visit. We also track progress using available records, including:
Hip height and weight growth data
Health and treatment records
Breeding and reproduction rates and records
Then we do a walk-through to see what the animals can tell us. We use visual observation along with data to help us uncover areas for further evaluation.
I enjoy seeing the difference I can make on farms. One farm I've been working with since I started as a calf and heifer specialist three years ago has a great success story. When we started working together, the farm had just transitioned between generations, and they were looking to optimize growth – for their family farm and their calf and heifer program.
We started by gathering baseline growth metrics, compared them to industry standards and set goals for the herd. To help track progress on calf and heifer growth goals, the farm purchased a digital platform scale.
They gather weight and hip height at various ages, and then we review the data together quarterly to make sure the nutrition program is delivering. Thanks to this added level of detail, their weaning weights are heavier, and hip heights are a few inches taller.
In addition to analyzing growth metrics, I work closely with the herd to fine-tune the nutrition program to support intakes and keep calves growing to meet the farm's goals. It's exciting to support the continuous improvement of their calf and heifer program. Now I'm talking with them about automatic calf feeders.
They aren't the only ones interested. I am often asked about automatic calf feeders. Whether a farm is considering an automatic calf feeder or already has one, helping them determine if an automatic calf feeder is the right fit, and providing insight on barn design, equipment and nutrition management, is something I enjoy.
I also enjoy working with dairy farmers who give special attention to calves and their needs. Each newborn calf and growing heifer represents the dairy's future herd. With the right management and care, we can keep it on track to becoming a profitable cow.
It is very exciting for me to see how our collaboration helps farms reach and exceed their heifer-raising goals – no matter what path they decide to take when getting there.
As I finish the day's last scheduled farm visit, I begin to review my next steps with each farm. While most of my communication with them is by phone, I'll also follow up with specific proposals or diet changes via email.
When possible, I arrange my schedule so I can pick up my daughter from day care and enjoy a home-cooked dinner with my family. Then, after my daughter goes to bed, I begin plans for the next day on the road.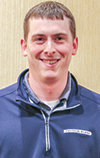 Matt Costigan

Calf and Heifer Specialist
Purina Animal Nutrition
Did you know?
I travel 45,000 miles each year visiting clients.


Thirty farms (and growing) I work with have automatic calf feeders.


Five farms I work with have invested in a digital platform scale.


It is 2 miles from my house to the closest farm I work with and 328 miles to the farthest.