Life is always changing. Embracing that truth is essential for personal growth. To help with this process, remember these three principles: You get out what you put in, mind over matter and just be.
Training for and running a half-marathon is a lot like life. There are twists and turns, and you never know where the road will lead. Some roads are filled with excitement, others with uncertainty. Each day is different. It's about progress, not perfection and remembering "Obstacles are detours in the right direction," as author and speaker Gabby Bernstein says.
I'm a work in progress when it comes to being the best version of myself. By best version, I don't mean perfect. I'm far from perfect – plus, perfect is boring.
Here are three principles I live by, both for running and for life.
Principle No. 1: You get out what you put in
I run because it feels good and I love the social aspect of it. I've always had to work at running; it hasn't come easy to me. However, the feeling of crossing the finish line keeps me going. Running has become an outlet that helps me manage the twists and turns of life.
In 2017, I set out to run my ninth half-marathon in Edmonton with my oldest stepdaughter and my close friend. It was my stepdaughter's first half-marathon. We set a goal to break 2:15:00.
We knew to achieve our goal, we needed a plan. We committed to a combination of 5 a.m. training runs, running hills (yes, that means repeatedly running up and down steep hills) and cross training for over 16 weeks.
Just like life, some days were easier than others. We celebrated good running days and pulled each other through the tough running days. We held each other accountable. We invested the time and the sweat. We supported each other, and we hoped it would pay off on race day.
Through leadership and in life, I often remind myself I won't be given anything I can't handle. It helps me remain committed to standing up for the success of others and to not shy away from difficult conversations.
Committing to working on myself as a runner, a person and in a leadership role, is both rewarding and challenging. Has it been easy? Heck no. Has it been worth it? Absolutely.
I created a mantra that reflects what I believe is my purpose: To spread positive energy, kindness and love that will make the world a better place – one smile, one hug, one tear and one ice cream at a time. This mantra has become my north star and reminds me to always be authentic.
I created a self-care recipe: exercise + self-love + gratitude. I commit to exercising my body and my mind every day and have a daily gratitude practice which helps put life into perspective.
What works for me may not work for you, and that's OK. Give yourself permission to experiment and find what works best for you. Slow down and make time for the things that matter, including yourself, and commit to it.
Principle No. 2: Mind over matter
The mind is powerful. It amazes me how one minute I feel like I could conquer anything – and the next, I'm questioning everything. One of my biggest fears is: I will be alone, and I have an inner mean girl who's really good at telling me, "You're not good enough."
The week before the half-marathon, I started to question if all of my training was going to pay off. My legs ached; I was worried about things I couldn't control. My inner mean girl was in overdrive. Instead of trusting myself and the training I'd done, I was letting her take control of my thoughts.
I knew I needed to switch the script. So instead of keeping my thoughts inside, I shared them. Suddenly, they became less powerful and helped me understand I wasn't alone. I channeled my energy into what I could control, like getting enough sleep, eating well and staying hydrated before race day.
I reminded myself to be more like Elsa – and let it go.
My inner mean girl causes me to be controlling, to overthink things and to not ask for help. This happens when I'm juggling many priorities. I've learned to check in and ask myself what's holding me back and why I feel the way I do.
Shocker: It's my own fears and limiting beliefs.
By trying to control everything, I was holding others back from growing and learning. I've learned to trust myself and to trust others, and channel more Elsa (let it go) and know in my heart I am good enough.
Principle No. 3: Just be
I've wasted a lot of energy trying to be someone I thought people wanted me to be. I now know no one expects me to be anything but my authentic self. In order to embrace authenticity, I had to let go of unrealistic expectations for myself and others.
It's so freeing.
On race day, I was excited and nervous but decided to trust my training and enjoy the race. The weather was an optimal 10ºC and overcast, and the course was flat and fast, as they say in the running community. We ran our race, talked, high-fived and cheered everyone on. We had fun. Before we knew it, we were at 20 kilometers – almost done – and decided to pick up our pace.
As we did, I was filled with emotions. We were almost there; all the training and early mornings had been worth it. We crossed the finish line strong and, most importantly, together with a time of 2:13:25 for my team and 2:13:26 for me. (Leaders always let their team finish ahead of them.)
We hugged, celebrated and enjoyed the moment. It was an amazing feeling.
Life is about choices. You always have one, and what you choose is always up to you. That day, I chose to get out of my own way, ask for help and just be. Every day, I try to live on the outside how I feel on the inside and care less about what other people think. Some days are easier than others, and that's OK. Everyone can have a bad day.
As a leader both in work and in life, I've learned vulnerability is a strength; it makes us human. The world deserves to experience the authentic me, and I unapologetically accept who I am.
Life is a journey
Some days are easier than others. Let go of unrealistic expectations, enjoy the moment, breathe and have the courage to keep going.
No one has a perfect life; we are all human and a work in progress. Make time for things that matter, including yourself. Spend time creating your own self-care formula. Self-care is not selfish; it's necessary and can make a significant impact on you and those around you.
Always remember: The only person you need to be in competition with is yourself.
Be grateful, spread kindness and always know you are enough.
PHOTO: Candace Hill with her stepdaughter Jordan (left) and friend Chelsea (middle) at the Edmonton Marathon in August 2017. Photo courtesy of Candace Hill.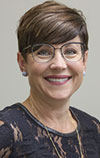 Candace Hill

Manager Special Projects – Women in Agriculture
Farm Credit Canada