In their 10th year, the Innovation Center for U.S. Dairy's 2021 Sustainability Awards recognize the work of the dairy community in providing environmental, social and economic benefits. This year's award recipients in the Outstanding Dairy Farm Sustainability category are Red Sunset Farm, Mifflintown, Pennsylvania; Goodrich Farm, Salisbury, Vermont; and MVP Dairy LLC, Celina, Ohio.
Other honorees include: A pilot project in Wisconsin involving Grande Cheese, Lafayette Ag Stewardship Alliance and Farmers for Sustainable Food was recognized for Outstanding Supply Chain Collaboration; Calgren Dairy Fuels, Central Valley, California received the Outstanding Community Impact award; DairyWest, Idaho and Utah, was honored for Outstanding Community Impact - Pandemic Response; and Outstanding Dairy Processing and Manufacturing Sustainability recognition went to Rogue Creamery, Central Point, Oregon.
Outstanding Dairy Farm Sustainability
Goodrich Farm
Salisbury, Vermont
When Chase and Danielle Goodrich assumed leadership of the family's dairy business in 2009, they identified two major challenges to the farm's future: dairy's economic volatility and growing environmental scrutiny. They found ensuring the farm's viability and sustainability had common threads that included wise uses of resources and capital.
Following their grandparents, Donald and Mildred Goodrich, and parents, Ernest and Lee Ann Goodrich, the brother and sister team are the third generation of the Goodrich family owning and operating the farm, near Salisbury, Vermont. Chase focuses on crops and feed production on the farm's 2,450 acres, while Danielle manages the 900 dairy cows.
The farm is located within the environmentally sensitive Otter Creek and Lake Champlain watersheds, an area that has transitioned from a farming community to one where residents have a limited connection to farm life.
Returning home from college – Danielle attended Vermont Technical College studying dairy herd management and Chase attended Salve Regina University and received a bachelor's degree in accounting – they recognized they had to move beyond the traditional methods and measures that had sustained the family farm for more than five decades. They also had to shape a long-term vision that diversified the farm's income stream and significantly improved its sustainability.
Triple bottom line
Sustainability's "triple bottom line" has long been defined by three pillars: economic, environmental and societal. Working with and through a network of people, organizations, institutions and businesses, Chase and Danielle reinforced the foundation for all three.
To increase efficiency and impact the farm's economic bottom line, they consolidated milking operations from older barns at two sites into one four-row barn and a 28-cow interior rotary, reducing duplication of equipment and cutting energy costs and labor while enhancing cow comfort and health.
Environmentally, the Goodriches aimed to improve their local watershed's water quality and soil health by rethinking how they managed manure and other nutrients. Steps included utilizing no-till cover crops to reduce phosphorus runoff and employing a consulting firm to help align the farm's nutrient management plan with environmental regulations.
Installing satellite ponds promoted manure injection while eliminating soil compaction and runoff. They instituted a wetland management program and received a grant for precision agriculture equipment with row shutoff units to micromanage distribution of seed and fertilizer.
"By installing satellite ponds, we are able to distribute manure to field locations more steadily throughout the year, avoiding surges of trucking before planting and after harvest, improving the impact on our community," Chase says.
They've worked with Mathews Trucking significantly in their manure-handling operations and implemented drag hose and subsurface injection both on corn and grass ground as often as applicable. Utilizing a phosphorus removal system, they've lessened their dependency on commercial fertilizers.
Environmental stewardship also evolved to air quality and climate, serving as a catalyst for a partnership among Goodrich Farm, Vermont Gas Systems, Middlebury College and Vanguard Renewables. Further support came from Agrimark/Cabot Cooperative, the University of Vermont (UVM) Extension Service and the state of Vermont.
"Our exploration around becoming better farmers, stewards of the land and community members brought our dairy farm family together with a prestigious educational institution, with a public utility, several environmental groups and an innovative group of organic waste recycling and renewable energy entrepreneurs," Chase says. "When we got into the same room, a tremendously beneficial partnership developed with lasting benefits for the farm, the community and the environment."
That partnership led to installation of an anaerobic digester designed, built and managed by Vanguard Renewables, a renewable energy company based in Massachusetts. The system includes two 660,000-gallon-capacity tanks that daily process up to 100 tons of manure and 180 tons of organic food waste into renewable natural gas (RNG).
Measuring success
For Chase and Danielle, success is measurable on multiple fronts and spread across all three sustainability pillars.
The modern facilities and participation in the FARM Animal Care Program have enhanced animal care and cow comfort, improving herd health and operational efficiency. That yields increased milk production and improved milk quality. Last year, Goodrich Farm marketed about 18.6 million pounds of milk through Agrimark/Cabot Cooperative.
The herd's somatic cell count (SCC) declined from a range of 150,000 to 200,000 cells per milliliter with sawdust bedding to a range of 90,000 to 140,000 cells per milliliter using the separated solids bedding. Using the separated solids bedding material produced savings of about $50,000 per year on sawdust.
They realized 80% to 85% net savings from fertilizer costs, replacing much of the $200,000 annual cost of commercial chemical fertilizers with 82,800 tons per year of low-carbon, low-odor organic digestate from the anaerobic digester.
Although the Goodriches receive no income from the sale of the methane produced at the farm, they diversified their income stream by adding lease income from the digester while saving energy costs by capturing the heat it generates.
The digester's impact stretches beyond the farm. By accepting unusable food and beverage waste into the digester, about 66,000 tons of non-farm organic waste is diverted from landfills or incineration annually.
The project produces 600 kilowatts of renewable electricity and 180,000 million British thermal units (MMBtu) of RNG per year, equivalent to heating nearly 5,000 homes annually. The carbon offset is -8526 tons per year, the equivalent of taking 1,842 cars off the road or planting 142,105 new trees.
About 65% of the RNG is piped to nearby Middlebury College, helping the school implement its Energy2028 plan, a 10-year commitment to shift completely to renewable energy to power its central campus. The other 35% is being sold to Vermont Gas Systems Inc.
Goodrich Farm has become a model of how working collaboratively, even with seemingly disparate stakeholders in the community, education and business, can make the world more sustainable.
Consistent with the dairy industry's Net Zero Initiative, the anaerobic digester project establishes a pathway for other dairy producers to explore technologies and practices. Through tours and other avenues, the Goodriches actively share their sustainability message and experiences with fellow dairy producers and farmers to inform and encourage.
They also communicate with non-farm neighbors and environmental groups to foster a better understanding of farm sustainability and food production.
Advice for others
In the dozen years since taking over the farm in 2009, Chase and Danielle admit things didn't always line up.
"There were a lot of challenges, hurdles and unknowns," Chase says.
They recommend that any dairy producers thinking about regenerative agriculture, sustainability and utilizing a digester should start with a good business plan that focuses on a vision of the farm and its future and is adaptable to change.
"Sustainability on a dairy farm takes all shapes, sizes and forms," Chase says. "For our family carrying on the tradition of farming into the next generation became one of our main goals and philosophies behind the farms sustainability. When my sister and I returned to the farm, our focus became how can we achieve this goal. The quest for sustainability ability is always a moving target and always at the forefront of our decision making. It is so important to be open, listen to new ideas, practices, and strategies. Use the dairies resources to make informed decisions, to overcome challenges presented everyday, and achieve the farms goals."
By staying focused on the big picture, using resources wisely, having the right partners and through collaboration and communication, others can meet their goals of a viable and sustainable farm future.
PHOTO 1: The brother-sister team of Danielle and Chase Goodrich are third-generation dairy producers at Goodrich Farm, located near Salisbury, Vermont. Photo provided by John Hibma.
PHOTO 2: Components of Goodrich Farm's environmental sustainability effort include a manure management system incorporating two 660,000-gallon-capacity tanks that daily process up to 100 tons of manure and 180 tons of organic food and the first manure phosphorus removal system in Vermont.
PHOTO 3: To increase efficiency and impact the farm's economic bottom line, Chase and Danielle consolidated milking operations from older barns at two sites into one four-row barn and a 28-cow interior rotary. Photos courtesy of Dairy Management Inc.
Editor's note:
Goodrich Farm was previously featured in Progressive Dairy. Read: Methane from manure: An income stream to consider.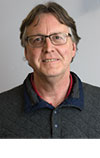 Dave Natzke

Editor
Progressive Dairy