When Karagen Stone started working at Keene Dairy in Belfast, Maine, in sixth grade, she enjoyed it – but it wasn't until the breeder showed up that she really became interested.
"I was here one day when the breeder came and I was like, that's cool. I want to do that," Stone says.
Just a few years later, she got her chance. The farm's genetics company was no longer going to provide insemination services in the area. To help prepare their clients, the company offered an A.I. certification course. Travis Keene, owner and manager of Keene Dairy, invited Stone to participate. She, of course, said yes.
"She comes here because she wants to be here, so whatever it is that gets her interest, I try to help her get educated and allow her to do those things," Keene says. "That's [A.I. certification] the one thing that has been big on her list of things to do."
On Oct. 12, 2016, Stone became A.I.-certified. At only 15 years old, she was the youngest in the class by a long shot and, to their knowledge, she is the youngest person in Maine to receive the credential.
Stone did not grow up on a farm, but her older brother worked on the 100-cow dairy. He and Keene's brother are also best friends, so he spent quite a bit of time there. Her brother's stories are what initially drew Stone to the dairy.
"I would see my brother come home, and he'd have stories, and I always thought that was cool," Stone says. "I've never been a girly girl. I'm not one to go shopping."
Today, Keene calls Stone his "little apprentice." She started out working as a milker. As she gained more experience, Keene taught her more and gave her additional responsibilities. Now she is responsible for the calves and helps with milking.
When needed, she can drive the skid steer and feed the cows. Most recently, she's started riding with Keene in the chopper and learning about that side of the dairy.
Stone tries to be at the farm as often as possible. She works Sundays and is there almost every day after school; however, that becomes challenging in the winter and spring since she plays basketball and softball at her high school. When he can, Keene tries to plan activities, like breeding, around Stone's school schedule.
For example, basketball and softball typically have an early practice, so Keene sets the cows up so they're ready to breed Thursday evening when Stone can be there. However, Stone has been known to show up at the farm and breed cows while in uniform because she didn't have time to change after practice or a game.
Keene invites Stone for input on bull selection. Stone admits in the past she's gone after a sire just because she liked his name, but she's learning to choose bulls that will complement the cow she's breeding. Once she chooses mating, she and Keene talk through her decision and why or why not that bull is a good fit for that cow.
Stone says she has had a few other farms in the area approach her about breeding for them, but she hasn't pursued the offers further. At some point, she would like to breed cows for other dairies as well, but right now she's busy with school and pursuing some of her other interests, like nursing.
Last year, Stone took an EMT class, and this year she's working on the final steps to be EMT-certified. She is also taking a CNA class this school year and will be CNA-certified at the end of it.
She has started looking at colleges, but she says she still goes back and forth between pursuing a nursing degree or something with animal science. Either way, she knows for sure animals will stay a part of her life, even if it's just a side business.
PHOTO 1: The calf resulting from Stone's first A.I. breeding was born in September.
PHOTO 2: Karagen Stone and Travis Keene currently have a bet going. If she breeds at least five cows with 100 percent success rate at the one-month herd check, then she can keep a horse at the farm. Photos by Jenna Hurty-Person.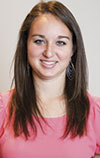 Jenna Hurty-Person

Field Editor
Progressive Dairyman