Progressive Dairyman thanks the following readers for their willingness to serve on its advisory board. Reader advisers provide ongoing feedback about the content in the magazine and generate ideas for future content. These dairy owners will also be featured in roundtable discussion articles throughout the remainder of the year.
Aaron Wickstrom
Wickstrom Dairies
Hilmar, California
Quick facts
Herd: 2,400 Jersey cows
Parlor: 50-cow rotary
Bedding: Composted manure solids in freestalls
Crops: 1,000 acres triple-cropped among corn, BMR sorghum-sedan and a wheat-rye mix. Barring a drought, the dairy can grow all of its own forages with these crops.
Milk handler: Hilmar Cheese
Aaron Wickstrom is a fourth-generation dairy farmer. His great-grandfather started the dairy in California's Central Valley in 1940. For 10 years growing up, he lived in the Midwest with his family while his dad, Tim, attended the University of Minnesota for grad school. Aaron joined the farm in 2004 after graduation from North Park University in Chicago. He has a degree in economics and finance.
The Wickstroms dairy in one of the most stringent dairy regulatory environments in the country. California recently passed a law mandating incremental minimum wage increases up to $15 per hour over the next few years and a phased reduction in the overtime exemption for agricultural employees.
"With these labor law changes, we're focusing on overall operational efficiency and labor efficiency," Wickstrom says. The dairy is into cloud-based innovation and integrating technology where possible. For example, the dairy has a post-dipping robot and a Lely Juno feed pusher. It uses the messaging app – Slack – for communication among employees, managers and teams. "A cloud-based herd management system is number one on my wish list," Wickstrom says.
Wickstrom says one thing that makes his dairy unique is a culture that perpetuates low employee turnover. "We value our people. We make an investment in them with training," Wickstrom says. "We take the attitude of: How can we make the job easier for the people on our team?" In a few short words, how he operates can be summarized into: Do your best when times are good and bad.
Wickstrom's proudest accomplishments since rejoining the farm include decreasing its water use and focusing on animal well-being by training employees on low-energy animal handling. Besides milk prices, the biggest challenges facing the dairy will continue to be air and water quality regulations, and labor availability and training entry-level employees.
Outside of his day-to-day work on the dairy, Wickstrom provides tours to downstream dairy product buyers. He recently participated as a panelist at Slack's Frontiers conference.
"Any opportunity I get to educate about animal agriculture, I usually take," Wickstrom says.
When he is not dairying, he enjoys traveling to historical sites, downhill skiing, mountain climbing and just generally being outdoors.
PHOTO: Dairyman Aaron Wickstrom and his wife, Lauren, with their children Ingrid and Anders.
Katie Dotterer-Pyle
Cow Comfort Inn Dairy
Union Bridge, Maryland
Quick facts
Herd: 350-cow milking herd; Holstein and Jersey
Parlor: Double-12 herringbone parlor
Crops: 87 acres of corn for corn silage; rest of feed is purchased
Milk handler: Land O'Lakes
Katie and her husband, David, are "third-generation farmers who became first-generation farmers," she says. While they each grew up on family dairy farms, they struck out on their own in 2009. They started out in rented facilities with 90 Holsteins. They found their current home farm in 2013.
David handles the milking herd, and Katie manages calves. She is also fluent in Spanish and communicates with the farm's five Latino employees. Katie says meeting their cost of production goals with their current herd size is challenging. "We're too small to be big and too big to be small," she says. Despite the stress of the current dairy climate, Katie says she is proud to still be in business and of the fact she and David started from scratch.
David hopes to add more cows to the herd, and Katie spends her free time researching value-added opportunities for the operation. Along with handy access to consumer markets in Baltimore and Washington, D.C., Katie's interest in a farm store or creamery is also fueled by her passion to educate consumers.
On social media, Katie uses a hashtag, "#askfarmersnotgoogle," which has been adapted by other dairy farmers looking to advocate for the industry. Katie also regularly volunteers her time to speak with consumer groups – most recently students at Gettysburg High School – about dairy farming.
She says, "I know some farmers don't see much value in it, but if you want to be in business 10 or 20 years from now, you need to start talking to your consumer now about what you're doing on the farm." To reach an even younger audience, Katie plans to write children's books that showcase an accurate and positive picture of modern-day farming.
The couple is also heavily involved in agricultural leadership programs, serving as Young Cooperators through Land O'Lakes. Katie serves on the local Farm Service Agency committee, and David sits on the Carroll County Ag Preservation board of directors.
David is a participant of Holstein Foundation's Young Dairy Leaders Institute, and Katie serves in Maryland's Leadership Education and Development program, where she says she is able to learn about all sectors of agriculture. In their free time away from the farm, Katie and David enjoy traveling when feasible.
Brandon Treichler
Veterinarian
Select Milk Producers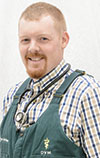 Quick facts
Herd: Consults with 100-plus dairies
Employer: Select Milk Producers
Brandon Treichler sees a lot of different styles of dairying in a year. As the quality control veterinarian for Select Milk Producers, he consults with 100-plus dairies and roughly 300,000 cows. He visits drylot, cross-ventilated and freestall dairies; dairies that bed with sand, manure solids or compost-bedded packs. He sees parallel parlors, rotaries and robots. Most of his time is spent improving milk quality and animal care on his employer's co-op farms.
"My only interest is in helping the producer succeed, not selling a product," Treichler says. "My dairies know I only have their and their cows' best interests at heart. That gives you some latitude to do some things as a consultant you otherwise wouldn't be able to do."
Treichler grew up on a small family dairy in Pennsylvania. He graduated from Penn State and attended vet school at the University of Minnesota. He began his veterinary career in practice near Green Bay, Wisconsin. In 2014, he joined Select Milk Producers as a quality control veterinarian. He lives in Texas and travels frequently, visiting each member farm four to five times per year.
"I want my guys to be the best – that's what drives me, and it's what drives them," Treichler says.
The dairies Treichler consults with have their own herd veterinarian who provides the traditional veterinary services such as pregnancy checks, surgeries and prescriptions. His focus is on improvements to milk quality and food safety that are increasingly becoming an access-to-market issue.
"It used to be milk quality was driven solely by counts and bonuses; however, processors and consumers have a very different vision of what quality milk is in today's milk market."
In consulting with dairies, Treichler often works with employees to improve protocols and adherence to them. He's optimistic about the opportunities for improvement on most dairies.
"We have two choices. We can say: 'We are stuck. Our people are what they are. They are never going to improve.' Or we can commit to training and thinking we can improve the labor we have. We are choosing to think we can get better," Treichler says. "As a dairy industry, we want to be proactive, not reactive, and strive to make changes at our discretion before producers are forced to make changes."
Read his article submission about animal care and handling practices that should be on producers' minds in 2018. (2017's undercover videos offer up teachable moments).
Bill Rowell
Green Mountain Dairy
Sheldon, Vermont
Quick facts
Herd: 900 commercial Holstein milking cows
Parlor: Double-15 parallel
Bedding: Digested manure fibers in freestalls
Milk handler: St. Albans Cooperative Creamery
Bill Rowell is proud to be a champion for his farmer colleagues and all of production agriculture in the state of Vermont. He stands up for his neighbors in the face of increasing consumer misunderstanding about food production.
"As you get into a discussion about agriculture today, people are well enough fed that some feel it's an opportunity to cast criticism toward agriculture," Rowell says. "The increased volume of regulations and attention to regulatory detail are getting a bit difficult to manage if you are trying to make a living. Aside from farming every day, one of my chief focal points is legislation and what could happen if you don't pay attention to what legislators are talking about."
Rowell was recently instrumental in forming the Vermont Dairy Producer Alliance, which assists in lobbying at the statehouse for the Vermont dairy industry. The alliance does scientific and legal research to counter claims used to create legislation negative toward the dairy industry.
He puts a great deal of effort into advocating for the dairy industry and educating consumers. In the last nine years, he and his brother, Brian, have opened their farm for tours. More than 28,000 people from 33 different countries have visited the dairy.
"If we intend to succeed as dairymen, we need to give the consumer a chance to have a transparent look at our routine practices," Rowell says. "They want to know where their food comes from and how it is produced, and who is producing it. There are a lot of myths out there about what goes into milk."
The dairy installed a digester that went into operation in 2007. It annually produces more than 2 million kilowatts of electricity sold on the grid at a 14-cent-per-kilowatt premium. Digested manure fibers fill the milking cow freestalls, and a wood shavings-bedded pack is provided for maternity cows.
Calves and transition cows are bedded with shavings. Environmental stewardship and preserving water quality are at the forefront of Green Mountain Dairy's priorities. One of Rowell's proudest achievements as a dairy producer is seeing his team receiving a Gold Award from his co-op for milk quality.
Bill defends his own family's ag interests and others in agriculture on a regular basis.
"A lot of what I do is stand up and try to create a better situation for agriculture," Rowell says. "It doesn't get better if you don't fight for your interests."
When he's not busy advocating or assisting on the farm, Rowell enjoys fishing and golfing in warm weather and watching professional hockey in the wintertime.
Tony Brey
Brey Cycle Farm
Sturgeon Bay, Wisconsin
Quick facts
Herd: 450 registered Holstein cows
Parlor: Swing-nine
Bedding: Virgin sand in freestalls
Crops: 1,200 acres – 800 corn, 200 alfalfa, 100 sorghum and 100 wheat; 200 acres of cover crops planted each winter for heifer feed
Milk handler: Agropur
Tony Brey and his brother, Jacob, are young, educated dairy owners. At 32 and 26, the two partnered in 2016 to purchase from their parents the dairy farm where they were raised.
Tony, the older brother, was first back to the farm after graduating in dairy science from the University of Wisconsin – Madison. He rejoined the farm in 2007; he and his brother represent the fifth consecutive generation to dairy in his family.
Tony's current responsibilities include the dairy's finances, reproduction and breeding. He is trained and does his own embryo transfers and ultrasounds. The dairy utilizes genomics. The top 2 percent of the herd are donors for embryos implanted in virgin heifers. As a registered Holstein herd, the dairy often sells excess dairy stock to other dairies. They are also breeding the bottom 30 percent of their herd with Angus semen.
When the first beef-cross calves are born later this spring, the dairy plans to keep them and diversify into raising beef cattle. Jacob works on the crop side of the dairy and assists with the farm's overall management.
"We work pretty well together, thankfully," Tony says. "We all have enough to do."
In the next few years, Tony would like to see the dairy continue to grow. It's grown already by 350 milking cows since he first came home. Acquiring more land will be necessary for further growth.
"I don't have a particular cow number in mind," Tony says. "But I think we will continue to grow."
Tony and his brother are founder members of Peninsula Pride Farms, a conservation group in northeastern Wisconsin that focuses on improving water quality in Kewaunee and Door counties.
"I've learned a lot about crop management and conservation practices I didn't know before," Tony says. "It's a chance to learn from more experienced farmers and to share information with other farmers." The dairy is gradually increasing each year the number of acres where cover crops are utilized.
One of Tony's proudest accomplishments is to have transitioned the farm one generation to another.
"That's not easy to do," Tony says. "Farm succession/transition can be a challenge. The farm had to grow to be able to transition … and it takes people working together to accomplish that."
Besides dairying, Tony enjoys watching and cheering for his alma mater Wisconsin Badgers in football and basketball.
PHOTO: Tony Brey (right) and his wife, Moriah, are dairy partners with Tony's brother, Jacob, and his wife, Lauren. Also pictured are Tony and Moriah's children: Alexa [in arms] and Evan.
Lynda Foster
Foster Dairy
Fort Scott, Kansas
Quick facts
Herd: 180 commercial Holstein cows
Parlor: Three Lely robotic milking units
Bedding: Virgin sand in freestalls
Crops: 800 acres – 150 in corn silage, 100 in corn for grain, 250 in soybeans, 300 in pasture/grass hay
Milk handler: DFA
Foster Dairy Farm recently converted to robotic milking. They have three Lely robotic milking units and would like to purchase a fourth robot soon.
"We really need that fourth robot. We're really pushing the ones we have," Lynda says. "The cows are milking about 85 pounds; they're doing well with the robots for the most part."
The dairy is the last one still in business in their county in southeastern Kansas. Lynda is proud the dairy remains standing, that she and her husband still work on the farm and that they support the dairy without off-farm income. She imagines in the future the dairy will have to expand in order to be able to produce a full semi-truck load of milk by itself.
"With a fourth robot, we could be milking about 220 to 230 cows," Lynda says. "We wouldn't have to do too much changing around to get there."
Lynda has already begun the process of transitioning the dairy to the next generation – her son, David, and his wife, Addi. They are the fourth generation to participate on the dairy since it was founded in the late 1940s. Lynda says as long as she's in good health she'd like to continue to dairy as long as possible.
"While we don't have any interest in retiring any time soon, we have begun the process of transitioning to the next generation," Lynda says.
Lynda graduated from Kansas State University and majored in dairy production. While in school she met her husband, Gary, a mechanical engineer Lynda says she turned into a farmer. She was one of just a few female students to graduate in her class.
"I'm a female living in a man's word," Lynda says. "I've always said I'm a dairyman and proud of it. You don't need to call me a dairywoman or dairyperson."
She was the first female to be named the Kansas Dairy Leader of the Year in 2013. She was appointed to the National Dairy Board twice. She enjoys serving her local county fair, the Kansas Dairy Association and Midwest Dairy Association. When she's not on the dairy, she enjoys touring other dairy farms, visiting relatives and spending time with her grandkids, including singing with them while she plays guitar.
PHOTO: Lynda Foster (second from right) and her husband, Gary (right), have already started involving the next generation on their dairy farm – their son, David (left), and his wife, Addi.
Dave Jauquet
Jauquet's Hillview Dairy
Luxemburg, Wisconsin
Quick facts
Herd: 650 registered Holsteins
Parlor: Double-16 parallel
Bedding: Sand in cross-ventilated freestall barn
Crops: 150 acres hay/forage, 250 acres corn silage, 50 acres wheat
Milk handler: Agropur
Efficiency is the word that best describes Dave Jauquet's management philosophy. As owner of Jauquet's Hillview Dairy in Luxemburg, Wisconsin, he successfully maximizes milk production and reproduction, achieving an impressive 42 percent pregnancy rate alongside a 34,000-pound herd average.
Producing and procuring high-quality feed plays an important role in hitting these high numbers, and it is a particular focus for Jauquet. "Feed efficiency is our greatest value," he says, noting they run 1.85 on feed efficiency on a heavy corn silage diet. He intensely monitors silage chopping and kernel processing as well as shredlage harvesting.
Jauquet and his wife, Stacy, started on the dairy in 2007, when they entered into a partnership with Dave's brother and built a 10-row cross-ventilated barn. The couple assumed sole ownership in 2014.
Jauquet recognizes public outreach as a vital factor for the future of his dairy operation. Located in an environmentally contentious area, he and Stacy actively educate audiences of all ages, from Green Bay school children to adults in the community. In fact, they host an annual on-farm "gala" where elected officials, business owners and other key influencers are invited for a chef-prepared dinner and an evening of dairy education.
Locally, the couple is involved with the Kewaunee County Dairy Promotions Committee and Peninsula Pride Farms, a grassroots group focused on environmental stewardship. They are also members of the Dairy Business Association and American Dairy Coalition.
Looking ahead, Jauquet plans to continue pushing the envelope on efficiency with the ultimate goal of eventually turning over the day-to-day management responsibilities to a partner. "Ten years from now, I'd like to be able to slow down," he says.
When not on the dairy, Jauquet enjoys traveling and spending time with his children, Blake and Stella.
PHOTO: Dave and Stacy Jauquet hold an annual dinner gala on their farm. They are pictured with their son, Blake, and daughter, Stella.
Before commenting on our articles, please note our Terms for Commenting.