The commandment "love thy neighbor" is a fixed part of the farmer's creed, and Illinois farmer Bill Halpin is living out every word.
Halpin, his brother George and nephew Mike grow grain and cattle on roughly 4,000 acres near Pontiac, Illinois. Bill runs the grain part of the operation, while his brother and nephew handle the cattle side. They own and lease dairy cows to several surrounding dairies, raise beef cattle and replacement heifers, and show Milking Shorthorns.
Mike was attending World Dairy Expo with his show string when a freak accident occurred. He was unloading hay when his hand got caught between the twine string of the bale, causing him to tumble out of the trailer, land on his head and pinch a nerve in his neck, resulting in what Bill says will most likely be permanent paralysis. "It's pretty tough, especially for my brother," Bill says. "He went downhill for a long time – they didn't know if he was even going to live, but a week ago, he started improving. They still don't know if he'll ever walk again." With his nephew in the hospital, George caring for his nephew and harvest looming, Bill found himself scrambling to care for the whole farm.
Just over a week after Mike's accident, Bill received some of the help that he so desperately needed. A crew of over 100 people assembled at his farm on Oct.15 and got to work. Bill says that a total of 18 combines, 31 semis and countless grain carts and wagons, not to mention the crowd of volunteers, split up among six different tenant farms and harvested over 600 acres of grain in just six hours. "Roger Birch spearheaded the whole thing," Bill says. "He was super. The family is so appreciative."
Roger Birch has known the Halpins for more than 35 years and lent George a hand in the past. "I worked for him doing cattle work in the wintertime for several winters. That was my off-season," Birch says. He heard about Mike's accident the day after it happened. A few days later, he and his neighbors began planning the harvest. "Within a couple days, I started talking to a few friends and neighbors and decided to help him, so we just started organizing at that point," Birch says.
Birch may have spearheaded the volunteer efforts, but he had a lot of help.
"There was about three of us that put it together and came up with a plan for who went where and who did what. We had a lot of help." Birch says many of the women also got together and brought food for the workers. "My seed district sales manager came and provided the lunch for us that day. She brought Subway for 108 people, so that was a great deal."
Bill says the harvest effort took careful planning and consideration before anyone arrived to work. "Our farming operation is approximately 4,000 acres, but we're scattered over 50 miles," he says. "He organized and sent combines everywhere. Everybody that wanted to come, he organized and sent down by the various fields."
Harvest on the Halpin farm requires meticulous record-keeping in order to claim success. "With all the different farms and different tenants, we had to keep all of the farms separate," Bill says. "Willie van Wassenhove took care of all of that. He had someone sitting at the end of each field giving papers to the truck drivers for which field they were coming from and which farm and everything like that. He organized the paperwork and did a tremendous job."
There was some initial hesitation to do this harvest due to the complex paperwork involved. Bill was nervous about bringing in help, but thanks to his careful neighbors, they managed to pull off a success. "The USDA wants to know your yield and everything per farm, but he kept everything all straight and everything couldn't have gone more smooth."
Bill says the only thing that could have been better is the working conditions. Recent rains had left the fields muddy and conditions risky for combines. "On several farms, we were fighting mud, but we kept the two-wheel drives where it wasn't quite so muddy and the four-wheel drives to the muddy fields," Bill says. "We even had one combine on tracks that could go anywhere, and he did some of the toughest work out there."
Thinking of all of the people willing to drop their own work to come help him and his family, Bill reflects, "It brings tears to my eyes right now. It's tremendous, unbelievable, the response from all the neighbors, everybody, and I don't know how we could ever repay them."
Bill's gratitude is not only for the help with his harvest, but also for everyone who has stepped in to help since Mike's accident. "The crops are all harvested, and we are so grateful to all the neighbors and everybody who helped, and very, very grateful to my uncle Jim Hibler who has been helping us. He's been there every day. And Roger Birch who spearheaded the whole thing, and everybody that donated everything."
Birch estimates that over 200 people came to help that day and afterwards gathered at his farm for a meal put together by volunteers. "It was unbelievable. It was a great feeling. Everybody that was there wanted to be there, and they were pulling for Mike, and it was a group effort, and everybody really enjoyed it, I think, and felt honored to be there."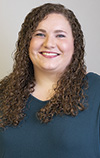 Carrie Veselka

Staff Writer
Progressive Dairyman
PHOTO 1: A grain cart unloading corn at Crescent City farm.
PHOTO 2: Colt and Owen Halpin, Mike's two sons.
PHOTO 3: Roger Birch's combine and the group who helped at Crescent City farm. Photos provided by Roger Birch.