Elle Purrier St. Pierre grew up in northern Vermont on her parents' 40-cow dairy farm, milking cows before school and haying in the summer.
"I grew up on a dairy farm, so I learned how to work hard from a young age, and that work ethic has definitely translated in my career now. You work until the job gets done, not until you get tired," Purrier St. Pierre says. "I also think I have a better understanding of biology and what it takes to take care of cows and how that translates into taking care of myself as an athlete."
Early success and noteworthy achievements
Twenty-six-year-old Purrier St. Pierre is a professional middle- and long-distance runner sponsored by New Balance. Early success running track in high school landed her a scholarship to run in college at the University of New Hampshire.
"I continued to do better every year, and then I realized I was good enough to run professionally, so I pursued that as well," Purrier St. Pierre says.
One of her first breakthrough races she had in her professional career was when she made the world championship team for the U.S. in 2019 and ran in the 5,000 meters at Doha, Qatar.
"To me, the U.S. is the most competitive team there is, so you know making that for the first time was really exciting and special for me," Purrier St. Pierre says. "I still think back on that even now as an Olympian."
The following winter she broke a 37-year-old American record in the indoor mile and ran a 4:16.85 at the 2020 Millrose Games in New York City.
"I was not expecting that to happen at all," Purrier St. Pierre says. "I was completely in shock. But after it sunk in, it really was a big confidence booster for me and probably one of my favorite races ever."
Then, this past winter, she also broke the American indoor 2-mile record running a time of 9:10.28 at the 2021 New Balance Indoor Grand Prix.
"That was also really exciting, but I was definitely feeling more confident going into that race. I had the goal of breaking that record beforehand," Purrier St. Pierre says.
Olympic aspirations
The first time Purrier St. Pierre really thought about going to the Olympics was when she ran in the 2016 Olympic trials.
"I was a completely different athlete at that point in my life," Purrier St. Pierre says. "I definitely thought I was not capable of making that team. But it was a learning experience."
She then set her sights to Tokyo 2020 and remembers how crazy it sounded because it was so far away.
"The epitome of running professionally is going to the Olympics," Purrier St. Pierre says. "That's like the ultimate goal. So, once I became a professional, that was when I really tried to dial in and think about it."
Due to Covid-19, the 2020 Olympics trials held in Eugene, Oregon, was pushed back to 2021. At the trials, Purrier St. Pierre was excited to be there, but also nervous and stressed because everything she had been working for the last five years was coming down to this 1,500-meter race.
"In the first 50 meters of the race, I was pushed off the track and had to recover from that," Purrier St. Pierre says. "I was planning to take the lead after the first lap and kind of see how the pace was going. If it was slow, I would take the lead – and if it was fast, I would just hang in the top three. Because I got pushed, something went off my brain and I was just like – GO."
Pierre led the rest of the race, finishing in 3:58.03 to win the national title while also breaking the meet record and setting a new personal best to make her first Olympic team.
"I think if I hadn't gotten pushed, I probably would not have broken the meet record," Purrier St. Pierre says.
However, the push during the trials ended up injuring her foot, and she had to take some time off.
"I feel like that really affected my performance at the Olympics. I just didn't feel like I was in as good of position there as I was at the trials," she says.
Tokyo Olympics
Getting to go to Tokyo was amazing to Purrier St. Pierre, and she had a beautiful view of the city and the water next to her room.
"When I woke up in Tokyo, I was just like 'Oh my gosh, I'm actually here,'" Purrier St. Pierre says.
In the opening round of the women's 1,500 meters, she finished third in her heat with a time of 4:05.34.
"A really emotional moment for me was when I wasn't sure if I had qualified in the second-to-last round. But I advanced on time," Purrier St. Pierre says.
In her semifinal performance, she did not finish high enough to advance automatically. However, the second heat finished several seconds slower, so her time of 4:01.00 was just fast enough to qualify her for the Olympic finals.
She finished in 10th place in the final 1,500-meter run with a time of 4:01.75.
"I ran with my heart. I didn't feel myself, but I put it all out there," Purrier St. Pierre says. "Running three rounds of the 1,500 meters is a lot, and I have never run so fast within just a couple of days, but I dug deep. I definitely did not place as high as I would have liked to, but I was just so excited to have made it to the Olympic final."
Life at home
Purrier St. Pierre lives with her husband and high-school sweetheart, Jamie St. Pierre, who is starting to transition, with his brother, in taking over their dad's large dairy operation in Richford, Vermont.
"I definitely think working with the cows is one of my top favorite things about living on a dairy. Also, working with my family," Purrier St. Pierre says. "It's our passion and what we love to do. It's really great to be able to do something with your family and the people you love."
When she is home, she helps out wherever she is needed with herd checks, sorting, feeding and bedding cows, and packing bunk. When she is away training, being away from her husband and their animals weeks at a time is the toughest part of her job.
"Jamie and I have done long distance all through college. He went to Cornell to study dairy management. So we're kind of used to that," Purrier St. Pierre says. "It's become tougher and tougher, even more so as I get older, because I'm spending more time away. So right now, it's just been really great to be home, and I'm so thankful for all the days I do spend here."
When she is away, she is also thankful Jamie's family is really supportive of her and enables her husband to come visit her at least once a trip when she is training at 7,000 feet of altitude in Flagstaff, Arizona.
"We're both doing these really big things. So it's easier to support each other because we understand each other. I think it's really cool what he's doing, and he thinks it's really cool what I'm doing," Purrier St. Pierre says. "He's brought a lot back to the farm after going to college, and he's teaching me more and more. So this is like such a different type of experience working on his farm than mine, and it's just really fun for me to learn from him."
Now that the Tokyo Olympics is over, Purrier St. Pierre has set her sights on the 2022 World Athletic Championships and the 2024 Summer Olympics. After she is done running, she plans to retire and move back home and work on the farm full time with her husband.
"I know I won't be able to have my running career forever because as we get older, it's harder to run at this level," Purrier St. Pierre says. "I just know I have to do it now, and the farm will be there when I'm ready to come back."
PHOTO: Olympic runner and Vermont dairy farmer Elle Purrier St. Pierre competed in the 1,500 meters at the 2021 Summer Olympic Games in Tokyo. Photo provided by Emily Pritt.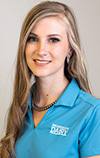 Audrey Schmitz

Editor
Progressive Dairy