Alan Reed was looking for options. Early last spring, he attended a presentation at the United Dairymen of Idaho offices featuring University of Minnesota dairy economist Marin Bozic.
During his presentation, Bozic encouraged producers to be ready to jump on opportunities when they appear on the horizon rather than trying to react as those opportunities race past.
"You have to be able to pivot and pivot radically," Bozic said of changing global dairy markets. "You have to be a business owner first. You have to re-invent yourselves."
Reed, who is one of the owners of Reed's Dairy in Idaho Falls, Idaho, was at a point in his business where he needed to pivot. While the local landmark remained popular for customers stopping in for homemade ice cream and curds, the milk side of the business was in trouble.
"When the price of milk got so cheap – it dropped 2 dollars 45 cents to 1 dollar 75 cents within a month – we lost half our customers. We were still trying to dig out of that, but we were losing $5,000 a week," Reed says.
Reed's Dairy already had an association with Boise Milk Company. That business had been providing customers in Idaho's Treasure Valley, nearly 300 miles away from the dairy, with Reed's milk. But the owner was ready to sell and offered it to Reed and his partners.
Reed thought about what Bozic had said and made the jump.
Last March, Reed's Dairy took over ownership of Boise Milk and has plans to open a retail store on the west side of the state by next spring. They are changing the name to Reed's Dairy Boise Milk and upgrading the delivery trucks and services available to Idaho's largest market area.
It's a lot different than the self-service store Reed's operated on the same Idaho Falls site in the 1950s and '60s. Back then, they kept a shoebox on top of the refrigerator, and customers would put quarters in the box in exchange for the milk they'd grabbed from the 'fridge.'
At the time, the dairy was on the edge of town. It's now surrounded by subdivisions on a busy road.
Rather than seeing the development as a threat, Reed saw potential sales.
"It's customers. Let 'em build," Reed says. "They like to see the animals, and it puts a good light on the dairy. It's become a destination, and people around here enjoy it."
In addition to the store, where customers can buy freshly made ice cream and cheese curds, grilled cheese sandwiches and Reed's milk varieties, Reed has put in a small petting zoo area for customers to visit.
Idaho Falls area customers can also get home deliveries, and Reed operates the store on the dairy plus another retail outlet in Idaho Falls. On the western side of the state, Boise Milk customers can order local produce, eggs, fruits and vegetables for home delivery.
Those items will also be available at the new retail center planned for Kuna, a Boise suburb.
As far as Reed knows, his is the only service of its kind in Idaho and is part of a growing trend across the nation. He said home delivery services had all but died but are coming back.
"Everyone's so busy, and they like to know where their food comes from," he says.
He's right, according to Cindy Sorensen, vice president of Midwest Dairy Association. In a September webinar on how consumer trends are driving dairy innovations, Sorensen said millennials – consumers born in the mid-1970s and coming of age in 2000 – like milk because it's seen as a whole food.
"They connect to milk because it provides their needs for pure, natural, delicious, nutritious food and connects to strong family values for this consumer," Sorensen said.
It's also sourced locally and that's important to this generation of consumers. For businesses like Reed's Dairy, Sorensen said the time is right to provide a more traditional service like home delivery.
"Today's consumer is also looking for local, farm fresh food," she said via email. "And today's consumers want their products how, when and where they want them. This is how they define value."
Sorensen said it isn't always about the price of a product that dictates value. It can be that the product delivers on a perceived consumer need which helps provide an overall perception of delivering value.
What's more, they're willing to pay for that service.
Reed's Dairy is one of a handful of producer/handler operations popping around the country. Sorensen said that is a reflection of a trend toward more traditional services.
"Home milk delivery is a great way for consumers to support their local farmers," she said. "It's a throwback to simpler times, which our consumer research has indicated consumers associate with milk.
So even though their lives may be hectic with children, work and personal pursuits, they can return to a time of nostalgia when life was simpler with the delivery of milk to their front door."
It's a niche that smaller processors can fill, she said.
"These are the segments that are growing amongst conventional milk at traditional grocery, and we see smaller processors fulfilling consumers' needs with these products and doing it in a very personalized way through home delivery."
PHOTO 1: A Reed's delivery truck heads out on a route in Idaho Falls.
PHOTO 2: Sam Reed, Alan's son, is the fifth generation of the Reed family to live and work on the family farm. Both men have finance and business degrees, which they say helps them make decisions like expanding the home delivery service. Photos by Karma Metzler Fitzgerald.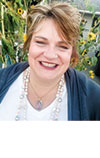 Karma Metzler Fitzgerald

Freelance Writer
based in Idaho