For dairy farmers, sustainability is a package of three components, combining environmental stewardship and social benefits with profitable economics. At Reinford Farms, a depackager is helping optimize all three.
Reinford Farms was among recipients of the Innovation Center for U.S. Dairy's seventh annual U.S. Dairy Sustainability Awards.
Reinford Farms is a family owned-and-operated dairy farm that has been in business since 1990, when Steve and Regina Reinford moved to Mifflintown, Pennsylvania, with 57 cows, a tractor, plow and their four young children: Brett, Chad, Drew and Dove.
Today, Brett Reinford farms with his dad, mom, two brothers and sister. Together, they manage a 725-cow freestall dairy on 1,300 acres of corn, hay, triticale and rye. They raise all their 600-plus replacement animals and employ 20 workers.
Brett Reinford's path back to the farm and an emphasis on sustainability took a circuitous route. While attending Hesston College in Hesston, Kansas, an environmental biology professor urged Brett and other students to be aware of the world's limited resources and explore ways to preserve and reuse them – even inside their own dorm rooms.
It was at Hesston he also became aware of alternative energy sources and how they related back to the farm, opening his eyes to digester technology. The first digester was constructed on the home farm in 2008. (A second has been in operation at a brother's nearby heifer facility since 2012.)
After earning an associate's degree in business administrations, Brett returned to the farm. Once there, however, he realized he wasn't ready to make dairy farming his permanent occupation, so he went farther west to Colorado Christian University, where he earned a bachelor's degree in business administration in 2009.
When Brett returned to the farm in 2012, he came with a desire to integrate meaningful sustainability guided by the economic realities of dairying: With milk price volatility, diversification was critical to spread economic risk.
That reality gained emphasis this spring when Dean Foods announced milk supply contract terminations with 42 of Reinford's fellow Pennsylvania dairy farmers.
"The Dean's contract termination is certainly a very unfortunate event in Pennsylvania dairying," Reinford says. "I think it shocked and brought focus to the harsh realities of the dairy business to farmers and the public alike. This shows the volatility of the dairy industry. We recognized there is a lot uncertainty, and it doesn't look like that will change anytime soon. That is why we looked to diversify to help mitigate the challenging dairy markets."
Depending on climate, location and situation, diversification takes on a different meaning for each dairy. On top of that, intensified environmental regulation of dairy farms drives costs higher. Rather than wait until their hand was forced, the Reinfords looked for ways to meet environmental standards while also seeking opportunities to generate extra revenue.
View more photos of the farm in this slideshow.
"We looked at our farm's overall goals and decided to invest in the environmental side of our dairy business," Reinford says. "Being located near a large percentage of the U.S. population means we're also near a large portion of the organic waste in the U.S."
With a digester in place and a beneficial location, Reinford Farms found they were positioned to begin collecting food waste from their area's grocery stores and food manufacturers. In those early years, the food waste was either organic in nature or hand-separated by grocery stores.
Over time, however, they started to see more contaminants, making the recycling process complicated and labor-intensive. They decided installing a food waste depackager would help vertically integrate their recycling program, expand the scope of food waste they could accept and keep more waste out of landfills.
Brett and Steve did a lot of reading and research online, watching countless YouTube videos on the depackaging process and how different models worked. After seeing one in operation on a farm in Minnesota in 2013, they decided on a Scott depackager, manufactured in New Prague, Minnesota. Its design matched their need for operational simplicity and fit into their building layout and material flow plans.
They applied for grants for the second digester and depackager for the home farm but were denied funding for the depackager due to the uniqueness and economic unknowns. So they financed that with a personal loan and installed it in 2016.
"We made the investment because we were already invested in food waste and, when the milk price is low, it helps to generate a little additional income," Brett says.
The packaging materials are removed as the food waste is ground, with packaging material that can't be recycled sent to an incinerator or landfill. Food waste and manure are mixed and transferred to the digester.
"We are still figuring out and tweaking things as we go and continuing to learn from some of our early mistakes," Reinford says.
With the depackager allowing expansion of the food waste business, the Reinfords were scheduled to break ground on a third digester – four times larger than the original – in late May.
Digester management
As other dairy producers can attest, digester management can create challenges. That's compounded when food waste is introduced into the system. Both digesters on the home farm will process manure and food waste on a 50-50 percent basis.
"We have found if you feed the digester too much food waste, it causes more problems," Reinford says. "Now that we have a depackager, we see an even greater variety of food waste. Manure is so much more consistent than food waste, but food waste produces more gas than manure so, when you do a 50-50 mix, you have the consistency and the gas production."
The Reinfords do not take any food packaged in glass, which becomes pulverized and settles in the digester.
Currently, all food waste and digested material remains on the farm. However, as the business grows, a long-term goal is to send food waste to other local digesters. That will require additional permits and zoning, Reinford says.
Advice to others
Their food waste recycling program has blossomed into an efficient and profitable business, yielding income from tipping fees and electricity generation while reducing energy, fertilizer and bedding costs. However, Reinford offers "realistic" advice to any dairy producers considering a similar food waste project.
"Being in the food waste business is not 'easy' money," he warns.
While declining to provide specific costs, Reinford admits the project required significant capital investment. In addition, as more farms with digesters began taking food waste, it drove down returns.
The food waste business has its own set of variables, requiring management flexibility and impacting operating costs. There are two to three full-time employees at any given time, depending on the day and the projected supply of food waste coming in for that week.
Spring and summer tend to be busier than fall and winter. "Food waste is not real consistent," Reinford says. "Some weeks we have just the right amount of food waste, and other weeks we don't have enough."
Today, they work with 15 grocery stores and food manufacturing companies to recycle food waste. The Reinfords have contracts with some clients, but those agreements are basically on a week-to-week basis.
"'Waste' is a competitive business and, at the end of the day, it is usually disposed at the best price, not the most sustainable solution," Reinford says. That means clients may come and go when they find cheaper alternatives.
With revenue based on tipping fees charged to companies supplying waste food, that inconsistency also means there's variability in income.
"We're hoping for a seven- to eight-year payback on the depackager and building," Reinford says. "It all depends on the volume of food waste we can put through the machine.
"We half-jokingly say we would probably be just as far ahead if we added 100 more cows at slightly above breakeven milk price than making the large investment in food waste recycling and managing additional employees and risk," Reinford says.
Business structure
The food waste recycling business is still part of Reinford Farms, but the family is in the process of separating it into a different enterprise, with the goal of forming a separate business entity.
"The food waste business is designed to be self-sustaining through the tipping fees generated by the service we provide," Reinford says. "It has its own employees and covers its own expenses but, at the same time, it is very closely incorporated into the dairy business."
They gained efficiencies by locating the manure- and food waste-handling facilities next to each other, but neither business is designed to subsidize the other. The project has transformed the Reinfords' management and the way they view manure.
"Ten years ago, we were viewing manure as a nuisance on our farm," Reinford says. "Manure was a waste byproduct of making milk. But if you start viewing every 'waste' product as a resource, then you start looking for value in those products and view them completely differently."
"I heard another farmer comment recently they are trying to make as much on the manure revenue as they are on the milk the cow produces," Reinford says. "Our farm has the same philosophy. We are not there yet but certainly see how that is possible with some of the new manure technology being introduced."
Environmental success
They have successfully been able to reduce greenhouse gas emissions associated with conventional food waste management and capture three times the methane than managing manure alone. They recycle 12,000 gallons of manure and 6,000 to 12,000 gallons of food waste daily, and generate roughly 1.5 million kilowatts of renewable electricity annually.
Since they started recycling food waste 10 years ago, they have kept over 35,000 tons of food waste out of landfills, capturing 133 million pounds of CO2 that would have otherwise gone into the atmosphere.
The Reinfords are advocates for environmentally sustainable dairy farming, implementing and promoting sustainable practices and working to improve relations between consumers and farmers. They supported development and were early adopters of the National Milk Producers Federation's Farmers Assuring Responsible Management (FARM) Environmental Stewardship module.
They also credit the Land O'Lakes Sustain program as a resource to help meet their family farm's sustainability goals. Several years ago, that program assisted with the purchase of LED lighting and fan thermostats. The program has also been an avenue for the Reinfords to share sustainability practices through increased public visibility.
"It's great to see Land O'Lakes make the investment with the Sustain business unit because they understand that for my farm to be successful, they needed to help encourage and facilitate more and better farming suitability practices within the co-op," Reinford says.
Brett is an advocate for environmentally sustainable dairy farming and is happy to spend time promoting sustainable practices to local dairy farmers and educating the public on their efforts. He is active in his community and works hard to improve relations between consumers and farmers to help ensure a bright future for Pennsylvania agriculture.
PHOTO 1: The Reinford family (left to right): Chad, Dove, Steve, Gina, Brett and Drew. Behind them is one of their freestall barns and methane digester.
PHOTO 2: The packaging materials are removed as the food waste is ground, with packaging material that can't be recycled sent to an incinerator or landfill. Food waste and manure are mixed and transferred to the digester.
PHOTO 3: Food waste is more inconsistent than manure but generates substantially more gas than manure alone. Photos by Sherry Bunting.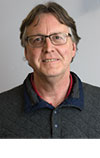 Dave Natzke

Editor
Progressive Dairyman