The two most recent generations to operate Ideal Dairy LLC in Hudson Falls, New York, have something in common. They have each entered the business during a turning point in the farm and propelled it forward to be successful.
The earliest history current owner Crystal Grimaldi can find is her great-great-grandfather started selling milk door-to-door in 1908. The farm continued to package and sell its own milk in local communities until 1987, when her grandfather decided to accept the whole herd buyout option.
At that time, Grimaldi's parents, John and Denise Dickinson, had been milking their separate registered Holstein herd for six years at a farm 5 miles down the road.
With the home site vacant, they decided to move back and renovate the old parlor to milk their 100 cows. This has been the main base of operations since 1992, while the site 5 miles down the road is still used for heifers.
"The farm has grown organically over the years," Kyle Getty says. They added another barn this summer and are now at a little over 2,400 cows.
Getty is a cousin to the Dickinsons and grew up on a 100-cow farm down the road. "Our families were really close growing up," he says.
After he finished school and worked for the Pro-Dairy Program at Cornell University for a couple of years, John Dickinson approached him about joining the farm.
"I knew I always wanted to get back in production agriculture," Getty says.
They hashed out a plan, and Getty joined the business in 2009 and became a partner in 2012.
Getty's first role on the farm was a relief position that floated from area to area as needed.
"It was a good way to cut my teeth," he says. "One of the things John and I talked about was that I wasn't going to be in an entitled position. I needed to earn the respect of everybody that had been here. We have a lot of long-term employees.
"It was also a good way to get exposed to all of the facets of the business," Getty continues.
By stepping into relief roles as the herdsman, feeder or on the crop side, he had a chance to ask first-hand why things were being done the way they were and possibly reevaluate the farm's protocols.
Getty has since settled into a permanent role, managing feed and nutrition, manure and cropping.
The farm has 3,500 acres of cropland, primarily as grass with some mixed stands, corn for silage and small grains to harvest. Small grains let them follow up with summer seedings.
Getty is also involved in the financial side of the business with budgeting, sensitivity analysis, input procurement and capital purchases.
His brother, Luke, joined the business in 2013. He manages the herd, the milking and herd management staff and youngstock staff, and oversees everything from an operational standpoint.
The Gettys and Denise Dickinson are involved in a separate entity called Cookiecutter Holsteins. This started in 2004 when Denise and Kyle Getty purchased a heifer and flushed her to Goldwyn.
"That was right about the time genomics came out and one of the Goldwyn [daughters] had just had a Shottle heifer. It turns out she was the number one heifer in the breed at the time. It just worked out to be pretty lucky and the rest is history," Getty says.
They had an aggressive embryo transfer program at first, and in the last five years, they have been using in vitro fertilization (IVF).
"We have plenty of recips, so the number of Cookiecutter animals has grown exponentially over that time frame," Getty says, noting more than 1,000 animals at Ideal Dairy are registered under the Cookiecutter prefix.
Managing the genomic side of the business, working with A.I. companies and the IVF program are Denise's primary roles on the farm.
John Dickinson is the CEO and keeps everything together. "We call him the 'resident fireman,'" Getty says, as he heads up problem-solving and serves as the foreman for any expansion projects on the farm.
Both John and Denise are heavily involved in the farm, but are trying to step away from the day-to-day activities. They have an ocean-going sailboat and twice a year make a three- to four-week voyage on the open sea to the Caribbean.
Grimaldi takes care of the office with bookkeeping, payroll, record-keeping and regulatory compliance.
The business has 32 full-time employees, not including the five family members. During the cropping season, they hire three to four extra full-time employees.
Growing up, Grimaldi helped around the farm with various chores, such as feeding calves, but it really wasn't her passion.
"I always loved history and became a history teacher," she says.
As she pursued that passion, her parents had considered putting the farm up for sale. They were milking about 600 cows, and there was a lot of development pressure in the area.
"It was an option to just sell the business and develop the real estate," Getty recalls.
Instead, Getty joined the farm team and changes for the next generation began to occur. There was reinvestment in the business, which opened opportunities for Grimaldi and Luke Getty to join the team.
"It's a lot easier to excite people and bring people into a growing, developing business than a mature, static business," Kyle Getty says.
After teaching for a few years, Grimaldi returned to the farm in 2011. She took over the bookkeeping from her grandmother, who was looking to retire, and put her other skills to work.
One of the first changes driven by Grimaldi and Getty was to build an infrastructure to better handle the farm's manure.
"We used to have very little storage. It was almost essentially a daily spread with 600 cows," Getty says.
They built two remote manure storages on separate parcels of land that they are able to pump to multiple times a year through buried and soft hose. This allows them to apply manure to fields they had never been able to get to before, as well as at times when it could be better utilized by the crops.
"It's been a huge win all around from the health of the soil and the timing of manure application," Getty says.
In addition, their neighbors were very receptive of the project and let them cross their lawns or wooded lots with hose to gain access to different fields. The dragline system reduced truck traffic, and by injecting the manure, they reduced odor – two benefits that appealed to their neighbors.
The manure infrastructure and storage was one of several capital projects that occurred on the dairy in the last 10 years. They also added barns, feed storage and a heifer facility to support the growing herd.
Two years ago, they started looking to replace the farm's parlor that was built in the late 1960s. The double-14 parallel parlor had been retrofitted three times and was needing another upgrade.
Instead, the farm owners decided to build a new 72-stall rotary that was commissioned a year ago.
There is room near the parlor to build two additional barns, but Getty says they will probably hold expansion for a little while given the current dairy climate.
The farm has been able to grow and maintain its presence in a well-populated area of the state, thanks in part to Grimaldi's and others' efforts to communicate what is happening on the farm.
"When I came back to the farm, I didn't expect to see the loss of consumer confidence in our product, animal rights and CAFOs," Grimaldi says. "My mom always said, 'Farmers are the good guys,' so I try to maintain that perspective."
Initially, she published a farm newsletter four times a year. It is now once a year, but she says twice a year would be best.
The newsletter is a vehicle to share the "why" behind their farming practices, particularly around the manure application process so neighbors know how important it is to inject nutrients at the right time even though it may mean some mud on the road until they can come back to clean it up.
"If there is a better awareness of why, we are more likely to be understood," Grimaldi says.
The newsletter is delivered through direct mail with the postal service for the two rural routes closest to the farm. This reaches about 1,000 people. She also emails it to a list of people who have requested it and also posts it on the farm's Facebook page and website.
Jessica Getty, Luke's wife, regularly posts images and farm happenings on the Facebook page to educate people about the farm and its involvement in the community.
Another educational approach is spearheaded by Rella Getty, Kyle's wife. She started an adopt-a-calf program and each March selects a calf for each of the school district's eight kindergarten classes to call their own. She sends pictures and updates about what the calf is eating and living for several weeks. Then, in June, the students are invited to the farm to meet their calf and get a full tour, including the milking facility.
"They get to learn about the farm and what we do," Grimaldi says.
She adds they will also give tours upon request to other members of the community that are eager to learn more about dairy farming.
"We like to share what we are doing," she says. "We are pretty transparent, and really like to share the positives about dairy and the industry."
Even though it is challenging, overwhelming and dairy producers can feel like they are getting hit from all directions, keeping that communication with the non-farming public is necessary for them to have a viable business.
"It is rough not getting a good price for our product, but we love the land and love our animals. We try to stay focused on those reasons," Grimaldi says.
Another driving factor is to carry the business forward for the next generation. Grimaldi has a son and the appeal of raising children on the farm was a big factor in her decision to join the farm team.
Getty has two boys, ages 5 and 3, who are already showing interest in the farm. The oldest enjoys the animals and the youngest loves anything equipment related.
"A lot of the stuff we're doing is to create a business that hopefully is still viable if any of our kids are interested in coming back and working in the business someday," Getty says.
Perhaps one day, this next generation will have the same opportunity to move Ideal Dairy forward in their own way, just as the previous generations were able to do over the past century.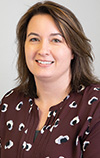 Karen Lee

Editor
Progressive Dairyman
PHOTO 1: As Ideal Dairy grew in size and more changes were planned, the opportunity arose for new ownership to join the farm team, which now consists of, left to right, Kyle Getty, Luke Getty, Crystal Grimaldi, Denise Dickinson and John Dickinson.
PHOTO 2: Ideal Dairy employs more than 30 people. Here are some of Ideal Dairy's employees standing in the farm's new 72-stall rotary parlor.
PHOTO 3: In the past 10 years, gradual growth occurred, moving the farm from 600 cows to more than 2,400 cows. This included adding barns, feed storage, a heifer facility, a new rotary parlor and a satellite manure storage system. Photos courtesy of Ideal Dairy LLC.