In their 10th year, the Innovation Center for U.S. Dairy's 2021 Sustainability Awards recognize the work of the dairy community in providing environmental, social and economic benefits. This year's award recipients in the Outstanding Dairy Farm Sustainability category are Red Sunset Farm, Mifflintown, Pennsylvania; Goodrich Farm, Salisbury, Vermont; and MVP Dairy LLC, Celina, Ohio.
Other honorees include: A pilot project in Wisconsin involving Grande Cheese, Lafayette Ag Stewardship Alliance and Farmers for Sustainable Food was recognized for Outstanding Supply Chain Collaboration; Calgren Dairy Fuels, Central Valley, California received the Outstanding Community Impact award; DairyWest, Idaho and Utah, was honored for Outstanding Community Impact - Pandemic Response; and Outstanding Dairy Processing and Manufacturing Sustainability recognition went to Rogue Creamery, Central Point, Oregon.
Dairy Processing and Manufacturing Sustainability
Rogue Creamery
Central Point, Oregon
David Gremmels' two-decade mission as a cheesemaker and owner of Rogue Creamery has focused on bringing together people dedicated to sustainability, service and the art and tradition of creating the world's finest handmade cheese. That mission has grown his small, southern Oregon company into one that has developed an international reputation for quality, sustainability and service.
Following his 2002 purchase of Rogue Creamery, located at Central Point, Oregon, Gremmels was mentored by former owner and artisan cheese icon Ignazio "Ig" Vella for several years. Recognizing that few mid-scale or large-scale U.S. cheese producers were verified to meet the highest standards of sustainability, he looked to create a business model and brand consumers could trust.
A major milestone was reached in 2014, when Rogue Creamery became Oregon's first public benefit corporation (B Corp). The certification requires a rigorous third-party assessment of the company's governance policies and its impact on environment, workers and community. That certification provided transparency and accountability in all Rogue Creamery's initiatives.
Cheese facility
Rogue Creamery began enhancing environmentally sustainable practices prior to its B Corp certification. In 2011, the company installed a 58-kilowatt, 252-panel solar photovoltaic (PV) system at the cheesemaking facility. Four years later, a second PV system was installed at their dairy farm.
"Back in 2012 when we were acquiring our dairy, our conventional financers requested we remove the photovoltaic system from our budget," Gremmels said. "But we knew it was important [to] defend, prioritize, fund and install. This was about making a statement as to our priorities, and we never wavered in our commitment. Today, times have changed, and I look around and see solar panels on countless roofs, and sustainability initiatives prioritized in business models – in dairy, farming, manufacturing and so many other diverse industries."
In 2020, the initial array provided 41% of the cheesemaking facility's energy needs, offsetting nearly 137,884 pounds of carbon dioxide (CO2). Since the first panels were installed, Rogue Creamery has saved an estimated 1.2 million pounds of CO2.
More recently, to make packaging more sustainable and reduce waste, Rogue Creamery is innovating its retail wedge format, eliminating a non-recyclable paper that was used for aesthetic purposes. The change could save an estimated 160,000 square feet of non-recyclable paper annually – enough to cover over 11 Olympic-sized swimming pools.
The company has also reformulated its shipping cases to further reduce packaging waste. The changes are estimated to save more than 1,800 pounds of cardboard annually. Corrugated cardboard waste is provided to local farmers and team members for use as an environmentally friendly method of weed control, with any remaining cardboard waste recycled.
Farming practices
Sustainability is also a driving force at Rogue Creamery's dairy farm, which became USDA-certified organic in 2016. Among the measures implemented on the dairy, a separator processes manure into usable byproducts to reduce waste and promote a closed-loop system. The liquid is used to fertilize their organic pastures, and the solids are dehydrated for compost destined for flower and vegetable gardens and recycled into clean bedding for the cows.
Rogue Creamery's concerted efforts to aid in carbon sequestration have found considerable success. Recent analysis shows pasture topsoil is growing at a rate of 0.1% annually, increasing carbon-storing capacity while helping retain rainwater and reduce water consumption. That also filters and cools runoff before it enters the Rogue River.
By limiting cattle access and planting native grasses in crucial sections of land along the river and around wetlands, Rogue helps build biodiversity. In addition, nearly 14 acres of the 68-acre dairy are reserved for exclusive use by pollinators and migrating wildlife.
Community involvement and goodwill
Ideas to enhance sustainability can come through unique channels. In 2009, Craig Nelson, plant manager at the time, was challenged to commute to work on a bicycle by Alex Amarotico, owner of Standing Stone Brewery in nearby Ashland, Oregon. That inspired Gremmels to provide bikes for all Rogue Creamery team members willing to commit to making 45 round-trip commutes in a year, kickstarting Rogue's Nellie Green Pedal Power Program.
In 2019, creamery employees commuted 11,838 miles using alternative forms of transportation, an 8% increase from 2018. Since the program's inception, employees have saved an estimated combined equivalent of 7,170 gallons of gasoline.
Following the Almeda Fire in September 2020, Rogue Creamery activated a network of dedicated customers and vendors to facilitate the donation of cheese and other in-kind support to area foodbanks. The resulting "Cheese Is Love" campaign has funneled more than 3,500 pounds of cheese to those in need since October 2020. Rogue Creamery's customer base has embraced the campaign, purchasing cheese and donating it to support the Oregon Food Bank. The campaign was well on its way to meeting its goal of 10,000 pounds of cheese by the one-year anniversary of the fire.
Recognizing that a major source of social goodwill stems from community service, Rogue Creamery promotes an ethic of volunteerism and social accountability. Team members are paid for their independent volunteer time to support nonprofit causes. Rogue Creamery donates hundreds of pounds of cheese and thousands of dollars each year to charities and sponsors independent films like The Cheese Nun and MooMan, creating awareness of cheese and dairying while supporting independent artists.
Award-winning cheese, too
In 2019, Rogue Creamery's Rogue River Blue cheese received top honors at the World Cheese Awards in Bergamo, Italy. It was the first American-made cheese to become a grand champion in the award's 32-year history.
Rogue Creamery's sustainability goals have never been centered around economic gain, instead building its "goodwill bank account" and sharing the ledger with customers and partner businesses by publishing an annual impact report. Nonetheless, its reputation, combined with its ability to produce award-winning cheese, has helped build sales. After earning the international award, e-commerce sales between November 2019 and March 2020 skyrocketed 473% over prior year sales.
To ensure those commitments stretched across its supply chain, Rogue Creamery utilizes a "vendor scorecard" to evaluate potential vendors and support businesses that demonstrate shared ethics and sustainability values. Vendors are evaluated based on proximity to the plant as well as their commitment to sustainable consumption and diverse ownership. Those with documented energy and waste reduction plans, commitments to community service and volunteerism receive priority. Potential vendors must pledge to never use human trafficking or child labor.
Rogue Creamery's commitment to sustainability has been affirmed by its 11 years on the Oregon Business "100 Best Green" list. Since 2017, it has consistently ranked in the top 10% of B Corps worldwide for its impact on people and the planet. The company shares its templates for its sustainable programs and metrics with customers and partners, inspiring others to continuous improvement.
"Rogue Creamery is a small company striving to be a big example of a socially, environmentally and economically sustainable business," Gremmels said.
PHOTO 1: Rogue Creamery president David Gremmels is joined by team members in the cheese shop with award-winning Rogue River Blue cheese and a framed proclamation from Oregon's governor naming Oct. 18 as Blue Cheese Day in Oregon.
PHOTO 2: Following the Almeda Fire in September 2020, Rogue Creamery activated a network of dedicated customers and vendors to support area foodbanks, resulting in the "Cheese Is Love" campaign.
PHOTO 3: A challenge to commute to work on a bicycle inspired Gremmels to provide bikes for all Rogue Creamery team members pledging to use them on their commute, kickstarting Rogue's Nellie Green Pedal Power Program. Courtesy photos.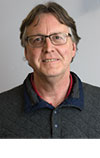 Dave Natzke

Editor
Progressive Dairy