Fluctuating milk prices, long hours, last-minute emergencies, unpredictable weather – these are just a few of the many challenges dairy farmers face every single day. When you grow up in the industry, these are part of normal life, but for people joining the dairy industry, they can be a huge learning experience and adjustment.
In this roundtable, two city-girls-turned-dairywomen share their thoughts and experiences.
Roundtable participants:
Jennifer Heim
Heim Dairy Farm LLC
Easton, Kansas
120 cows
Krista Stauffer
Stauffer Dairy
Addy, Washington
140 cows
Q. What was one of the most surprising things to you about the dairy industry or dairy farming?
A. Heim: I was pleasantly surprised at how welcoming and family-oriented the entire industry was. Things like couples, rather than individuals, chairing committees and the supportive, as opposed to competitive, nature of other farmers I met really made an impression on me.
A. Stauffer: That farming is a lifestyle, not just a job. I had met my husband only a couple months after he started his farm in 2009. Our entire relationship revolved around the farm. My mind was blown that anyone would want to work 80 to 100 hours a week.
Well, of course he doesn't want to put those hours in, but he will because he loves what he does. It's his lifelong dream. So building a relationship and a family that revolves around the farm, around cows ... that was a complete adjustment and surprise for me.
Q. How did you find your niche or area of the dairy where you felt comfortable helping or taking a leadership role? Did that come easily to you, or was it more of a struggle to find your way?
A. Heim: I think I found my areas of interest rather easily. I started out focusing on genetics because I'm a numbers person, then calf care and breeding/repro followed because of the connection with genetics – and, of course, because calves are cute.
Because I'm still working full time outside of agriculture, my involvement is mostly voluntary, so interest rather than need has been the driving force. It was probably more of an adjustment for my husband to turn loose of things – although our interests and strengths are different, so I think he's glad to spend less time in those areas, but I definitely feel I had to earn his trust.
A. Stauffer: Having just started the farm, I quickly realized there was too much work for my husband to handle on his own. I took over the books, raising the calves and helping in any way I could.
At first, I did not really feel like it was my place to make major decisions, as I was still learning everything. I had plenty of opinions, of course, but never felt like I knew enough to be a main decision-maker. After I got a couple years under my belt, a whole lot of hours of working the farm and massive reading about farming, I began to become more of a partner in the farm.
Just like our marriage, we are a team on the farm. I wouldn't say I struggled to find my way, just took some time to gain the knowledge needed to be able to help make tough or major decisions.
Q. What is one tool/piece of equipment you couldn't live without? Why?
A. Heim: The internet – as a tool and resource. I rely on a lot of online tools for things like record-keeping and sharing day-to-day info with my husband (cow lists, etc.), but I've also learned a lot of things I was able to apply to our farm by reading articles and research and talking to other dairy farmers online.
A. Stauffer: The milking parlor? Ha-ha. I could not imagine milking cows every day by hand. No thanks. But seriously, probably calf bottle holders. Those things are life-savers.
Q. What are you most proud of as a dairywoman?
A. Heim: This is a really hard question. ... As far as on-farm accomplishments, I would say our genetic progress. There is a clear difference in the quality of animal born on our farm today compared with those born five years ago, and I hope five years from now I can say the same thing.
As far as my role in the industry, I'm really proud when I can connect with someone who hasn't stepped foot on a farm and maybe answer a question or ease a concern they have about the products we're making. I think those of us with an "outsider" perspective might have a bit of an advantage in making those connections.
As an industry, we are doing a good job of making good things using good methods, but the disconnect with our consumers is very real, and if I can help even one person better understand where we're coming from, that's a really rewarding feeling.
A. Stauffer: As a dairywoman, I am incredibly proud of the fact that I get to work side by side with my husband. Together, we get to raise our children on our family dairy farm, teaching them the value of hard work and respect for our girls. There is truly no better way to raise a family.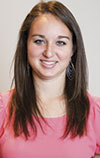 Jenna Hurty-Person

Field Editor
Progressive Dairyman