Raising calves in the Florida heat is no easy task, but Lindsey Rucks is rising to the challenge.
She leads the charge to improve calf health and nutrition at Milking R Dairy, and the results of her meticulous management are making a notable difference in the milking herd.
Rucks manages the youngstock program on her family's dairy. In 2014, they built a new sand-bedded calf barn with automatic feeders.
"I think it is one of the best things we have ever done for our operation, and the ripple effect of the health of the animals is now being seen in the herd, as some of those animals are now starting their second lactation," Rucks says.
Today, Rucks' calf management skills have calf mortality at 1.5 percent and calf morbidity at 18 percent between 1 and 30 days old; 8 percent between 30 and 60 days; and 2 percent after 60 days. Until last year, calf pneumonia ran quite a bit higher, at 45 percent, but after installing a positive-pressure ventilation system, it's dropped to 16 percent between 10 and 30 days old, and 7 percent between 30 and 60 days old.
Rucks does note they're aggressive about treating calves, so this number includes animals that only had a runny nose. She says she'd rather treat a young calf than a 500-pound heifer, and almost every calf they treat is never treated for pneumonia again for the rest of its life.
"I always explain it and associate it to when people's children start kindergarten," Rucks says. "That little bit of a bug that exists has to run its course through everything, and then that immunity is built at such a young age it helps."
Within one hour of birth, heifer calves receive 1 gallon of colostrum that scores 25-plus on a Brix scale. Bull calves receive the lower-quality colostrum at birth and are picked up weekly by a local producer, who raises them for beef.
After their first colostrum feeding, heifer calves are weighed and moved to individual wire pens in a barn adjacent to the calf barn. There, they're given free-choice water and bottle-fed a second feeding of colostrum 12 hours after birth. Rucks says they start the calf with 0.5 gallon of colostrum but will feed as much as 1 gallon if it's still hungry after the first bottle.
Initially, they're fed 2 quarts of 28-10 milk replacer twice a day. On day 4, they up the milk replacer to 3 quarts per feeding and offer the calves a handful of 20 percent protein starter. Rucks says if the calves scour, it usually happens around day 6, so they keep the calves in the individual pens for 10 days to minimize the spread of disease.
Once calves start on the automatic feeders, they have free-choice access to calf starter and water, and Rucks puts them on their 9-liter milk replacer feeding program. Depending on the calf's size and desire to eat, she may limit them to 7 liters for the first few days until their appetite ramps up or increase them to 12 liters of milk replacer per day. No matter which program the calf is on, it can only have 3 liters of milk replacer at a time.
The barn has seven pens which hold 25 calves each. The youngest calves stay in pen 1 while the oldest are at the other end of the barn in pen 7. Every few weeks, the calves move to the next pen as a group, so the youngest calves are always in pen 1.
They do this so the fans always blow the air from youngest to oldest, which seems to minimize morbidity since the oldest calves have presumably already had whatever disease is affecting the youngest calves.
Calves are typically weaned by day 54, but Rucks will extend that by up to 10 days if she thinks it's necessary.
"I'm a firm believer of not being cookie-cutter, so I try to do a program for each specific calf," Rucks says. "We will have that added expense of milk replacer if I think it will benefit the calf."
Originally, calves were on a six-day wean, but now Rucks has them on a 14-day wean so the feeder only decreases each calf's milk allotment by 0.7 to 0.8 liter per day. This encourages starter intake without the weaning stress their calves previously experienced.
In addition, the nipple hole is 2 millimeters in diameter as opposed to 6 millimeters in the pens where calves are being weaned. While this might seem counterintuitive, she says it actually helps to alleviate traffic at the feeder because calves aren't returning to it as often.
"We have found the calves feel more satisfied when they're drinking," Rucks says. "They're receiving the same amount as before, but we're adding another two minutes or 1.5 minutes to that specific feeding."
Since making these changes, Rucks says cross-sucking has gone from being a major problem to almost nonexistent, making the weaning process that much smoother for the calves.
Once calves are fully weaned, they're moved to the seventh and final pen in the calf barn. At 63 days old, they're vaccinated and weighed. In general, Rucks says calves born between Oct. 20 and April 1 will have a 2.1-pound average daily gain at this first weigh-in, while calves born during the rest of the year will have a 1.8-pound average daily gain due to heat stress.
Although the calves' growth is impressive, Rucks says they're seeing the most improvement when the heifers calve in. Age at first calving is down from 24.4 to 22.9 months old, and the heifers are overall much healthier than before. In addition, the heifers raised on this new program are far outperforming the previous herd averages in their first and second lactations.
First-lactation heifers currently have a peak milk at 88 pounds per day instead of 78 pounds, while the 200-plus head of second-lactation heifers peak at 115 pounds of milk per day.
"It's truly a long-term effect," Rucks says. "I would love to see a few years go by to see how much longer some of these cows are going to last."
Going forward, the Rucks plan to build a new freestall barn in the next year or two and expand the milking herd from 1,350 to 1,950 head to ensure the farm is able to continue to support multiple family members, including Rucks's parents Sutton and Kris and her brother Garrett Rucks, who currently manages their beef herd.
This is good news for Rucks because, while they use very little sexed semen, they now have more heifers than they have room for in the milking herd. For now, this gives her the freedom to cull animals that are falling behind and sell excess heifers, providing the farm with an extra source of income, even if her father was slightly skeptical about it at first.
"He was really afraid we were going to miss them," Rucks says. "We sold three groups of 30 bred heifers. We didn't miss anything milk-wise or anything else-wise. I think that's pretty cool."
PHOTO 1: Calves in the calf barn.
PHOTO 2: Lindsey says calves really begin to eat starter around week 2 or 3. Usually one calf finds it, and suddenly all of the calves are at the trough eating too. The starter is a mix of pellets and corn. Photos by Jenna Hurty-Person.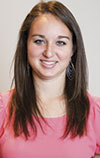 Jenna Hurty-Person

Field Editor
Progressive Dairyman
Surviving Hurricane Irma
"I was brought up here my whole entire life and the same with my parents," Rucks says. "I don't think I've ever seen my dad that nervous. Just the true strength and the magnitude, that storm was unreal. The sheer size of it was terrifying."
The storm bent a number of their fans and tore off part of the milking parlor's roof. However, Rucks says that is likely due to the building being from 1986. Per Florida code, the barns are built to withstand 140-mph winds; however, they had sustained winds of 110 mph with gusts well over 140 mph, so they're all thankful they didn't have more damage.
"It was the most damage we have ever experienced in recent history, so since the farm has been here, but on the same hand, I think we were fortunate. Things could have been a lot worse," Lindsey says. "There were several farms locally that did have more damage than
we had."
She continued, "Our biggest thing with the hurricane was just keeping our employees and their families and doing everything we could to keep the animals safe."
In the week prior to the storm, they cleaned up or tied down anything and everything the hurricane might pick up. During storms, Rucks says it's best to leave the animals free, so the heifers stayed out on pasture and the cows stayed in their freestalls. Like with any storm, they huddled together in groups.
The only exception to this was the calf barn. Since the barn doesn't have any sides, they covered it with tarps and parked their heavy machinery around it to protect the calves. In fact, they didn't seem to care about the hurricane at all. Instead the young animals decided to have a party, and employees caught them playing when they went to turn on the generators.
In hindsight, losing power from Sunday until Friday hurt them more than the storm, Rucks says. While they have enough generators to milk, run lights, power the calf feeders and other essentials, the generators aren't able to power the fans or any of the farm's other cooling systems.
It was still 85ºF at night, so that's where their cows suffered the most, she says. Almost overnight, they saw a 15-pound drop in milk production, and it wasn't until the end of October they had production levels back to where they were prior to the storm.
Miraculously, no one was hurt, and they didn't lose any animals; however, Rucks says they might have lost some of their cows if the power had stayed off much longer.
Visit Facebook Milking R posts to see a video of the calves playing during the storm.