Growing up on Aghaloma Farms in Knox, Maine, Cheryl Carson never thought she'd stay on the family farm. After graduating high school, she left for college to pursue an education first as a vet tech – and later as a paralegal.
"It was all work," Cheryl says of her youth growing up on her family's farm. "Sometimes zero functionability, no money. It was really hard for [my parents] to explain to us how there could ever be a future here. That's just how it was."
However, a career off the farm was not God's plan. Her two older siblings already had established lives off the family farm. Her parents, Harold and Joyce Larabee, and uncle Galen Larabee needed help from Cheryl and her younger sister, Cammie Curtis, if they were going to keep the farm.
"It got to a junction point where it didn't matter what I wanted to do as a career; if she and I had not stepped into the farm because our older siblings had left, there would have been no farm," Cheryl says.
She started out by being their little apprentice. Every day, she'd get up, ask them what they wanted her to do and go do it. If she didn't do it exactly how they wanted it, Harold and Galen were quick to tell her. Cheryl also worked with the local vet quite a bit, shadowing him and learning anything and everything she could.
It was around this time Cammie graduated high school and decided to stay on the farm full time. By then, Cheryl had a good foundation, and the two started managing the barn while their cousin Brady Larabee took over the "tinkering" or equipment maintenance on the farm.
"We just started taking over the barn, and things started to click," Cammie says. "Then Brady came back. We were actually making a living. We were paying off debt. It was great, so for me it was the right decision to stay and ride the wave."
Initially, employee management was one of their biggest challenges.
"I think that was one of the greatest challenges when we started," Cheryl says. "We just had to get a little bit tougher and a little bit stronger and a little bit of whatever it took for them to understand we knew what we were doing and we were going to do whatever we had to do.
If they didn't like it, then the door was right there. It really didn't matter to me if they had a problem with us women in leadership. That was going to have to be their problem and not ours."
The sisters overcame this with honesty and being up-front with employees and potential employees about the situation. They also made sure to lead by example and never ask employees to do something they wouldn't or haven't done themselves.
"I tried to treat them how I would want to be treated if I was their employee and they were my boss," Cheryl says. "If you look at it that way, you treat them like people and not like a cow."
When Cheryl broke her leg a few years later, her focus shifted more to the bookwork, cow oversight and office management, allowing Cammie to really take over managing the cows.
"[Cheryl] was very patient, and she would tell me 'OK, you've got to do this' or 'You've got to do this,'" Cammie says. "We communicated a lot while she was on crutches."
Their husbands, Wayne Carson and Mike Curtis, also work on the dairy now helping Brady and Harold with the equipment and managing the field work and cattle feed. Both grew up working on farms, and Wayne worked at the dairy prior to marrying Cheryl. Mike, on the other hand, had to pass the milking test before Cammie knew he was the one.
"We were in the barn and I said, 'Hon, go out and get me the next group of cows and bring them on down,'" Cammie says. "He went out, and then he came back in and he had manure all down the side of him. A cow from the other side of the barn coughed and shot the manure and got him right upside the head. He just came in, wiped it off and went back. I was like 'All right, he's not running; I'll keep him.'"
Today, the sisters continue to manage the farm's 850 Holstein cattle. The average age of their 425-head milking herd is 8 years old, and the herd averages 26,000-pound on 2X milking. Wayne, Mike and Brady say seeing Cheryl and Cammie's success in the barn makes them want to work that much harder.
"We've got two of the best cow managers in the country," Brady says. "It motivates us to work as hard as they're working to give them the tools in their toolbox to really fill the tank."
In October, the family had a party celebrating their final mortgage payment on the farm. Harold and Galen's parents, Newton and Marjorie Larabee, bought the farm in 1942 for about $8,000 and were able to pay that off fairly quickly. However, between expansion and two fires, one in 1965 and the other in 1968, they've had a farm mortgage payment for most of the time they've owned it.
Although there have been plenty of times where any one of them have wanted to give up, having a solid foundation, good communication and family around them to lean on is a big part of their success today.
"[Our parents and uncle] led by example, and that's how we learned to work," Cheryl says. "They gave us something that we could build upon and improve if we just worked together and brought in good resources."
PHOTO: Sisters Cammie Curtis (left) and Cheryl Carson (center) learned by example from their mother, Joyce Larabee (right). Their father Harold says without Joyce, they would never have made it, and now they are proud and happy to see their daughters stepping up and taking over the dairy. Photo by Jenna Hurty-Person.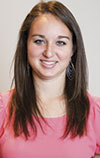 Jenna Hurty-Person

Field Editor
Progressive Dairyman