Producing the highest quality milk is a top priority for Grand View Dairy, and the numbers prove that to be true.
"Somatic cell count has been about 85,000 for the last two years," Jackie Schnackel says. She manages the 1,200-cow herd owned by brothers Corey and Bruce Schmidt in Brillion, Wisconsin.
Schnackel describes a few of the areas she focuses on in order to maintain this impressively low somatic cell count:
1. Mastitis identification and prevention
Parlor technologies aid in monitoring milk quality. Daily milk weights are collected and reviewed, which once in a while will flag a cow with mastitis before the people in the parlor do. If a milker does find a cow with abnormal milk, they push a button for the automatic sort gate to separate her as she exits the parlor.
The local equipment dealer does regular maintenance and checkups, and offers advice on products.
DHIA records are used for monthly SCC reviews. Schnackel looks for cows over 400,000 SCC, especially those that were under 200,000 on the last test. "We'll bring them in, CMT them and culture them on the farm."
On-farm culturing helps to identify the cause of mastitis and dictates the treatment. First-lactation heifers are sampled and cultured for Staph. aureus on the second milking after freshening; all clinical cases are also sampled and cultured. The culture system used is the Minnesota "easy culture system," specifically the use of the tri-plate. The tri-plate will allow for the differentiation between strep and staph species.
The main pathogens on the dairy are E. coli and klebsiella, both of which vaccines have been helpful in curtailing. "Most mastitis here is environmental," she notes. "We see very little Staph. aureus."
Over the last six months, the hospital population average was 30 cows. This includes fresh, sick, foot problems, etc., along with mastitis cows. "So I believe we have less than 2 percent in hospital because of mastitis infections," Schnackel says.
2. Parlor practices
Consistency is key in the double-20 parallel parlor, which turns 180 cows per hour. Schnackel stresses to milkers the importance of following the prep routine: strip (each teat to detect mastitis), stimulate, foam, wipe (using one cotton towel per cow), then attach the unit and level it. After milking, "post dip generously," making sure the entire teat is covered. She instructs milkers to perform the protocol on groups of 10 cows at a time.
3. Employees
Grand View Dairy takes employee training and education seriously. "I treat all of [our employees] like they are professionals," Schnackel explains. "They need to keep learning just like I do."
PowerPoint presentations are used to train new employees, and the dairy promotes continued education by sending workers to seminars. Meetings and training sessions are held monthly. When necessary, a translator is brought in to bridge language barriers.
Schnackel believes in providing a friendly environment for employees, and one way she does that is by limiting milking shift length.
"I refuse to go to a 10-hour shift," she says. "I believe eight hours is enough for milking and cow pushing. I think after that, the quality is lost."
4. Incentives
"We have a quality incentive," Schnackel says. "Whether you get it or not is up to you." The program pays out based on the monthly SCC average. Employees must be present at the monthly milk quality meetings in order to get the next month's incentive.
5. Facilities
Schnackel believes a stress-free environment for the cattle contributes to producing the quality milk. "We keep cows dry and cool," she says. Cows are housed in a cross-ventilated barn with comfortable stalls filled with dried manure solids. Stalls are cleaned three times a day to remove soiled bedding. New bedding is added three times per week, at which time the bedding is leveled.
Group sizes may also contribute.
6. Management
Schnackel knows that milk quality isn't only about what happens in the milking parlor. She works closely with the nutritionist, as well as the crew that puts up the feed. Schnackel also takes milk quality into consideration when choosing the genetics the herd uses by focusing on health and wellness traits. PD
PHOTO: At Grand View Dairy, milk quality is maintained with a consistent parlor routine and focus on cleanliness. Photo by Peggy Coffeen.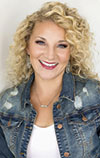 Peggy Coffeen

Editor
Progressive Dairyman