Ah, vacation. The comfort of a warm bed, no alarms to wake you, the reassurance that your plans today are to relax. Your email is sending automatic replies, your phone is set to "do not disturb." Just you, clean sheets and the background noise of cows lowing.
Wait a minute…
Though not a typical vacation scene, it's one worth checking out, and one that is gaining popularity in the Heartland. Dan and Lynn Bolin of northeast Iowa decided to make a business out of something that happens to dairy farmers all too often – sleeping in random places, like the barn.
When designing a new freestall barn with robots, the Bolin's created a living space at one end of the barn to live in while they built their own home. After moving out, they transformed the living space into a unique rental opportunity – the Guest Barn. "I love people," says dairy woman Lynn Bolin. "We've traveled quite extensively and traveled overseas and really appreciate new experiences and hospitality, so it just ended up being a good fit."
With the goal of teaching guests the ins and outs of life on the dairy, the Guest Barn has large windows to view the Bolin's Holstein herd from above, plenty of cow-themed books and games to entertain, and the option to take a tour from the Bolin's. the Guest Barn is the perfect opportunity for guests to learn all about the dairy industry – firsthand.
"People want to know where their food comes from," Bolin says. "The people who have come and observed and have met us, they trust us. They've spent hours observing Dan and my mother-in-law and our employees working with the cows, and they come away with an appreciation for what they never knew before."
With interactive tours offered and the opportunity to build a relationship with a consumer, the Bolin's prioritize dairy advocacy. "I give an introductory tour and a farewell tour with each group," Bolin says. "We also offer an add on – our dairy farmer challenge tour – given by Dan. Guests can try milking a cow by hand, scrape manure, ride in a tractor, look in the feed wagon, feed a calf a bottle, and look under our robot's 'hood.'"
Though not originally from a dairy, Bolin thrives off the opportunity to teach others how things work. "There's something for everyone," Bolin says. "Some people really like animals and love the cow side of it; some people don't really love animals but like technology, so when we show them the robot, they're like 'Oh, this is amazing,' and that's always really cool to see."
Dan, Lynn and their three kids milk 120 Holsteins in Clarksville, Iowa, alongside Dan's parents, Dave and Pam, on New Day Dairy. In 2015, they built a new freestall barn and installed a robot, an upgrade from their previous swing-four parlor.
After opening in January 2020, the Bolin's navigated through starting a new business while enduring a global pandemic. After being closed unexpectedly for two months, they exceeded their first-year numbers and had a busy summer entertaining guests from around the country. New Day Dairy was still able to host a few guests to get on their feet during their closure and has built a social media following through their website, Facebook and Instagram.
PHOTO 1: Dan and Lynn Bolin.
PHOTO 2: Guests can enjoy observing the cows from the large viewing windows in the Guest Barn.
PHOTO 3: Guests can interact with the cows during tours offered by Dan and Lynn Bolin.
PHOTO 4: New Day Dairy's Guest Barn. Photos by Lynn Bolin, New Day Dairy.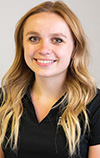 Madison Leak

Editorial Intern
Progressive Dairy