How did you get started in photography?
Kasper: Growing up, I always loved taking pictures of our animals on the farm. Kittens, ducks, piglets, calves and cows … everything got their picture taken. I entered the photography project for 4-H more times than I can count and loved showcasing my work.
As I got older, this hobby turned into a passion, and I bought a used camera on eBay and started taking pictures of people, too. After that, my skills continued to blossom. While in college at the University of Minnesota, I used money from my internships to invest in new camera gear.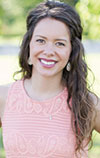 Stephanie Lynn
Featured photographer
Owatonna, Minnesota
What is your favorite type of photo to shoot?
Kasper: In the past few years, I've found my niche in wedding photography. I find something so special about sharing such a monumental day and getting to be a part of a day filled with love, laughter and a few happy tears. Of course, I still love walking around the farm with my camera and documenting our animals and my sweet nephew's moments on the farm.
Describe your most memorable photo shoot. (Where was it, when, what made it memorable?)
Kasper: The most memorable photo shoot I've done on our farm was an anniversary/pregnancy announcement for my brother and sister-in-law. It was September of 2015, just before their one-year wedding anniversary. My nephew was the first grandchild in our family, so it was a very exciting time. He was born in January 2016.
We took pictures with the cows and a pedal tractor all three of us kids rode when we were little.
Why do you enjoy farm-related photography?
Kasper: Most of all, I enjoy spending time with the animals on our farm. It's unique to watch how they interact, and it is so peaceful. Photographing animals takes a good deal of patience to get that perfect shot, but it's so worth it.
I love taking pictures just a few hours before sunset and capturing the combine or chopper in the field. Harvest is a very sentimental time, as all the hard work and successes of the season come to fruition.
What are one or two tips you would give to an amateur photographer who wants to take a great picture of people or animals?
Kasper: Practice, practice, practice. I've found so many great online blogs and taken many online classes to perfect my skills. It definitely takes time and practice. It's important to learn your equipment and take the time to master "manual mode" on your camera while shooting raw images. This makes post-processing (editing) so much more seamless and provides consistency in all of your work.
Become a lighting expert. My favorite time to shoot is during "golden hour," or about two hours before sunset (or right after sunrise if you're a morning person) when the light is golden and soft.
Find natural reflectors and utilize them to bounce light back onto your subjects (i.e., white or light-colored sheds or barns and gravel paths, and backlight your subjects).
I try to avoid shooting in direct sunlight, but when you have to, utilize your subjects to cast shade onto themselves and don't have them "facing" the sun (as they will be squinty and too exposed). It takes time, but it's worth the effort to achieve beautiful imagery. Photography is definitely a talent.
PHOTO 1: Maryann the Jersey enjoying a brisk fall evening.
PHOTO 2: The sunset over a freshly combined bean field.
PHOTO 3: Our farm's cow boss watching over the herd. Photos by Stephanie Kasper.
facebook Stephanie Lynn Photography and Design