Even though it presents many challenges, including poor infrastructure, a harsh climate and low farm-gate prices, Mexico appears to be on the threshold of an agricultural revolution.
The research and application of new technologies added with the benefits of irrigation and better forage quality have created enhanced efficiencies, with higher milk production as a result. Herd management is continuing to improve as well.
Young dairy farmers in Mexico have an independent pioneer mentality. One such farmer is Carolina (Caro) Vidaña González. Growing up, Caro never considered milking cows or owning and operating her own dairy farm. Her father, Juan Arturo Vidaña Martinez, owns Semen y Servicios.
He is an independent sales distributor for Alta Genetics and has provided herd consultation services in central Mexico for over 35 years.
As a girl, Vidaña González traveled around with her dad and saw many different farm sizes and management styles, but never considered following in her father's footsteps in the dairy industry. After earning her bachelor's degree in marketing, Vidaña González worked for Coldwell Banker as a real estate manager, then as a marketing coordinator and brand analyst at Vianney, a company that provides household merchandise, similar to Bed, Bath and Beyond.
During her time at Vianney, she was responsible for data collection such as cost projections, market trends and sales analysis that would help in the decision-making process.
Around the time Vidaña González went to college, her father started milking on his own with a few cows and slowly grew his herd over the years. After college graduation and working in town for a few years, Vidaña González realized she was being pulled back to the farm and to the cows.
She took a temporary break from working in town to help her father – and liked it so much, the temporary job at the dairy became permanent. Her analytical and marketing skills contribute to the success of their dairy business, Rancho Los Nogales (Walnut Tree Ranch). She sees her business and marketing experience as a great asset when managing the farm and working with her father.
"My father can be a bit impulsive when making our expansion decisions, and I try to convince him with numbers how much we can actually grow our capacity," Vidaña González says.
She uses analytical data and software spreadsheet programs to evaluate cows' production, monitor cow health, detect illness and make culling decisions. She monitors feed usage and formulates cost projections to estimate the amount of silage and feed to purchase for the coming year and estimates the amount of milk production to predict her expected income over feed cost.
"We are focused on continual improvement in production per cow and herd growth," she says. "We are improving both crop production and animal health on this farm, which will improve milk production while growing the herd size."
In Mexico, milk is sold by the liter. The milk truck driver leaves a receipt for what they pick up, and the farmer is responsible for billing their milk processor. If the bill doesn't get sent, the farmer doesn't get paid. Currently, Vidaña González produces milk for San Jacinto, a cheese company.
San Jacinto ventured into cheesemaking from their farm kitchen and now process over 800,000 liters a day. With her marketing experience and a business model to follow, Vidaña González is fearless when it comes to facing the challenges of the dairy industry and looks toward the future with optimism and ingenuity.
Meanwhile, just north of Lagos de Moreno, Jalisco, Rosario Alba follows in her family's footsteps milking 370 cows averaging 52 pounds a day at Agua Clara (Clear Water) Dairy.
The Alba family is heavily involved in the dairy industry, with members of the family representing veterinarians, nutritionists, dairy farmers, milk haulers and cheesemakers. Alba is the lone family member who has branched out into the organic market, and her milk is marketed through Bové, an organic processor of milk, cheese and yogurt.
Alba says the organic certification process is very strict in Mexico. They have third-party certification, the cows are not allowed in pens, and they must come to be milked on their own. After weaning, young calves are grouped with the adults. After they reach 3 months old, they are free-range cattle. The oldest cow on the farm is in her 18th lactation.
The vaccines used are for clostridia and brucellosis. They use A.I., but only with natural heat detection; no hormones are allowed to be used. A clean-up bull is used after three A.I. services and for the "bull effect" to catch cows in heat. He is allowed his own pasture. During the winter and dry season when the grass is absent, ryegrass and corn are fed.
Alba loves the freedom and challenge of dairy farming and being a part of the family tradition of working in the dairy industry. She believes the future of the dairy industry belongs to people with foresight and the determination to overcome challenges.
"Women only want the chance to demonstrate our ability to be successful dairy farmers," Rosario says. "Give us the chance, and we will show you."
PHOTO 1: Caro Vidaña González proudly holds up the receipt from her milk truck driver. In Mexico, dairy farmers are required to submit bills requesting payment from their processors. They don't get paid if they don't submit the bills.
PHOTO 2: Caro Vidaña González's new milking parlor in Mexico requires no licensing or formal inspection process.
PHOTO 3: Mesquite trees and cactus dot the pastures at Rosario Alba's Agua Clara organic dairy. During the dry season, silage and hay are fed to the cows. Photos by Somula Schwoeppe.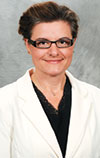 Somula Schwoeppe

Dairy Producer and Freelance Writer
Huntingburg, Indiana