"Angels don't always come in white robes with wings; angels also can come as little Brown Swiss heifers." —Anita van der Laan
Anita van der Laan emigrated from Holland to the U.S. and started a dairy farm with her husband, Peiter, in 1990. Both she and Pieter grew up on dairy farms in Holland before moving to the U.S. They started out with 40 cows in east Texas and eventually moved to Frederick, Oklahoma, where today they milk about 4,500 cows.
Like many dairy kids, the van der Laans' children showed dairy cows of several different breeds growing up. One day, they brought home a doe-eyed Brown Swiss heifer calf named Gemma.
Van der Laan raised the show stock and calves in the yard behind their house. One day she was going about her routine feeding when Gemma head-butted her in the chest, which hurt more than she thought it should. "Sometimes things happen, and you get bumped in the breasts by cattle or something, and it hurts really bad, and you move on, but this time, it hurt more than normal," van der Laan says.
Gemma's "bump" gave van der Laan a bruise the size of a softball that wouldn't go away. "I felt a lump in there, which is pretty normal when you get a bruise like that, so I went to the doctor, and the doctor said, 'It was most likely from what the calf did to you and it's probably infected or something.'" The doctor gave her antibiotics, but after two or three months passed with no change to the lump, she started to push for a mammogram. "I had too many signs," van der Laan says. "I do believe that God sends his signs. He sends his angels in the form that you need, and Gemma was that for me."
After a few tests, doctors confirmed that she had cancer. Van der Laan says she knew it after the first test came back. "I've seen enough cancers in cows that I knew that it was bad. I knew on the spot it was cancer, and two days later, I got confirmation that it was breast cancer."
Unfortunately, Gemma died while van der Laan was in the middle of chemotherapy. "She got sick, and in a matter of three or four hours, she was gone," says van der Laan. "It was pretty unusual, because she was just a young heifer. She was only a year old and it wasn't necessary for her to get sick and die right away like that."
Gemma's death was a big blow to van der Laan, and she struggled to understand why her "angel" had to be taken away from her so soon. "I was very upset about it, very mad," she says. "I didn't want to lose her because she was so darn special to me. She was the one who set this all in motion when she found my cancer."
Van der Laan says she eventually found comfort from reading in the Bible. "I've finally come to the conclusion that Gemma was sent by God to me in the form of the angel that I needed at that moment."
Gemma's legacy lives on at the dairy. Her sisters, whom van der Laan named Gloria, meaning "glory to God," and Gertrude, also meaning "glory to God," will be competing this fall in Stillwater, Oklahoma, at the Southwest National Brown Swiss Show, the only all-Brown Swiss sale and show in the U.S.
Gemma herself competed at the Stillwater show. Van der Laan was diagnosed with cancer just before the show and talked her doctor into delaying surgery for one week so that she could attend. "She placed in the middle and it didn't even matter," van der Laan says. "I cried buckets just because she was there and she saved my life." Seeing her daughter and Gemma compete is a precious memory for van der Laan. "I knew already then that she was going to save my life," she says. "She already saved my life by finding my breast cancer, and I truly believe that she was my angel."
Gemma earned herself a burial plot on the family farm. "We have a little graveyard for very special animals and she is buried there," van der Laan says. "She absolutely is an angel sent by God. I still thank her."
After four years, van der Laan says her experience with Gemma and breast cancer is still a defining point in her life. "I don't even know how to explain what I feel after all of this; I just have so much love for life now. I want to live."
She says her family has helped her understand how her story can help others. "My daughter Liza said it just right. She said, 'We lost Gemma, but we still got you, Mom. She gave her life so you can stay with us,' and that's how I feel." She says that even though the story is very personal and special to her, she feels she needs to share it.
"Treasure your life; treasure your family; treasure what you're doing," says van der Laan. "We love being dairy farmers; we love working together – that's what makes life special."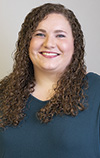 Carrie Veselka

Associate Editor
Progressive Dairyman
PHOTO 1: Gemma came home in the family car.
PHOTO 2: Anita van der Laan's daughter Liza spending time in the yard with Gemma.
PHOTO 3: Gemma shared a pen with Sheila, a Holstein. Photos provided by Anita van der Laan.