Three farms – Twin Birch Dairy of New York; Threemile Canyon Farms, of Boardman, Oregon; and Rosy-Lane Holsteins LLC of Watertown, Wisconsin – were recipients of Outstanding Dairy Farm Sustainability awards.
In addition to the Outstanding Dairy Farm Sustainability honorees, Turkey Hill Clean Water Partnership were recognized for Outstanding Dairy Supply Chain Collaboration, Sustainable Conservation was recognized for Outstanding Community Impact and Leprino Foods was recognized for Outstanding Dairy Processing and Manufacturing Sustainability.
Outstanding Dairy Farm Sustainability
Threemile Canyon Farms, Boardman, Oregon
Located in the Columbia Basin, Threemile Canyon Farms LLC was founded in 1998 with a vision to create a modern agriculture operation at the intersection of productivity and sustainability. The vision was predicated on growing a dairy operation that could supply one of the country's leading dairy manufacturers, Tillamook. In 2001, Threemile began milking cows and, in 2002, they started organic farming. Today, the farm continues to improve upon that early vision.
A Tillamook County Creamery Association milk supplier, Threemile shipped more than 505 million pounds of milk in 2018 and now milks about 33,000 cows, mostly Jerseys. The 93,000-acre farm produces many crops for livestock and human consumption, including a variety of organic crops.
As Oregon's largest dairy, Threemile offers a daily testament to the false choice between being big or being good; it is one of the national leaders in sustainable farming practices, not in spite of its size but, in some ways, because of it.
Threemile has built its farming operations on a "closed-loop" system of sustainable agriculture that recycles organic waste by putting it back to use in the soil, resulting in little to no waste – while increasing cost savings.
Animal care is a priority and Threemile exceeds National FARM standards with its three-tiered Animal Welfare Program. About 10% of livestock employees serve on an animal welfare committee, meeting monthly to discuss animal welfare principles and train co-workers. Dr. Mike Paros of Evergreen State College in Olympia, Washington, is an animal advocate veterinarian who makes monthly inspections, educates staff and shares best practices. And since 2006, Validus, an independent animal welfare auditor, inspects the farm annually.
Cows are milked in carousels designed for efficiency and healthy, humane treatment. Key to management are radio frequency identification (RFID) tags. Sort gates help limit human interaction and "let cows be cows." Pre- and post-dip robotics have reduced human contact and human error, resulting in a 17% reduction in mastitis. Freestall barns are designed to protect soil and water resources; bedding is recycled soft fiber.
In Oregon and nationally, carbon footprint and climate change conversations are in the spotlight. Threemile began converting methane from cow waste into electricity through its anaerobic digester in 2012. Although digesters are excellent for reducing emissions, the economic returns were near or below the cost of maintenance. Investing in new technology to clean the methane and sell it as renewable natural gas (RNG) created a new revenue stream, and it qualifies for tax credits under the federal Renewable Fuel Standard. Altogether, RNG can fetch the equivalent of up to 20 cents per kilowatt-hour of electricity, which is four times the return earned by selling electricity back to the grid.
At Threemile, this process sequesters about 136,000 metric tons of carbon emissions every year, or the annual equivalent of greenhouse gas emissions from 28,875 passenger vehicles. To achieve the same carbon sequestration would take more than 160,000 acres of forest land.
Another output of the digester is a dry fiber used for comfortable cow bedding; the rest is applied on their organic and conventional fields to improve soil health. This enhances the soil's ability to retain water, resulting in reduced erosion and less water use. Using manure as fertilizer for crops offsets the use of conventional fossil fuel based inputs and results in significant cost savings. Meanwhile, organic crops yield higher profit margins over conventional.
Feeding their animals, mainly heifers, byproducts from area food processing plants is one more way the farm's closed-loop system eliminates waste.
Threemile strives to attract and retain employees, and workforce training often starts with a robust internship program to support higher education pursuits, offering permanent employment and management opportunities upon graduation. Its 300 employees enjoy health, vacation and 401(k) benefits. Non-exempt employees are members of the United Farm Workers Union.
Not only does Threemile create community among its employees, but it also reaches out to the greater community. They support the Oregon Food Bank and donate about 8,000 pounds of ground beef each month to Farmers Ending Hunger. Threemile supports local infrastructure improvements, soccer leagues and high school athletics, and worked with Oregon State University extension and 4-H to launch the Dairy Heifer Project in 2019.
Threemile's land base, herd size and transparency lend itself to being a center of research, testing and training, and a window for others to learn from their sustainability practices.
PHOTO: Threemile Canyon Farms employees. Photo courtesy of Dairy Management Inc.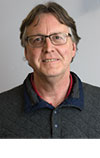 Dave Natzke

Editor
Progressive Dairy