Farmers markets represent several different opportunities for dairy producers. For some, they provide a chance to branch out and expand business, and for others they're a great point of contact for outreach in the community.
Regardless of the reasons behind their involvement, dairy producer participation in farmers markets provides an opportunity to promote the dairy industry.
Nicole Foster of Bridport, Vermont, sells artisanal cheese made with milk from her family's dairy herd of Brown Swiss and Holstein cows. Every Saturday, she loads up her cheese and heads to the Rutland Farmers Market.
This is Foster's fourth season of selling at the farmers market. "I started going because that's what people do when they produce cheese or other value-added products, because you have the audience of people to try your products," she says. In addition to the weekly farmers market, Foster also sells her cheeses at local stores in the area.
Foster hadn't always planned on making cheese. "I worked on the farm here taking care of youngstock for almost 10 years 'til I had a health issue and I had to leave," Foster says. "So my parents and I decided that if I came up with a value-added product that made sense, then I could come back to the farm and they would help me get started, so that's what I did."
Unlike most farmers markets, the Rutland Farmers Market owns its own building, enabling Foster and her fellow vendors to sell their products throughout the winter season as well as the outdoor summer season. "They own the building, so your setup stays there.
My sign and my table and all of my baskets all stay in there, and I don't have to take them home – but in the summer you have to take your tent with you." Foster says her most popular product by far is her cheese curds.
While Foster relies on her farmers market as a revenue source, other dairy producers view farmers markets as more of an opportunity to reach out to their community.
Mateo Kehler, co-founder of Jasper Hill Farm in Greensboro Bend, Vermont, says they have been participating in their local farmers market since 2010 – but only as a way to interact with their community.
"In our experience, people don't really buy much food at markets," Kehler says. "They expect farmers, who are busy people, to take significant time out of their busy lives for the opportunity to have a social 'feel good' experience. Most consumers don't understand how hard it is to make a living producing food."
Kehler and his brother, Andy, started milking 15 Ayrshire heifers in 2003. "We purchased a derelict dairy in 1998 and spent the next few years cleaning it up, building a cheese house and learning how to milk cows and produce raw-milk cheese," Kehler says.
Today, they milk cows on two farms – a herd of about 45 registered Ayrshires and a few Normande crosses at the home farm and 195 Holsteins at the second farm – and produce a wide variety of high-quality cheeses.
"We occupy an interesting space," Kehler says. "We are a medium-sized business – large enough to service national markets and have a presence on the best counters nationwide."
Kehler says that the farmers market is, for them, a social fixture in the community, not a main revenue stream. "We do our farmers market as a form of community service and don't do a lot of accounting on the cost side," Kehler says. "It's a chance for us to participate in community life."
Being a part of that community life means answering questions about the dairy industry. "That's one of the parts I love because they ask me a lot of questions," Foster says. "I come from a more traditional type of farm; we milk 400 cows versus a lot of the little places, so I get to talk to them about what we do and how we do it as a family. I get a lot of questions, and I like answering them."
For Kehler, reaching out to the community provides an opportunity to share lesser-known and lesser-understood aspects of dairy life. "We open a window into a world and part of the dairy industry that many might not have known existed."
Besides being a window into the dairy world, Foster says farmers markets offer a chance to get some feedback from consumers. "I like the idea that I get face-to-face with people actually trying my products, so I have a good idea of what their reactions are, whether it's bad or good."
Whether farmers markets are a profitable source of revenue or just a good way to reach out to the community, the most important thing is that they're a great place to pick up some good cheese and chat with the neighbors.
PHOTO 1: Kehler brothers Andy (left) and Mateo (right) bought their dairy in 1998 before starting up in 2003. Photo provided by Mateo Kehler.
PHOTO 2: Nicole Foster sells cheese curds and several flavors of Swisserella and Colby cheese that she makes from milk from her family farm. Photo provided by Nicole Foster.
PHOTO 3: The Kehler brothers started out their dairy operation with only 15 Ayrshire heifers. Photo provided by Mateo Kehler.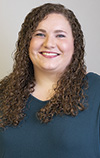 Carrie Veselka

Associate Editor
Progressive Dairyman