Most people don't have fairy godmothers or genies to make their wishes come true. We mortals have to rely on each other to help dreams come true. Katie Grinstead, co-owner of Vir-Clar Farms, a 2,000-cow dairy near Fond du Lac, Wisconsin, had a once-in-a-lifetime opportunity to fulfill one man's once-in-a-lifetime wish.
Edsel Wiegert grew up on a 160-acre dairy near Fond du Lac, Wisconsin. He quit school after he finished the eighth grade to become a full-time dairy farmer, and spent the next few decades working on the farm until kidney failure forced him to sell the place and retire. Now, at 90 years old and living in an assisted-living community, Wiegert had one last wish for his life – to return to a dairy farm.
One of the staff at the assisted-living facility listened to his stories about life on his own farm and submitted a wish on his behalf to return to a farm one last time. Wish of a Lifetime, a nonprofit organization dedicated to honoring senior citizens and helping them live their dreams, granted Wiegert's wish and reached out to nearby farms that would welcome a visit and allow him full access to the milking parlor.
"A request like this to return to a farm is really rare, but really cool," says Nicki Coleman, wish manager for Wish of a Lifetime. "Part of granting these wishes is sharing the stories of others, especially those of other generations, since oftentimes seniors in our society are viewed as more of a burden," she says. "We think they have a lot of wisdom they can pass down to people of all ages, and sharing stories and wishes like Edsel's is a great way to get people involved in seniors' lives."
Coleman says it was an easy matter to choose to fulfill Wiegert's wish. "Edsel has given back to his community throughout his life," she says. "Also, he has a very intriguing story." Wiegert dedicated his life to farming and taking care of his family. With his declining health, this was likely his last chance to visit a farm. "He's undergoing dialysis due to kidney failure, so this is probably the last time he can get out and really do what he wants on a farm," Coleman says. "It's just an incredible story. You can tell he's really passionate about farming."
Wiegert asked to explore a large dairy with several thousand cows so he could learn about the advances dairy technology has made since his retirement. Having hand-milked his small dairy herd all his life, Wiegert wanted to see how an automatic milker worked and how a large operation is run, and Vir-Clar Farms fit the bill – 2,000 cows, modern equipment and wheelchair access.
When he arrived at the farm, the owners gave him a tour of the visitors' center and a Vir-Clar Farms hat. During the tour, they discovered that Wiegert was good friends with Grinstead's grandparents. "They said, leading up to the tour, that his health was getting really bad, but he was very excited about the tour and reminisced about my grandparents with people from the assisted-living facility and his daughter," Grinstead says. "He really was very excited about the tour. He got very emotional when we gave him the hat and was very happy and thankful that we allowed him to come to the farm."
After touring the visitors' center, Wiegert finally made it to his dream destination: the parlor. "He didn't talk a whole lot, but you could just tell from when he did that he was very happy," Grinstead says. "There were quite a few tears shed from everybody else that was there, just because we were so happy at how happy he was."
Grinstead says it was a precious experience to have Wiegert at their farm. "We all felt very good about how happy he was." He spent just under two hours at the farm. "They said right now, with the way his health was, that most days that was about all the time he was awake," Grinstead says. "So they were really happy and impressed at how long he was awake and how well he was doing and how happy he was there."
Coleman says she finds a lot of satisfaction and happiness in helping seniors realize their wishes. "These are things that most people wouldn't be able to do without us, and it's such an honor and pleasure to get to know them and hear their stories and pass their wisdom along to others," she says. "Edsel's an amazing guy and has so much to give back and that he has given back, and he deserves to be honored for what he's done and have his story heard by others."
Wiegert's visit to the farm didn't just benefit him. "It reminded me how much farming is in your blood, how it's something that, no matter how long you're off the farm or away from the farm, coming back can really make somebody so happy," Grinstead says. "You could just tell he was completely at ease and at peace being there. It's a very fulfilling experience to know that you made somebody's wish come true."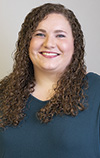 Carrie Veselka

Staff Writer
Progressive Dairyman
PHOTO 1: Edsel Wiegert's favorite part of the farm tour was visiting the milking parlor and seeing how far dairy technology has come since his milking days.
PHOTO 2: Edsel Wiegert was friends with Katie Grinstead's grandparents, so the tour was laced with old memories as well as new experiences.
PHOTO 3: Katie Grinstead says it was an emotional experience for everyone there, but most especially for Edsel Wiegert and his daughter Leasa. Photos courtesy of Anna Page Photography.