"Jerseys or Holsteins?" The message initially sparked the interest of third-generation Holstein farmer, Isaac Hammock, though he never thought it would lead to marriage with his now wife, Katie Hammock.
The two connected on a dating app and immediately hit it off because of their mutual understanding of the dairy industry. "I messaged back and said 'Holsteins,'" Isaac says. "And she said, 'Good, because if you'd have said Jerseys, this may not have worked out.'"
Katie, a Canada native, moved to Virginia to attend nursing school and decided to stay in the area to start her career. Although she did not have a direct connection to the dairy industry, Katie was familiar with the lifestyle because she has family who dairy farm in Pennsylvania.
Nearly two years after their initial connection on the app, the couple married on Oct. 3, 2020, on Isaac's family's dairy, Hammock Dairy Inc., in Chatham, Virginia, where they currently milk over 800 Holstein cows three times a day and farm 3,000 acres of crop land.
While some may call a dairy farm an unconventional wedding venue, for the Hammocks, it was a dream come true. "Even from the get-go, before we looked at venues, my heart was set on getting married at the farm," Katie says. "There's so much emotion behind it."
Isaac's grandfather started the operation in 1987, and the property holds rich memories for each generation of the Hammock family. The hay field Isaac and Katie shared their vows in is the same hay field his parents got engaged in, and the two hope to bring their future kids to the same spot one day. "I just kind of always thought it would be neat to do it on the farm to where later on we can take our kids or hopefully even our grandkids," Isaac says.
The Hammocks received an overwhelming amount of support to help transform the farm into a picture-perfect wedding scenery. "I laugh and say it was typical farmer fashion," Katie says. "It was just typical farmers helping farmers and wanting to get the job done."
From mowing the hay field to washing tractors for Katie's big reveal down the aisle, family, friends and neighbors were eager to assist in whatever way they could. "They were ready to help," Isaac says. "We're fortunate to have those kinds of friends and neighbors and family."
Getting married on the farm also helped in terms of flexibility, since the status of COVID-19 was uncertain in the months leading up to Oct. 3, 2020. With venues limiting guest capacity and growing state restrictions in Virginia, the decision to get married on the farm made the most sense.
"It just kind of fit perfect[ly], not necessarily knowing what the future was going to hold, back when we decided on the venue and wanting to get married on the farm," Katie says. Both the ceremony and reception were held outdoors, which allowed for social distancing and open circulation.
Katie adds, as a nurse, she recognized everyone reacts to the pandemic differently. Because of this, the couple encouraged their guests to wear masks and use the provided hand sanitizer, if that helped make them feel more comfortable. They also ensured their guest count was lower than the recommended amount for outdoor events ruled by the state.
In the summer months leading up to the wedding, they were anxious about the obstacles they could face due to the pandemic. Because the border between Canada and the U.S. was closed for long periods at a time, there was a possibility Katie's immediate family would not be able to attend. "We always knew we were going to get married," Katie says. "There were just times that we didn't necessarily know what that would look like."
Isaac says just as farmers must be prepared for all situations, his experience in farming helped him think on his feet during the times of uncertainty leading up to the big day. "It was difficult just because the whole situation was so fluid," he says. "But, being a dairy farmer, I also kind of understood that, because I don't know what I'm going to be doing this afternoon."
Luckily, Oct. 3 was perfect timing for the pair to tie the knot, as COVID case numbers were relatively low and the second wave had yet to hit. "We were just very fortunate to do what we ended up doing," Isaac said. "I wouldn't have changed anything for the way it came out."
While they never planned to postpone their wedding, they are happy they decided to go through with their plans amid COVID-19, Katie says. "It allowed us to realize the importance of marriage and what it's all about," she says. "At the end of the day, that's what we wanted – to be married. And, we were willing to do whatever it took for that to happen."
PHOTO 1: The Hammocks married on Oct. 3, 2020, at Hammock Dairy Inc. in Chatham, Virginia.
PHOTO 2: Katie and Isaac transformed Hammock Dairy Inc. into their dream wedding venue amid the COVID-19 pandemic.
PHOTO 3: Pictured is Katie Hammock on her wedding day in the dry cow barn. Photos by LaurelLane Photography.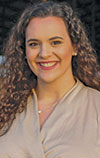 Adriana Toste

Editorial Intern
Progressive Dairy