When Tullando Farm in Orford, New Hampshire, installed robots in fall 2012, it became the first robotic dairy in New Hampshire.
At the time, the dairy (owned by Rendell and Karen Tullar, their son Nate and his wife, Pinky; and their daughter Emily Grey and her husband, Kevin) was milking 480 cows but have since dropped back to milking 440 cows to better accommodate the robots.
Installing robots is not the first time Tullando Farms led the way in embracing new technology, Rendell Tullar says. In fact his parents, George and Barbara, who bought the then-16-cow dairy in 1956, were one of the first dairies to build a freestall barn and a milking parlor back in the 1960s.
His parents' progressive mindset brought him back to the farm, and Rendell has adopted that same mindset himself by welcoming technological advancements on the dairy. With six grandchildren currently running around the farm, he hopes at least one of them will come back to the family operation.
"That's really one of the main reasons we're doing what we're doing," Rendell says. "We have to keep changing and moving forward with technology. You have to embrace it. You have to do it if you want to have your family want to be part of it. To me, that's what makes it interesting."
He recalls how the construction of their original freestall barn and parlor prompted his progressiveness. "It was great. I loved it. It was part of what drove me to be part of it all," he says. "We've always accepted change and tried to go with it – and not necessarily be the first but not be the last to adopt new ways and try to make sure you do new things that work."
Now, more than a half-century later, the cows at Tullando Farms are housed in a new freestall barn and milked with robots. The eight robot units are located in the center of the barn. The cows are divided into four groups, with two robots servicing each group.
In most barns, the two robots in a group are connected to each other, but Nate insisted on pairing robots that serve different groups. The purpose behind this design is to make sure there is always one working robot per group if the unit goes down for maintenance or repair.
If necessary, they can also change the gates to give cows access to a robot outside of their group. A free-flow system allows cows to enter and exit the robots at their own will.
The herd consists mostly of registered Holsteins with a handful of Holstein-Jersey crosses. During the transition from parlor milking to robotic milking, they maintained production at around 83 to 90 pounds of milk per cow per day. Given that they were milking three times a day in the parlor, they weren't expecting production to increase.
As they continue to update the robots and decrease the amount of time it takes to milk each cow, the Tullars hope to increase their milking herd back to 480 cows, which is what the barn was built for. However, they don't currently plan to expand beyond that.
"Our goal is to be better and make what we're doing work as well as we possibly can," Rendell says. "We don't envision needing or wanting to grow; with that being said, all we've ever done is to keep getting a little bigger, so who knows."
How has your management changed since converting to the robots?
Nate: We use sweeping stalls as a time to see cows rather than milking. We like being able to take the information the computer gives you and go out and keep in the back of your mind what you saw on the computer before you see the actual cow.
Sometimes it's picking it up sooner than we ever would – and sometimes it's not. We rely on the computer more, but we keep our eyes on the cows. Going through and doing stalls three to four times a day, that's how we've been able to do it. It's nice not to have to move many cows. It's completely free-flow, and they do what they want to do without that herding environment.
Rendell: To me, you still have to tend to cows. You can't forget about them. You need to be interacting with them to know what's going on, yet you want to give them their space and let them do their thing as much as you can.
Going to a computer in the morning to see who's in heat during the night and not going out in the barn to try to figure out if one was in heat or wasn't is quite different. It gives you a lot of good information in a hurry, but you've still got to look at the information to make your mind up. It took a while to understand it all.
What are some factors that went into your decision of how to design your barn?
Nate: Cow comfort and animal movement.
Rendell: Everywhere we saw robotic barns, the barns were quiet. We wanted to build it to give it every opportunity to be that way. Not a lot of noise goes on in here. When the fans are running, that makes noise, but it's a different type.
You hear the locking stations here and there, but it's just a very quiet environment for them.
What's your favorite feature of the new facility?
Rendell: The simple thing to say would be the back scratchers (brushes). They are so neat, and the cows love them.
Nate: Calm, quiet cows are pretty neat to see.
If you could go back and rebuild knowing what you know now, what would you do differently?
Rendell: Without doing some research into it, I'd like to see the robots pulled apart a little bit farther than we did so they're more center to each group so the cows are closer to the robot. I'd like to see whether they'd come to the robot a little bit easier.
I want to see the research and the numbers before I'd say I'd change it, but that would be one thing I would look at to see if it would make that increase. We did a little experiment, and it seemed to be on a very small scale that they came a little better.
Nate: Some sort of treatment area. We can use gates or behind a robot or whatever is necessary, but that was one of the hard things to figure out. We'd treat bad quarters in the milking parlor. You don't necessarily know she has a bad quarter while she's in milking, so it's after the fact.
You don't want to strip milk in the stalls, so you have to put her somewhere else. We saw some neat treatment areas, but it was on a smaller scale, so I'm not sure how you would make it work. We couldn't afford to have one for each group. Just having the gate system to be able to lock them in a tight area instead of the stall is helpful.
What is some advice for someone considering robots for their dairy?
Rendell: Do your homework. Learn all you can before you get into it. Go to work on one. See what you're getting into. It will be easier the more you know about it.
Nate: When we got done building the barn, we could see the cows were tired, we were tired, and it made me realize how important hoof health was coming in later on. If they come in tired, I don't know that we would've had the movement that we had to start with.
You're always here to make sure the parlor is in tiptop shape until the day you're done with it, but animal health and foot health are good ones too.
Rendell: Barn design. It's broad, but it's so important. From what we've seen and what we saw when we were doing our research, the remodeled barns were hard to make work. Some of them do work, and some of them work quite well.
Nate: We went to more than 30 robot barns, and every time we picked something up. You need to tour lots of different facilities.
Pinky: You need to ask some pretty straightforward questions because a lot of the farms want to paint a prettier picture than reality, and that was the stuff that we found out afterwards. Don't expect to work less.
Rendell: You still have to do chores. You still have to tend to the animals and tend to the rest of the farm. It doesn't go away. It changes what you do and how you do things.
Pinky: Make sure that everyone who works on the farm is really excited about it, and that your veterinarian and nutritionist are as well. You need a team of people to help you through the big transitions.
They need to be excited about speaking robot because there are a lot of times when it's challenging and you need someone there reminding you why you did it and why it's a great investment. PD
PHOTO 1: Although the barn is built for 480 cows, they only milk 440 to better accommodate the robots. As they continue to update the robots, the Tullars hope to increase the milking herd back to 480 head.
PHOTO 2: When the Tullars built their new barn, they focused on cow comfort. Adding brushes was one component of this and Rendell says the cows love them. Photos provided by Jenna Hurty.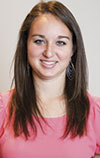 Jenna Hurty

Northwest Editor
Progressive Dairyman