"Alternative therapy" is a nice, ambiguous term for almost any remedy that falls outside the familiar realm of antibiotics and stitches. Highly conditioned athletes like NFL stars and Olympians have been using treatments like acupuncture and Reiki for years, and now dairy cows, highly conditioned athletes in their own right, can benefit from a little acupuncture as well.
For large animal veterinarian Kitt Schaller, alternative therapies are the main focus of her business.
Schaller learned about the power of alternative therapies while she was in vet school, not from using them on animals, but from using them herself. "Veterinary school for myself and most other people is extremely stressful," Schaller says. "During my second year, I was knee-deep in classes like biochemistry and pharmacology, and I realized I had to make a change to better manage my stress if I was going to continue doing well in vet school." She picked up an interest in alternative therapies and started using a technique called Reiki.
After certifying in Reiki and using it on herself, Schaller soon moved on to her own animals and some friends and family members. "What started as a personal journey changed into something that had an impact on my career," Schaller says. "I saw the benefits. It had a positive impact and it certainly piqued my curiosity."
According to Schaller, Reiki is hard to explain because it does not have a physical manifestation since it is entirely focused on energy. "It's like trying to talk to people from a hundred years ago about invisible radio waves or the internet," Schaller says. "In essence, Reiki is an ancient, noninvasive healing practice that involves the transfer of healing energy from the practitioner to the patient. It is very calming to the animal, and it promotes overall health and well-being by restoring and balancing the flow of energy throughout the body."
Schaller says that while her use of the term "energy" can make her sound a little outlandish, producers use a similar energy in their day-to-day interactions with their animals. "There are instances where we just know something is off with the cow, even if she isn't showing any outward signs of illness."
Schaller also used examples of the instinctive way farmers know how to handle their livestock in a gentle, low-stress way, or how farmers can read a cow to find out what kind of help she needs, or even how cows behave differently if their handlers are in a hurry or in a bad mood. "This unspoken language that we have going on, whether we know it or not, is what allows us to connect with and work with our cattle," she says.
Schaller says practicing Reiki is fairly simple. "To do Reiki, I simply place my hands over a known area of discomfort or just anywhere that is comfortable for the animal. I stay there for several minutes or until the animal indicates that she's had enough," Schaller explains. If she's also administering an acupuncture treatment, she performs Reiki once all of the needles are in place.
Schaller first saw acupuncture during her fourth year of vet school when she observed it being successfully used on an alpaca, but didn't revisit the practice until a few years later.
Schaller began working for a large dairy farm where she managed and provided veterinary care for youngstock. "When there was a sick animal, I was really disheartened when I couldn't save it, despite using every treatment option available to me," Schaller says. "When I encountered a situation like this, I thought back to all of the cases I had seen in vet school and on my externships where an entire arsenal of conventional methods were used with limited success. I thought that there had to be something more that I could do, so that led me to acupuncture."
Schaller attended the CuraCore Medical Acupuncture for Veterinarians course in Colorado and certified in acupuncture, which she currently offers as part of her veterinary services. The program is critically evaluated and scientifically based, something Schaller feels adds credibility to her work as a veterinarian.
Schaller views alternative therapies as another tool farmers can utilize on unresponsive cases. "It's a great complement to conventional treatment methods," she says. "I would not use acupuncture and Reiki as the single way to treat an animal. I strongly believe in conventional medicine, because that is where my training and experience lies, but I also recognize the limitations that frustrate us as farmers and veterinarians when animals aren't responding."
From her experience working with dairy cattle, she has seen improvements in response and recovery when using these techniques on cows that sustained a nerve injury during calving or to stimulate nerves on down cows. She's also used it on a cow with cystic ovaries that was unresponsive to hormone therapy. In calves, she has used acupuncture in conjunction with traditional treatments to overcome scours and pneumonia.
Schaller says alternative therapies are a good economic choice for farmers as well. "Economically, farmers are always looking to reduce stress and improve cow comfort because it affects their bottom line, and it's a known fact that stressed animals are more prone to disease."
Easing stress to help avoid injuries and providing an environment conducive to healing when cows are injured are part of the purpose of alternative therapies. "The industry can benefit from an alternative or something that can enhance our conventional treatments," says Schaller. "It can really make a big impact."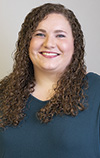 Carrie Veselka

Associate Editor
Progressive Dairyman
PHOTO: Kitt Schaller practicing acupuncture on a cow. Photo provided by Kitt Schaller.