Well, with one exception: That many dollar bills would be nice. And dairy producers could use a stack of money about that high right now.
I can always tell when milk prices are painful, as the number of letters to the editor increases and the blame for low prices gets shared more widely.
As with any letter to the editor, I don't mind reading them, even if I feel powerless to do much to help. (I'd recommend two articles from this issue that might be the most helpful during this time of low prices: "Strategies based on 2016 milk prices and feed situation" and "Feeding for low weigh-backs in high-producing herds").
For months, we've heard that global oversupply of milk is at the root of the current milk price slump. I'm still amazed that this forecast wasn't more obvious well in advance of this year.
A few years ago, when the EU was preparing to eliminate its quota system, I asked several different authors to write an article about what that change would mean for world markets. No one seemed interested in writing it at the time.
A few I talked to seemed to think it would be "no big deal" and that the environmental regulations and lack of land availability would keep EU dairies "self-constrained." All of that conjecture looks really short-sighted now.
This was the USDA Foreign Ag Service's most current assessment of Europe, published in May:
"EU dairy farmers continue to increase production after the termination of the milk quota system in spite of market signals indicating a need of limiting milk output. Many of them try to maintain financial liquidity by increasing the volume of production.
Part of the increase of milk deliveries might be also attributed to the EU market intervention programs because processors have an option of placing an excess of delivered milk into public intervention stocks for NFDM and butter."
Sound familiar? To me, it sounds like the U.S. in 2009.
In the last year, the EU has added 65,000 cows and produced 90 percent of the world's "new" milk. Recent reports seem to indicate culling in Europe is finally on the rise, but a contraction in milk supply may take months to a year before it is felt.
Why will it take so long? Let's go back to that number I mentioned at the start.
Consider this: EU governments have subsidized the stockpiling of a reported 659 million pounds of skim milk powder this year. The EU hasn't had that much skim milk powder stored since the early '90s. That's the equivalent of about 7.1 billion pounds of raw milk. It would take the average annual production from 370,000 U.S. cows to produce that quantity of milk.
Granted, we've been stockpiling overproduction lately in our preferred product too: cheese. The June USDA Cold Storage report showed 757.4 million pounds of American cheese were in cold storage, and 491.8 million pounds of other cheese types were in cold storage.
Converting each of those products back into a raw milk equivalent, we have in storage about 10.7 billion pounds of raw milk. Now that might seem like a lot, and more than the EU has stockpiled. But at the same time last year, we had 9.5 billion pounds of milk in storage. Our net raw milk production gain year-over-year is only 1.2 billion pounds of raw milk, or the annual production from about 53,500 cows.
Thankfully, our domestic milk market has been strong during this global downturn, which was not the case in 2009. Cow numbers in the U.S. continued to build through May of this year, returning to those peak cow numbers seen before 2009.
If our domestic processing capacity weren't as limiting to overproduction, we might be stockpiling just as much as Europe is now. But so far this year we've seen base programs installed and still hear occasionally of milk being dumped because it doesn't have a home to be processed.
Has the U.S. learned its lesson about reining in overproduction compared to Europe? Maybe, but maybe not.
The EU, now a more free yet still heavily subsidized milk market after the end of decades-long milk quotas, is trying to learn the same lesson U.S. producers have been learning for several decades.
Will Europe learn its lesson with this price slump? Unlikely. Will it take several rounds of global volatility for EU producers to learn how to read the market signals of oversupply? Likely.
If they don't learn faster than the U.S. has, if we have learned at all, then look out, the next decade of milk prices will be a rocky one. PD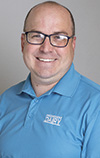 Walt Cooley

Editor-in-chief
Progressive Dairyman